Outdoor Adventures At Refreshing Mountain
Wendy Royal Spring 2021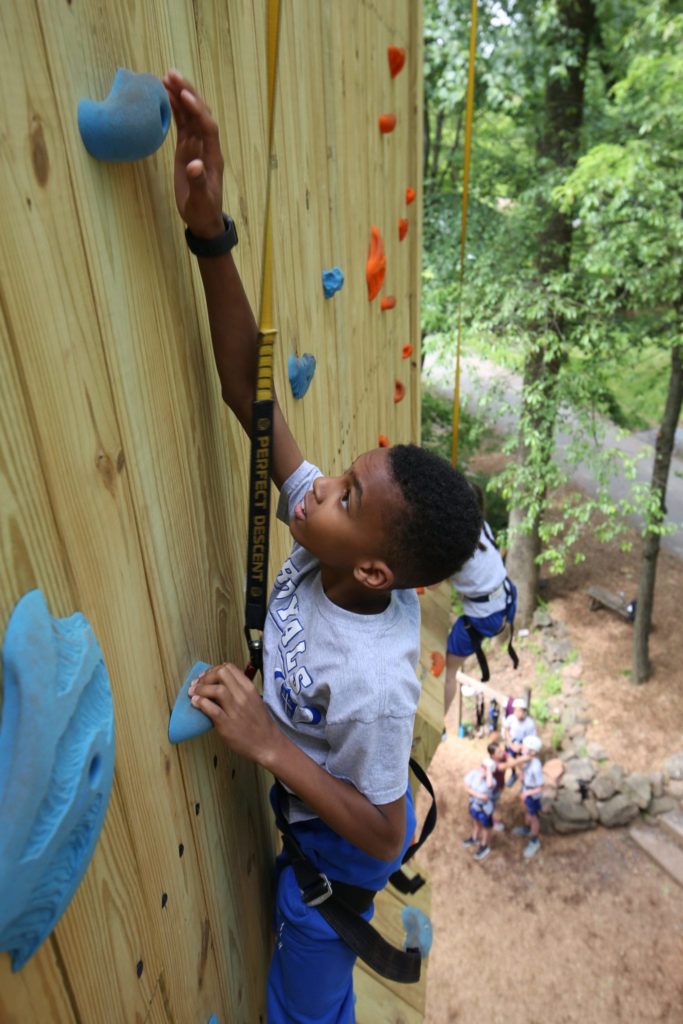 With more families looking for vacation destinations with outdoor amenities, a haven tucked away in the woods of northwestern Lancaster County checks all the boxes.
Refreshing Mountain Retreat and Adventure Center was founded in 1983 by Marlin and Sharon Harnish to provide a retreat for families to get away, reconnect and refresh. In the early days, accommodations consisted of bunkhouses.
Today, in addition to the bunkhouses, families can choose from individual cabins or hotel rooms in the lodge. The spacious family cabins sleep 6 to 8 and include a full kitchen, a living room, two bedrooms, and a bathroom. Hotel rooms sleep 4 to 6 people with access to the retreat's large dining hall, which includes the use of a toaster oven, microwave, coffee maker, and refrigerator. Although you won't find TVs at the retreat, free Wi-Fi access is available throughout the property. Besides, who needs a TV when the best entertainment is outside?
Fly Like A Superhero
Refreshing Mountain Retreat and Adventure Center has three zipline courses from which to choose. The lines vary in length from 300 to 800 feet. The premier course is the Aerial Excursion Course, which includes seven ziplines, three sky bridges, and a 40-foot controlled rappel.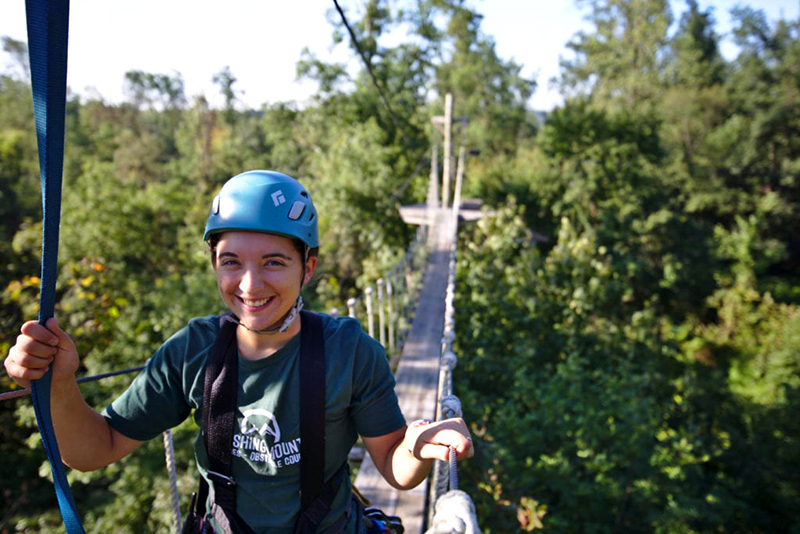 It's The Climb
Guests can try their skills on the 40-foot climbing tower with routes and racing lanes. If you were the type of kid who tried to swing higher than anyone else in the playground, the giant 35-foot pendulum swing is for you. RMC offers a Climbing Tower and     Giant Swing bundle.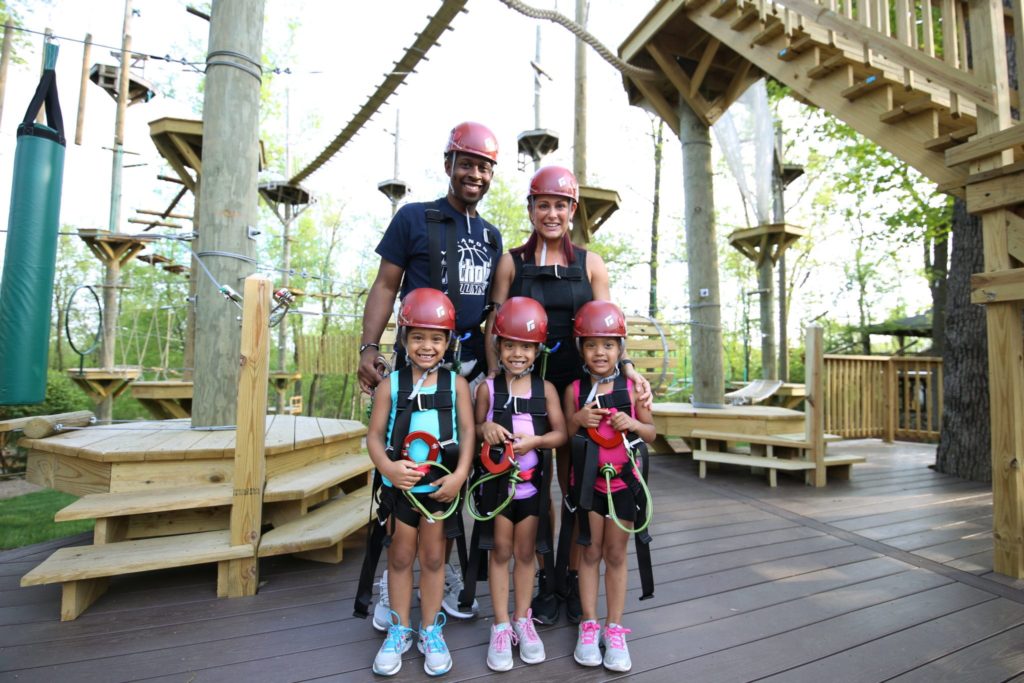 Elevated Obstacles – Why Not?
The high ropes course at Refreshing Mountain takes approximately an hour to complete and challenges guests with 22 different obstacles. Scared of heights? Don't look down! There is also a low ropes course for younger guests.
Wildlife Experience
Animal specialists guide visitors as they get an up-close, in-person look at reptiles and amphibians from throughout the world, with the focus on species native to Pennsylvania. The newest addition to the Wildlife Center is the Birds of Prey exhibit featuring PA native owls and hawks. The Wildlife Center incorporates the nature trails and pond, so guests get a better understanding of  the wildlife habitat.
Also on the property is an archery range, hiking trails, and sand volleyball, in addition to the retreat's large community pool.
Guests can grab a snack at the 319 Café and Gift Shop. The cafe is open with a menu including paninis, beverages, and ice cream during the summer season.
The Farm at Refreshing Mountain is more than just a traditional petting zoo. Visitors will learn about the animals' care and characteristics while having the opportunity to pet, groom, and feed them. Pony rides are available to younger guests.
INDOOR ACTIVITIES
RMC has two escape rooms for amateur sleuths who are up for a team challenge. Escape Room – Funding The Dream is rated easy to medium difficulty and takes approximately one hour to complete. In this challenge, you are a 1950s inventor trying to get through the red tape of the patent office.
Escape Room – Circle T Ranch pays homage to the horse ranch that preceded Refreshing Mountain on the property. Locate the hidden clues that will help your family navigate through the chaos of restoring a rundown horse ranch. Parts of this escape room storyline are based on actual events in RMC history. This challenge is deemed medium to difficult. A third escape room is planned for 2021.
The two full-size gyms are a favorite of the large groups that visit RMC each year. Basketball, indoor soccer, street hockey, and volleyball are just some team sports that guests can play.
Because Refreshing Mountain Retreat and Adventure Center hosts large groups ranging from 20 to 400 throughout the year, several meeting and conference spaces are available on site. 
To ensure you have a fantastic stay, with safety in mind, the staff at RMC has enhanced sanitation procedures in place around the property, including hand sanitizer stations throughout the grounds. 
What began as the Harnish family's desire to provide a place of retreat for families continues as the second generation of Harnishes is very involved in making sure the RMC carries on the mission.

If You Go:
Refreshing Mountain Retreat And Adventure Center
455 Camp Rd,
Stevens, PA 17578
717-738-1490
www.refreshingmountain.com
Adventures Nearby:
Middle Creek Wildlife Management Area is less than ten minutes away from Refreshing Mountain. Here you'll find miles of trails on protected land surrounding a beautiful 360-acre lake. The lake is a favorite stop along the waterfowl migration route which can attract more than 200,000 snow geese, tundra swans, and Canadian geese in late winter and early spring. Canoeing and kayaking is permitted on the lake during warm-weather months.