The Carnegie Museums of Pittsburgh
Wendy Royal Winter 2024
The name Carnegie is synonymous with Pittsburgh. Andrew Carnegie's family emigrated from Scotland in 1848 and settled in Allegheny, a suburb of Pittsburgh. The family moved into two rooms above a relative's weaving shop. To help support his family, 13-year-old Carnegie worked long hours at a cotton mill as a bobbin boy carrying bobbins to workers for $1.20 a week. A year later, he was hired as a messenger at a telegraph company, where he taught himself how to be an operator. That knowledge earned him a job with the Pennsylvania Railroad. The industrious young Carnegie was promoted to superintendent at just 24 years of age. His boss, Thomas Scott, informed Carnegie of an investment opportunity that would become the first of many successful business investments made by Carnegie. In the early 1870s, he entered the steel business and became the industry's dominant force. He sold Carnegie Steel to J.P. Morgan in 1901 for $480 million. The equivalent of his wealth in today's economy would make Carnegie the wealthiest billionaire in the world by far.  
In his retirement, Carnegie devoted his life to philanthropy, giving away $350 million. Among his famous gifts was the construction of Carnegie Hall in New York City and Carnegie Mellon University. In addition, he founded more than 2,500 libraries. Carnegie was passionate about access to free libraries. As a young man, he worked long hours and had no formal education. Fortunately, Colonel Anderson, a retired merchant, allowed him to read books from his personal library. Despite his best efforts, he still had $30 million when he died, which went into an endowment.
Andrew Carnegie founded the Carnegie Institute, known today as Carnegie Museums of Pittsburgh. The four world-class museums that make up the foundation stand as a testament to his philanthropic mission and welcome visitors to discover the fantastic treasures that lie within. 
 Carnegie Museums of Art and Natural History
Visit two world-renowned museums at one location. The Art Museum, founded in 1895, is known for its extensive collection of art, which spans various periods, styles, and cultures. It includes European, American, and contemporary arts and a significant collection of decorative art.  Some of the museum's notable works include pieces by renowned artists like Homer Winslow, Mary Cassatt, Vincent Van Gogh, Claud Monet, and Pablo Picasso. 
The museum provides an enriching and immersive experience for all who visit. Check the museum's website for current and upcoming exhibits. 
ADDRESS:
 4400 Forbes Avenue
 Pittsburgh, PA 15213
 PHONE: 412.622.3131
WEBSITE: https://carnegieart.org/
HOURS:
 Mon., Wed., Fri.-Sun. 10 a.m.–5 p.m.
 Thurs.: 10 a.m.–8 p.m. 
 Closed Tuesdays and major holidays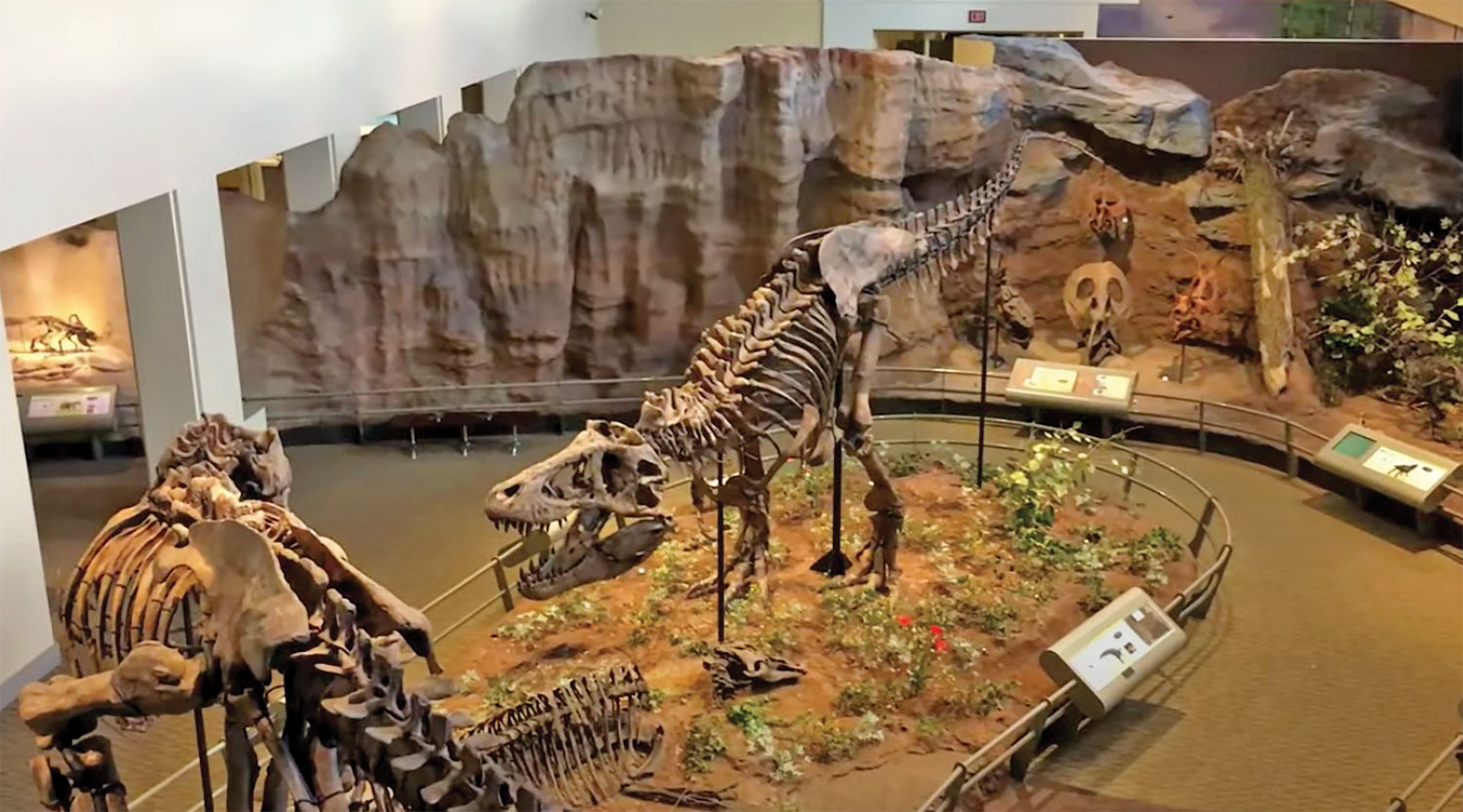 The Museum of Natural History
A year after founding the art museum, Carnegie endowed the Museum of Natural History. The museum's collections cover a wide range of natural history topics. It boasts over 22 million objects, including fossils, minerals, gems, plants, animals, and cultural artifacts. The museum's most famous exhibit is the collection of dinosaur fossils, with the main attraction being the world's first Tyrannosaurus Rex skeleton, discovered in Montana in 1902. The T-rex and dozens of other dinosaur fossils comprise the exhibit, "Dinosaurs in their Time." 
In addition, the museum houses expansive collections of minerals and gems, plant specimens, Native American artifacts, and anthropological exhibits, which explore the cultural and historical aspects of indigenous peoples. 
At the Carnegie Museum of Natural History, visitors can explore the wonders of the natural world, from the ancient history of the Earth to the diversity of life and cultures that inhabit it. It continues to be an important center for research, education, and public engagement in the field of natural history.
Check the museum's website for current and upcoming exhibits. 
ADDRESS:
 4400 Forbes Avenue
 Pittsburgh, PA 15213
 PHONE: 412.622.3131
WEBSITE: https://carnegiemnh.org/
HOURS:
 Mon., Wed., Fri.-Sun. 10 a.m.–5 p.m.
 Thurs.: 10 a.m.–8 p.m. 
 Closed Tuesdays and major holidays
The Andy Warhol Museum
The Andy Warhol Museum is dedicated to the life and work of the iconic American artist Andy Warhol. The museum is the largest museum in the United States that is solely dedicated to a single artist. It was founded in 1994 and is situated in a seven-story building that was formerly a warehouse.
The museum's extensive collection includes a vast array of Warhol's artworks, spanning his career from his early drawings to his iconic Pop Art pieces, such as the famous Campbell's Soup Cans and Marilyn Monroe portraits. The museum also houses a significant collection of Warhol's films, as he was a prolific filmmaker and a visual artist.
In addition to its permanent collection, the Andy Warhol Museum hosts many temporary exhibitions, educational programs, and contemporary art and culture events. 
Visitors can explore Warhol's art, life, and influence on American and global culture through various exhibits and interactive displays. The museum offers a comprehensive look at the life and artistic contributions of one of the most influential figures in 20th-century art.
Check the museum's website for current and upcoming exhibits. 
ADDRESS:
117 Sandusky Street
Pittsburgh, PA 15212
PHONE: 412.237.8300
WEBSITE: https://www.warhol.org/
HOURS:
Mon., Wed., Thurs., Sat., Sun. 10 a.m. to 5 p.m. 
Fri., 10 a.m. to 10 p.m.
Closed Tuesdays and major holidays.

The Carnegie Science Center
The Carnegie Science Center offers various interactive exhibits and educational programs to inspire an interest in science, technology, engineering, and mathematics (STEM). 
The center features numerous hands-on exhibits and interactive displays covering various scientific disciplines, including physics, biology, astronomy, and technology. Visitors can engage in a multitude of activities, from launching rockets and exploring the physics of motion to learning about the human body.

The popular Miniature Railroad & Village exhibit showcases a detailed miniature model of a Western Pennsylvania railroad with miniature towns and landscapes reflecting the region's history and heritage.
The Buhl Planetarium and Observatory at the Science Center offers immersive experiences with celestial objects and the cosmos. Visitors can enjoy live star shows and various planetarium presentations.
In addition, the center features interactive exhibitions, including Roboworld, which explores the world of robotics, and SportsWorks, which explores the science behind sports and physical activities.
The center hosts temporary exhibitions on a wide range of topics, ensuring that there is always something new and exciting for visitors to explore.
The USS Requin (SS 481) Submarine sits in the Ohio River behind the Carnegie Science Center, with self-guided tours of the vessel included in the admission on a first-come, first-served basis. 
The Carnegie Science Center is a family-friendly destination that promotes learning through fun and interactive experiences. It is a valuable resource for science education and is dedicated to inspiring curiosity and exploration in visitors of all ages.
ADDRESS:
One Allegheny Ave.
Pittsburgh, PA 15212
Phone: 412.237.3400
Website: https://carnegiesciencecenter.org/
HOURS:
Wednesday–Monday:
10 a.m.–5 p.m.
Tuesdays: Closed
All tickets are sold for timed entry every 30 minutes.
For overnight accommodations visit https://www.visitpittsburgh.com/