Lake Erie Wine Country
Cara O'Donnell Fall 2018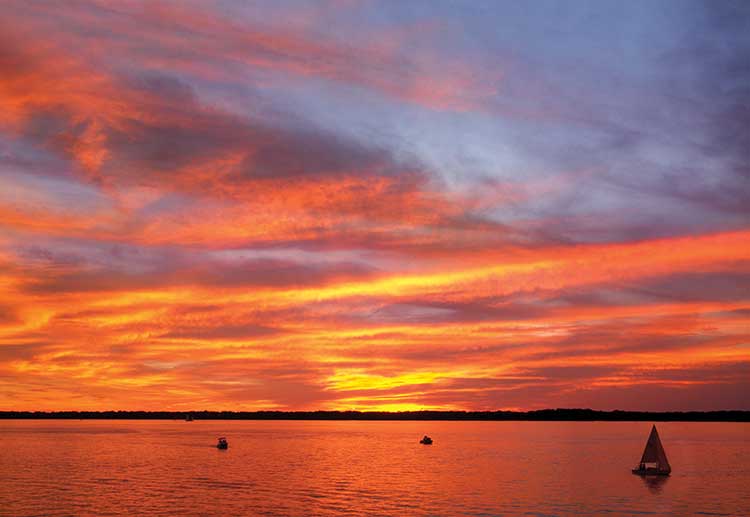 Sunsets. Wine. Relaxation.
Those are the three goals to have when exploring the Lake Erie Wine Country. The Lake Erie region is home to the nation's largest grape-growing territory east of the Rockies, and it's not hard to see why as you traverse the area. The drive along Lake Erie's shores transports you to a bygone era, with friendly people, quaint Victorian towns, beautiful views, and a variety of wineries, each with its own unique blends and personality. You won't find hordes of party buses converging all at once or long lines to taste pre-selected wines. Here, it's a much more personalized experience; you might even find the winemaker him/herself standing behind the tasting room counter, eager to find the perfect blend that's right for each individual customer. Just follow the green grape Lake Erie Wine Country signs to discover your favorite stops along the way.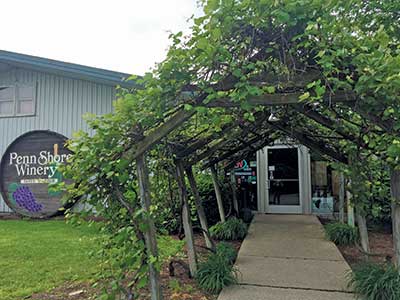 When traveling north from downtown Erie along Route 5 into wine country, one of the first stops is Penn Shore Winery and Vineyards, the oldest in Pennsylvania (its license number is 2). The winery, which opened its doors in 1970, is also known as the home of Pennsylvania's oldest champagne – and one of the few outside the Champagne region in France allowed to use the name. In addition to the bubbly, Penn Shore is also known for its unique Dry Concord. The Concord grape, a popular varietal around Lake Erie due to the climate, is normally produced as a sweeter wine. However, at Penn Shore, what is now referred to as a "happy accident" occurred when the Concord was left in the barrels before the sugar was added. The result is a light, dry wine with that distinct Concord flavor but without the sweetness.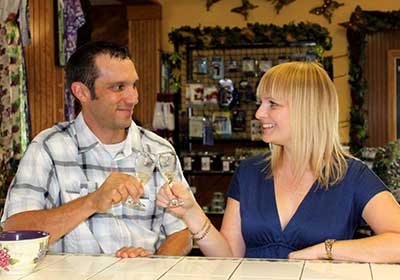 Just down the road is Mazza Vineyards, whose family-produced wines have been toasted around Lake Erie Wine Country and beyond since the early '70s. Mazza boasts Pennsylvania's largest wine production facility, but what truly makes Mazza stand out is its winemaking influence that is truly global. Over the years, Mazza's winemakers have hailed from places like Germany, Hungary, Uruguay and India, just to name a few, not to mention the Mazza family's own influences from years of winemaking in Calabria, Italy. The result is a unique blend of flavors and characteristics. Its bestselling Bare Bones White is a blend of popular Lake Erie varietals like Traminette, Vidal Blanc, Cayuga and Riesling, but then there are the more unusual options, such as L'Anima, an uncharacteristically bone-dry rosé, and Teroldego, a dry red Italian varietal that has been successfully grown in the Lake Erie region. Don't miss the award-winning Ice Wine of Vidal Blanc. It's dessert in a glass.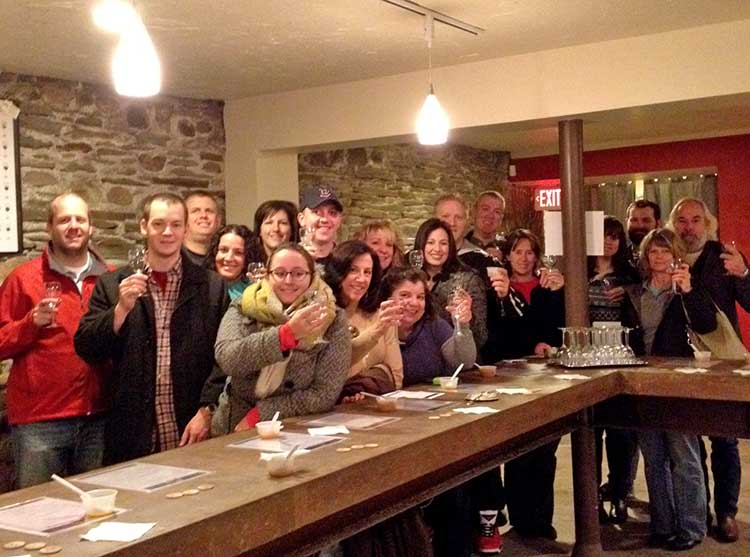 Be sure to make a pit stop in the quaint Victorian town of North East, lined with restaurants, antique shops and boutiques. It's a great place to stop and relax and refuel during a day of wine tasting. It's also home to the annual North East Wine Country Harvest Festival, affectionately known as WineFest, held each year since 1981. The festival has grown in recent years and now encompasses two parks: Gibson Park, one of the original downtown festival venues, and Gravel Pit Park, the largest festival site. This year's event will take place from Friday to Sunday, Sept. 28 to 30, when attendees will have the opportunity to sample as many as 100 different wines from around the region, enjoy the sounds of dozens of entertainers, try their luck at grape stomping, and meander through hundreds of exhibitor tents. Part street fair, part arts and crafts festival, part music festival, part harvest festival, today's WineFest hosts an average of 20,000 visitors from Ohio, Pennsylvania, New York, Ontario, and beyond who come to sample a variety of wines and enjoy a weekend celebrating the harvest season.
Keep heading north, and you'll come across an 1860s-era barn by the side of the road. That barn, once run-down, is now known as Arundel Cellars and Brewing Co., one of the newer additions to the Wine Trail. The tasting room itself, located inside the renovated barn (complete with original beams and stone), is home to both the winery and an accompanying brewery. A customer favorite is the Wild Child, a sweet wine that was made when wild grapes accidentally were mixed in with Niagara grapes during harvest. In the autumn season, it's also a must to try one of Arundel's famous hard ciders created from its own apple orchards.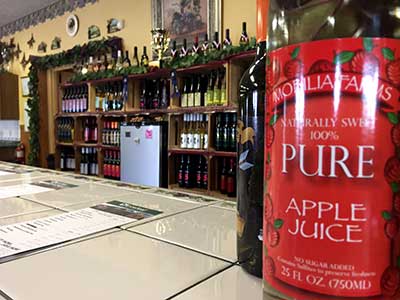 Speaking of apples, just before the New York border stands Arrowhead Wine Cellars, which first started as a farm and fruit stand in the 1920s. Now run by the third generation of family members, Arrowhead expanded to include a winery in 1999 and has never looked back. Offering an impressive selection of more than 30 wines, with a variety paying homage to the fruit-oriented roots of the farm (there's still a farm market on-site), Arrowhead boasts tastes to satisfy any wine palette, as well as several fruit juices and ciders.
If visiting toward the latter part of the harvest season, don't miss the special Harvest Weekends, held the first two weekends in November at participating wineries. It's a wonderful time to discover a variety of specialties along the Wine Trail, as visitors have the chance to enjoy food and wine sample pairings at each winery, as well as tastings, recipe books, souvenir glasses and more.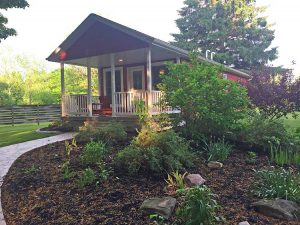 There are plenty of hotels and a handful of bed-and-breakfasts that are ideal for a weekend stay, but for a change of pace from the standard hotel room, don't miss Lakeview on the Lake and its collection of cottages and tiny houses that will make you feel right at home. Lakeview has been around since the '50s as a roadside motel (a handful of motel rooms – now renovated to resemble log cabins – remain) and has since grown to include several cottages and even a nostalgic Airstream. Especially charming is the Beach Glass Bungalow, with its comfy living room, separate bedroom and cute front porch that's perfect for enjoying morning coffee. A true home away from home, all of Lakeview's spaces offer kitchens and an extra sense of seclusion. There's even a heated outdoor pool, along with free Wi-Fi throughout. It's like having your very own lakeside tiny house.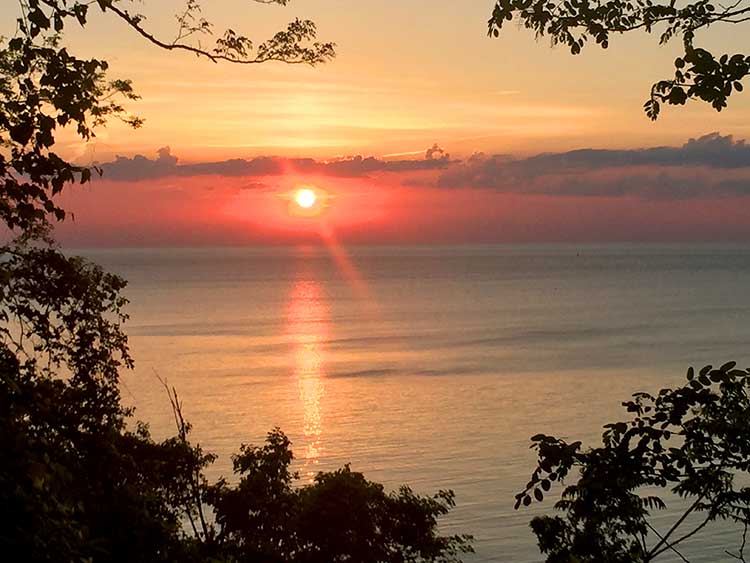 And the lakeside views are truly unlike any other. Did I mention the sunsets? They are nothing short of spectacular. Lakeview on the Lake lives up to its name and offers its own beach (the stairs getting down to the lakefront itself are rather steep) on Lake Erie. The lake itself is the star here, and there's truly no better way to relax than sitting in one of the property's big Adirondack chairs facing the lake as the sun begins to set. Uncork a bottle of wine from the day's adventures – each cottage comes well-equipped with glasses and corkscrews – and toast a wonderfully tranquil stay in Lake Erie's Wine Country.
Visit www.lakeeriewinecountry.org for information on the many different participating wineries as well as the special event weekends. Visit www.visiterie.com for information on planning a stay in the region.
Cheers!
---
LAKE ERIE WINE COUNTRY WINERIES IN PENNSYLVANIA
5727 Firman Road
Erie, Pennsylvania 16510
Phone: (814) 580-8375
12073 East Main Road
North East, Pennsylvania 16428
Phone: (814) 725-5509
11727 East Main Road
North East, Pennsylvania 16428
Burch Farms Country Market and Wine Shop
9210 Sidehill Road
North East, Pennsylvania 16428
Phone: (814) 725-0747
10021 West Main Road
North East, Pennsylvania 16428
Phone: (814) 725-0236
12160 East Main Road
North East, Pennsylvania 16428
Phone: (814) 725-8015
8440 Singer Road
North East, Pennsylvania 16428
Phone: (814) 725-4440
11815 East Lake Road
North East, Pennsylvania 16428
Phone: (800) 796-9463
10225 East Lake Road
North East, Pennsylvania 16428
Phone: (814) 725-8688
9488 West Main Road
North East, Pennsylvania 16428
Phone: 814-725-1314
1120 Freeport Road
North East, Pennsylvania 16428
Phone: (814) 725-1585
18 South Lake Street
North East, Pennsylvania 16428
Phone: (814) 725-8466
NEW YORK WINERIES ON THE LAKE ERIE WINE TRAIL