Indiana County Potters Tour
Wendy Royal Fall 2021
Indiana County's biggest claim to fame might be that it is the childhood home of beloved actor Jimmy Stewart. In more recent years, a group of area artists has been making a name for itself as well.
Dotted throughout Indiana County, you'll find studios dedicated to making pottery. 2021 will make the 15th year that studios will open their doors to welcome visitors to the Potters Tour.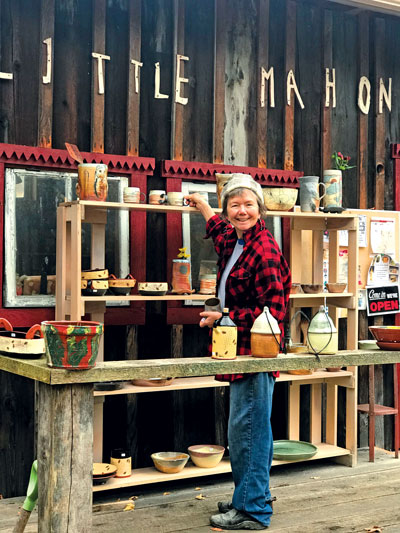 "This year we'll have eight studios with 19 potters set up," explained Nancy Smeltzer, potter and owner of Little Mahoning Creek Pottery in Smicksburg. Nancy's studio is among those featured in this year's event. She will be hosting three additional guest potters on her studio property.
The Indiana County Potters Tour will be held on October 16 and 17, from 10 a.m. to 5 p.m. on both days. This self-guided tour allows visitors to see throwing demonstrations and find out the inspiration and technique behind the work fashioned by the artists. Each potter will also have some of their creations available for sale.
The potters on the tour are a close-knit group who are supportive of each other. "We have a good exchange of ideas when we get together. We really are a community," Smeltzer shared. After deciding to cancel the event in 2020, the artisans are looking forward to welcoming guests again.
One of the perks of having the tour in the fall is that guests experience the Indiana County countryside in all its autumn glory.  With fall in full swing, why not make it a weekend escape and visit Indiana County's wineries and tasting rooms as a complement to the tour?

For more information on the Indiana County Potters Tour, visit potterstour.com.
For overnight accommodations, go to visitindianacountypa.org.
---
Studios included on the tour:
East Creek Studio, 2575 East Creek Rd., Rochester Mills, PA 15771
FMS Studio, 625 Lutz School Rd., Indiana, PA 15701
Full of Grace Studio, 841 Reams Rd., Indiana, PA 15701
Hedman Pottery, 1636 Wells Rd., Smicksburg, PA 16256
JR Studio, Artists Hand Gallery, 732 Philadelphia St., Indiana, PA 15701
Little Mahoning Creek Pottery, 87 Clarion St., Smicksburg, PA 16256
Stoke Hole Pottery, 841 Reams Rd., Indiana, PA 15701
Wender Pottery, 81 Kittanning St., Smicksburg, PA 16256