Why We Love Fall
Jeanette Knaub September 29, 2018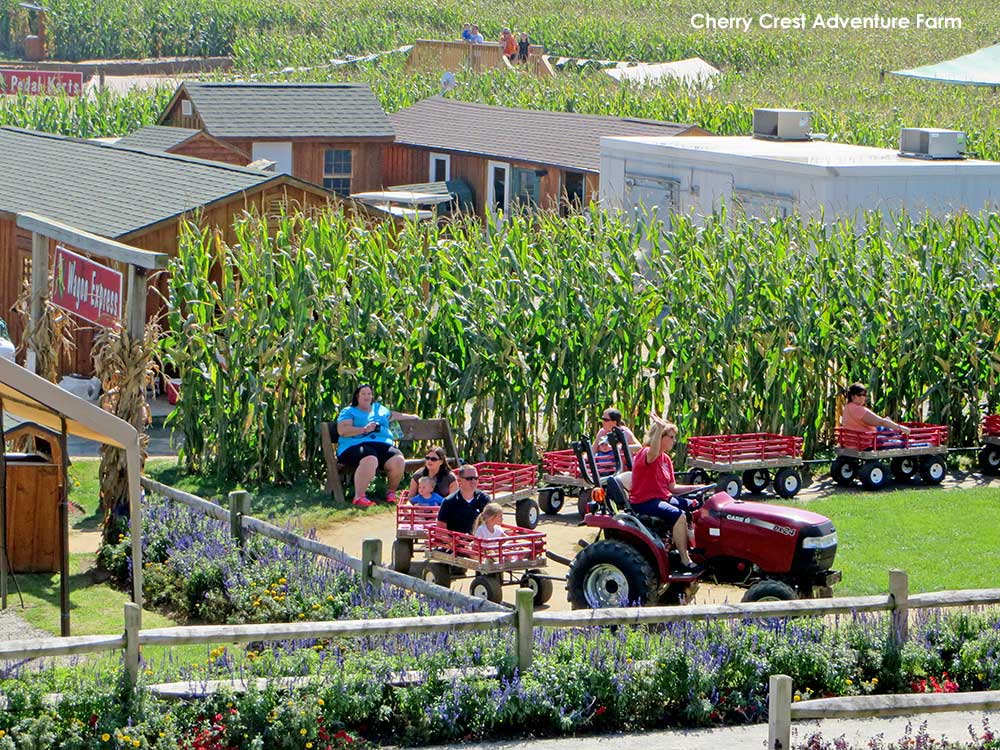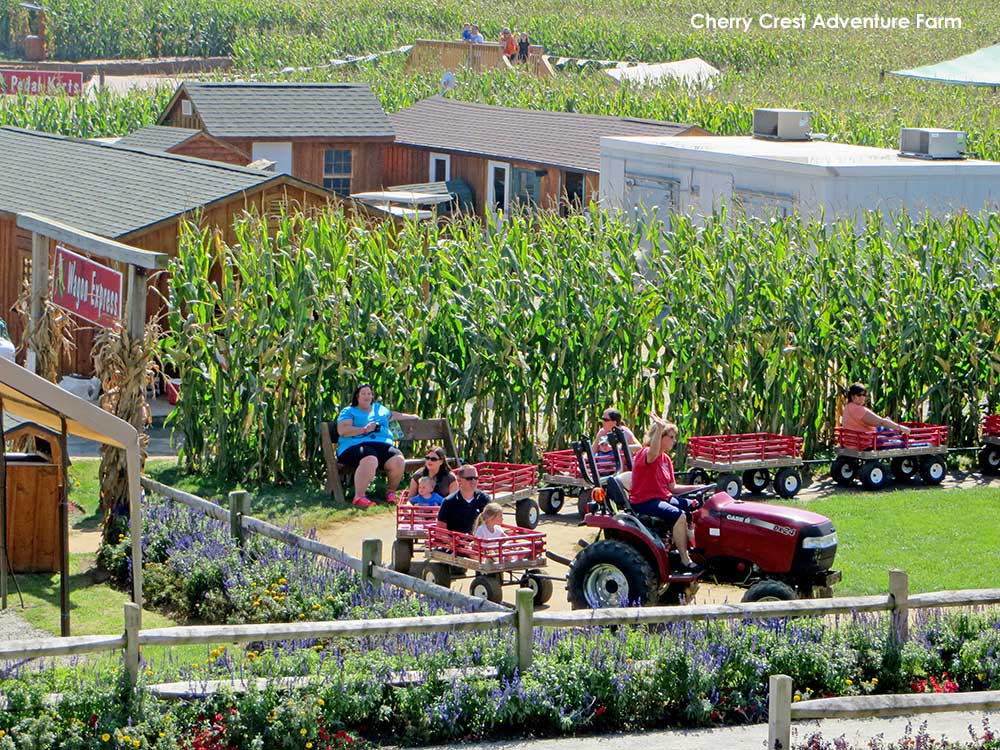 Fall is hands down my favorite season of the year, and with the smells, sights, and experiences this time of year brings, start planning to make sure you make full use of this amazing, yet short season!  Autumn in Pennsylvania is a perfect place to immerse your senses in a variety of tantalizing activities from hiking, to history, to tasting, to playing, and spectating.  Grab the family and check off a destination from each category for a memorable fall.
Apples and Pumpkins–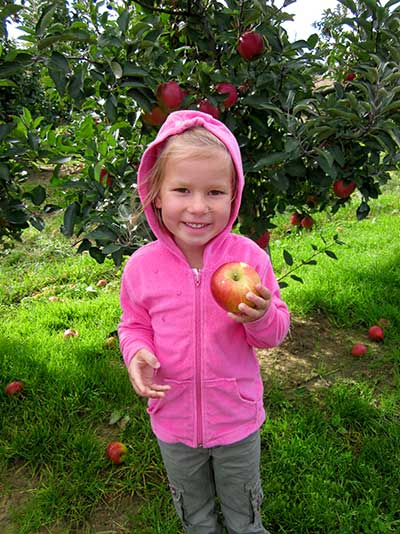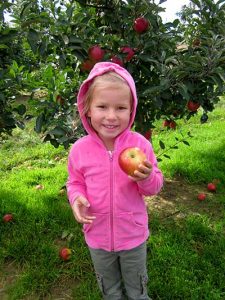 While you can enjoy these foods year round, they stand out front and center this time a year with entire festivals and events built around them.  A favorite seasonal pleasure is picking your own apples, for making applesauce, pies, or just having an easy, portable snack.  My family is fortunate to live in a farming community in Lancaster and we enjoy visiting Cherry Hill Orchards, the largest orchard of its kind in the county.  Not only can we pick our own apples and pumpkins, but hayrides are offered seasonally.  Check your area for orchards and likely they offer similar activities.
Northern PA celebrates in grand style during the PA Apple and Cheese Festival on October 6 and 7 in Canton with contests, children's activities, food vendors, entertainment, and demonstrations on the Manley-Bohlayer Farm, Admission: $7/adult, $3/children 13-18, Free/children under 12).
A little further south of the Delaware River, the town of Lahaska, near New Hope holds an Apple Festival on November 3 and 4 Admission: Free.
The Great Pumpkin Carve taking place on October 18-20 in Chadds Ford looks particularly interesting (Admission: $15/adult 18 and over, $5/children 7-17, Free/children 6 and under).  This popular open-air festival draws artists from around the region to showcase their amazing skills turning pumpkins into masterful works of art. In addition, raffles, food, hayrides, and pumpkin painting round out the festivities.
Harvest Fun and Festivals–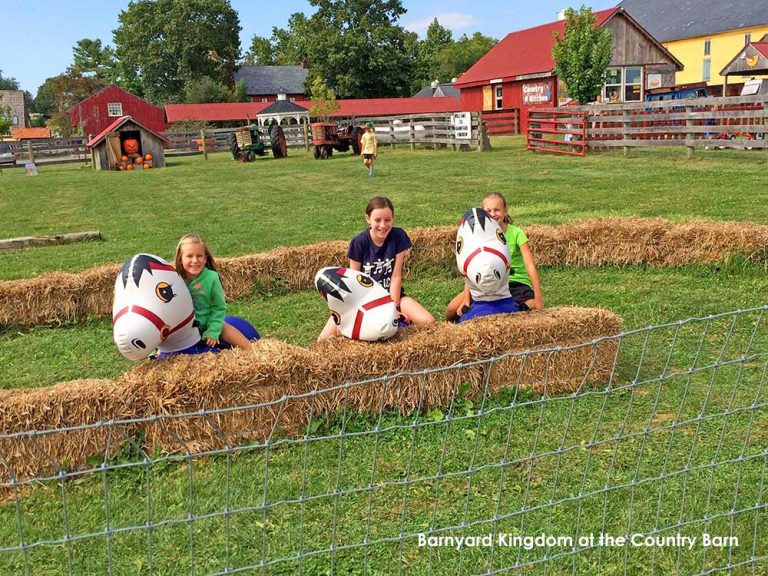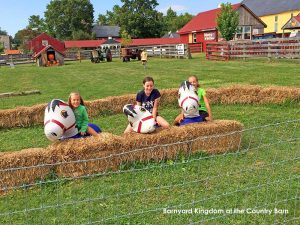 Aside from just focusing on apples and pumpkins, many destinations around the region offer general harvest activities.  One of our favorites is Barnyard Kingdom at the Country Barn, a farmer's market in rural Lancaster.  Every fall, they transform the farm into a wonderland of harvest-themed fun, including a corn maze, pig races, barnyard animals, tricycle race courses, and a large bounce pad to name a few (Admission: $11/adults and children 3 and over, Free/children 2 and under).  Another adventure farm to check out in Lancaster, very popular with visitors from other states, is Cherry Crest Adventure Farm located in Ronks (Admission: varies depending on times and days but ranges from $15-$33/adult and children over 3, Free/children 3 and under). Jim Thorpe Fall Foliage Festival running three weekends in October capitalizes on the beauty of fall to showcase this wonderful, historic town and making it the perfect weekend getaway in fall. (Admission: Free but you will probably have to pay to park, separate admission for jail and house tours and train rides).  If you appreciate a historical twist, Newlin Grist Mill in Glen Mills has a delightful Fall Harvest Festival on October 6 featuring a whole variety of 18th-century games, crafts, demonstrations, and foods reminiscent of Williamsburg, VA (Admission: Free but $5 parking).
Halloween–
Although not a federal holiday, many enjoy celebrating nonetheless primarily by donning costumes and trick-or-treating.  Besides taking the kids around the neighborhood, you could maximize your costume investment by enjoying one of the many area attractions that offer trick-or-treating such as the amusement park Hersheypark (Admission:  $39.95/ages 9-54, $29.95/ages 55 and over, Free/children 2 and under)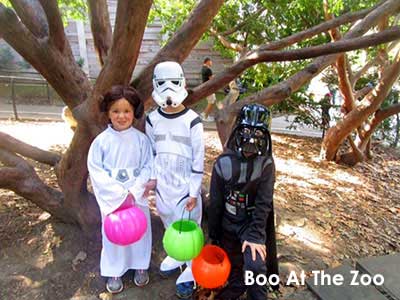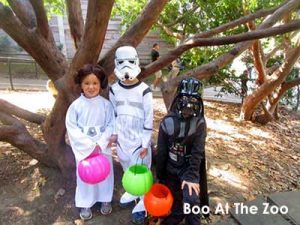 For three weekends in October, "Boo at the Zoo" at the Philadelphia Zoo welcomes families for the special Halloween-themed event (Admission: $24.95/ages 12 and up, $10/ages 2-11 (Boo at the Zoo only), Free/under 2).  Besides enjoying the regular activities your admission covers, visitors arrive in costume and receive treats along designated stops, among other fall-related diversions.  The Morris Arboretum in Chestnut Hill is a family favorite and during the month of October, attendees are privileged to enjoy the Scarecrow Walk, a contest requiring entrants to create a scarecrow adhering to the yearly theme (Admission:  $19/adults, $17/Senior 65 and over, $10/children 3-17, Free/children under 3).
The Millersville Parade is one of the largest and most dynamic parades in Lancaster County held annually in October. Some spectators have their children costumed as candy is tossed from the floats.  See if a town near you holds a fall or Halloween parade.
History–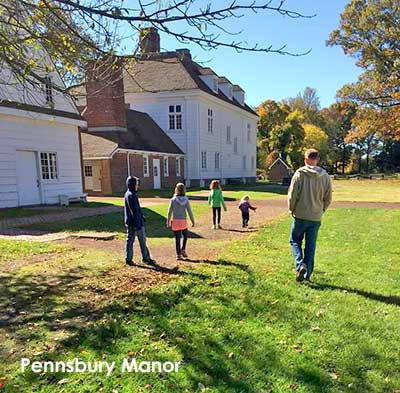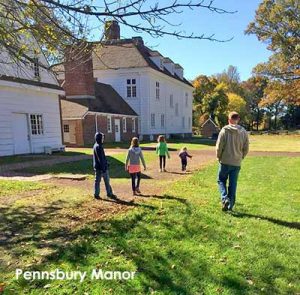 Most of the destinations on my bucket list include a step back in time and fall is the best time of year to enjoy the often picturesque surroundings of historical sites.  For a great starting point, check out PA Trails of History to explore a variety of preserved sites around the state of Pennsylvania, including historic homes, military encounters, industrial remains, and historical markers.  Perhaps my all-time favorite fall family outing took place a few years ago when we visited the Pennsbury Manor (part of the Trails of History) in Morrisville on an absolutely stunning day, complete with peak-season foliage and crisp, azure skies (Admission:  $9/adult, $7/Seniors 65 and over, $5/children 3-11, Free/children under 3). Reconstructed country estate of Pennsylvania's founder, William Penn, this pleasantly situated home sits right on the Delaware River providing a lovely spot for a fall picnic.
If you enjoy the spooky side of Halloween, many historic homes offer ghost tours like the infamous Farnsworth House Inn in Gettysburg (Admission:  $10/per person for most types of tours available).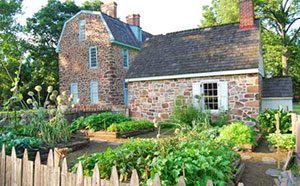 Horrific scenes during times of war, centuries later, former battlefields are peaceful respites from the hectic pace of modern life.  Immerse yourself in autumn's beauty at Valley Forge National Historical Park, just an hour's drive from Philadelphia (Admission: Free since it is a national park).  My whole family agreed we all felt refreshed after a fall visit here.
Another destination on my short list is Washington Crossing Historic Park in Washington Crossing (Admission: Combo ticket to take full advantage of park attractions is $15/ages 5 and over, Free/children 4 and under). Site of the famous nighttime crossing of the Delaware River by George Washington and his continental army, this destination offers a historic village and houses for touring, along with a unique lookout tower built in the early part of the century to commemorate Washington keeping a lookout for the advancing enemy.  At 125 feet into the air, visitors enjoy a bird's eye view of the river and surrounding countryside.
Hiking and Fall Foliage–
Perhaps there is nothing more pleasing about autumn than taking in the colorful array of fall foliage.  Unfortunately, the window of time is short, with the northern counties experiencing peak season early in October and the southern counties peaking at the end of October or even early November. Experts predict the excess rain we received this year will actually stimulate even more vivid displays than usual!  Do be proactive and plan either a drive, train ride, or hike during your county's foliage peak.  Probably the only time I ever enjoy driving the PA turnpike (towards Philadelphia) is the end of October; a gorgeous display of color soothes my senses during the mind-numbing miles.  As for hiking, a particularly stunning spot is the Great Allegheny Passage in the Laurel Highlands which starts in Pittsburgh and spans 150 miles to Cumberland, MD. Frank Lloyd Wright's architectural masterpiece "Fallingwater" is located here and is open for tours.
Well-known for skiing in winter, Big Pocono State Park in Tannersville offers breathtaking vistas for fall treks.
Hyner Run State Park in North Bend is surrounded by Pennsylvania's largest state forest, no doubt giving hikers an eyeful of color as they traverse rugged trails up to 50 miles long.  As long as there are trees, anywhere you go in PA is bound to be a treat this time of year!
Football–
Quite frankly, without this category, it wouldn't be fall for a lot of folks.  Besides watching on the big screen, an idea for an enjoyable, family activity is to attend a local high school or college football game.  Spirited fans, cheerleaders, the band, and smell of hotdogs make for a memorable outing. Attending a Penn State football game?  Consider putting an educational twist on the trip and visit the Penn State All-Sports Museum (Admission: Suggested donation is $5/adults, $3/children and seniors).  Another alternative on the other side of PA would be the Western Pennsylvania Sports Museum in Pittsburgh (Admission: $18/adults, $15/seniors 62 and over, $9/children 6-17 and students, Free/children 5 and under.)
Whatever your inclinations, hopefully, I've given you a great starting point.  Pick a category or one activity from each, but in any case, don't delay because as quickly as it comes, fall will "leave."