New Year's Eve Celebrations
Lauren Hillegas December 26, 2018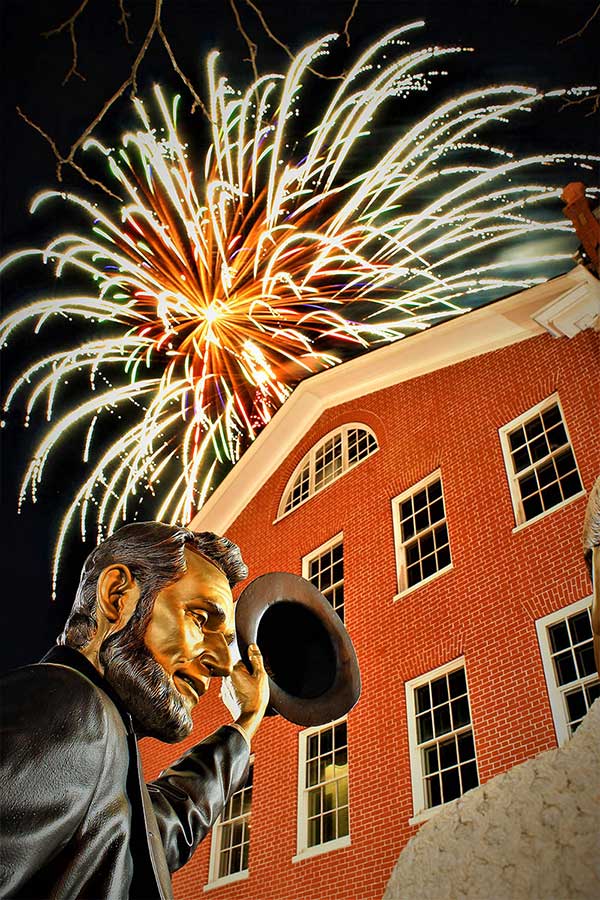 Photo courtesy of  Destination Gettysburg
Gettysburg, Adams County: Lincoln Square New Year's Eve Celebration
Free to the public, come out and enjoy an evening of music and fireworks and so much more at Lincoln Square in Downtown Gettysburg. Balloon art by Adventure in Fun, classic rock by the band Audacity and a show-stopping fireworks display make this an unforgettable way to ring in the new year.
December 31st 9pm-12am. Lincoln Square, Gettysburg, PA
Crawford County: New Year's Eve at the Baldwin Reynolds House Museum
The Baldwin Reynolds House Museum will house a New Year's Eve fit for the roaring '20s, so come ready to celebrate in your Great Gatsby themed attire! Swing to jazz music, enjoy hors d'oeuvres and toast to 2019 at midnight. Reserve your ticket today before they sell out!
December 31st 9:30pm- January 1st 12:30am. Meadville, PA 
Butler County: Silvester New Year's Eve Celebration
Welcoming 2019 on German time (6 pm EST), Silvester New Year's Eve celebration reflects the community's German roots. Beginning the day with a 5k run/walk and ending with a ball drop and fireworks, Harmony's Silvester Celebration still allows families to welcome the new year and get a full night's rest.
December 31st 2 pm- December 31st 6:30pm Main & Mercer Streets, Harmony PA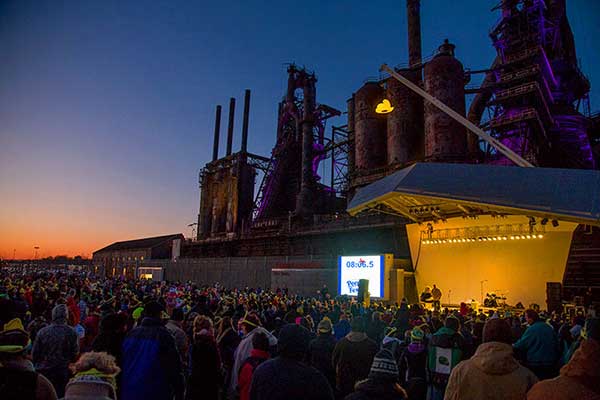 From December 30th to December 31st, celebrate the coming of the new year at the Steelstacks in Bethlehem with PEEPS! Family fun for all at this 10th annual Peeps Fest, which leads up to the PEEPS Chick Drop (a 400 pound PEEP!) on New Year's Eve.
December 31st 10:30am-5:30pm. Steelstacks, Bethlehem, PA
Berks County: Reading Symphony Orchestra: New Year's Eve-The Music of James Taylor & Carole King
Hear the music of Carole King & James Taylor, performed by Kirsti Manna and Jonathan Birchfield as you celebrate the end of the year. Classics like, "You've Got a Friend" and "How Sweet It Is" are just a few of the renditions they will be performing.
December 31st, 7:30pm. Santander Performing Arts Center, Reading, PA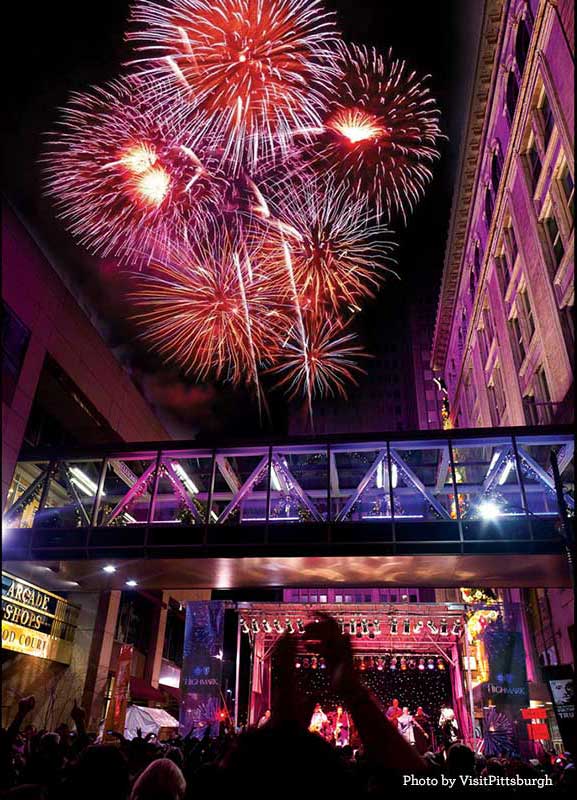 Pittsburgh: First Night Pittsburgh
Ring in the New Year in style in the heart of Downtown Pittsburgh, numerous activities will keep the city moving into 2019: ice creations, performances in the Penny Arcade, fireworks and so much more! Several locations throughout the Cultural District of Downtown Pittsburgh.
December 31st, see website for times of events Pittsburgh, PA
Kennett Square, Chester County: 2018 Midnight in the Square
A laser light show, food, beer & wine, live music…and a mushroom drop! The Mushroom Festival and Kennett Area Restaurant and Merchant Association are your hosts for Midnight in the Square. Admission: Free. Young children and their parents are invited to kick off our NYE celebration at 6:30 pm. "Raising" our lighted Mushroom will take place at 8:45 pm.
December 31st, 6pm for laser light show, 6:30pm otherwise- 12:30am. Kennett Square, PA