Jesus
Wendy Royal March 31, 2018
Taking a behind-the-scenes tour of a show is always interesting. Just gaining access to the organized chaos behind the curtain that goes into a live production is fascinating. But, when you go behind the scenes at Sight & Sound Theatre in Lancaster County for the production of Jesus, you've entered into a whole new level of insight of what it takes to produce a show of this magnitude.
From humble beginnings more than 40 years ago to a production that includes the world's largest theatrical LED screen at 110' wide and 3 stories high. The 22 million-pixel screen acts as a backdrop for the spectacular sets that make up the presentation of Jesus. Seeing that LED screen was certainly impressive, but everything done at Sight & Sound is impressive. From the 3-story elevator that takes mammoth sets (built down in the theatre's workshop) up to the stage floor, to the costume department which uses approximately 10,000 yards of fabric to design and create the costumes for each show. Some of the crew even traveled to the Holy Land to film the landscape that would be shown on the screen in the background. While the production quality is always foremost in the minds of the show's creators, keeping to the mission of Sight & Sound is the most important task at hand.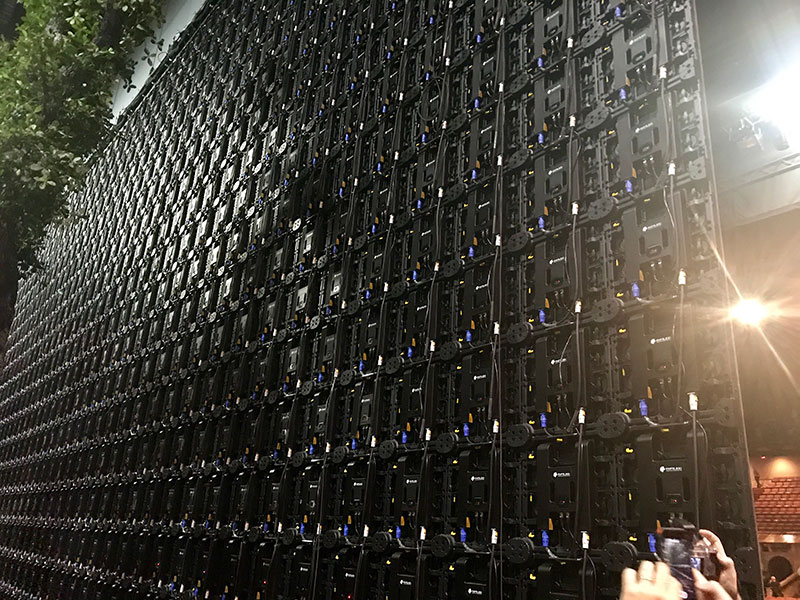 One of the hallmarks of any Sight & Sound production is that animals are always part of the show. And, like their human counterparts, they nearly always hit their marks. Fifty-six animals take part in the production of Jesus, including a camel named Omar, Princess a horse and Max the donkey, which were introduced to me on the tour. These incredible animals live at the theatre's training facility nearby.
This year the Lancaster theatre will present more than 400 live shows before it wraps and moves on to Branson, Sight & Sound's second theatre. The crew meticulously packs up the sets and costumes in dozens of tractor-trailers and ships them off to start another run of the show there. All the shows are produced and performed in Lancaster before moving on.
If you're familiar with the shows at Sight & Sound, you know that nearly all of them are based on stories from the Old Testament. The stories of Noah, Samson, Jonah, and Joseph have all been staged at the theatre, so telling the story of Jesus is a step into the New Testament.
The show didn't disappoint. With all the background technical knowledge that I had just gained, I was concerned that I would not be able to lose myself in the story. My worry was for nothing, lights went down and the LED screen disappeared, all I saw was the Sea of Galilee. The sets and the backdrop work as a cohesive unit with the incredibly talented actors on stage.
From the powerful scene of Jesus walking on water to His heart-wrenching and poignant last days, Jesus is an immersive theatre experience like no other. The 2-and-a-half-hour show (with an intermission) is appropriate for all ages. While you may not be able to get tickets for a show over the Easter holiday, you should reserve your seats now before they sell out. The show runs through January 5, 2019
 For more information on show dates and ticket prices, log on to www.sight-sound.com