Exploring Raytown Lake Region
SPONSORED February 4, 2019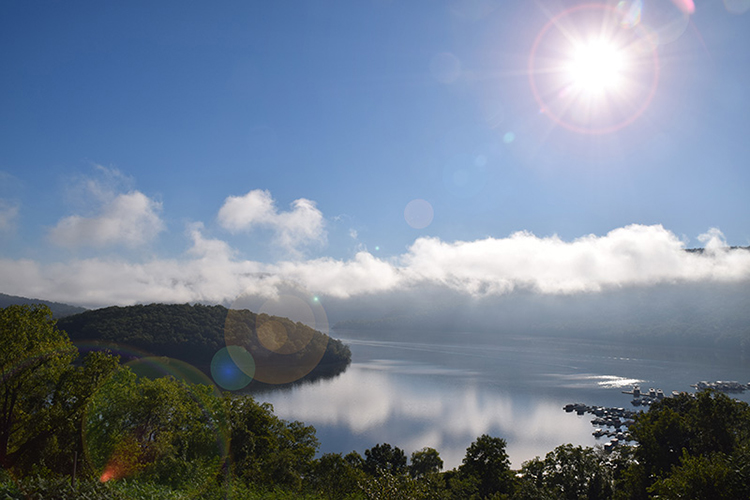 The 8,300-acre, 30-mile long Raystown Lake was created in the early 1970s and is a popular water destination for fisherman, boaters, kayakers and all water enthusiasts. The Raystown Lake Recreation Area welcomes about 1 million visitors per year to the lake and the public land surrounding it for world-class fishing, hiking, hunting, mountain biking, boating, picnics and more in scenery that has been rated as some of the 100 Best Scenic Views in America by ReserveAmerica.com's The Camping Club! Raystown Lake is a popular spot for swimming and water skiing for all ages. Raystown Lake is the largest lake entirely within Pennsylvania.
Be sure to bring your mountain bikes for the Allegrippis Trails at Raystown Lake. The Allegrippis Trails at Raystown Lake are about 36 miles of stacked-loop multi-use trails for use by mountain bikers, hikers, and cross-country skiers. (Named after the ridge on the west side of Raystown Lake.) The trails were built by the International Mountain Bicycling Association through a unique partnership that includes the non-profit Friends of Raystown Lake, Raystown Mountain Bike Association, US Army Corps of Engineers and many other supporting organizations. A popular mountain bike club event: Dirt Rag Dirt Fest happens each year on the weekend immediately prior to Memorial Day weekend at the Allegrippis Trails at Raystown Lake. www.dirtragdirtfest.com or www.allegrippistrails.com or raystown.org/allegrippis-trails. Dirt Rag Dirt Fest is held the weekend prior to Memorial Day/May 17-18-19, 2019. dirtragdirtfest.com/pennsylvania-2019
The Allegrippis Trails are ranked in the top 4 single track mountain bike trails in North America by Mens Journal magazine. And in 2014 were named as the top mountain bike trail in PA on a list of USA trails by reviewers at SingleTracks.com. Also on SingleTracks.com as of July 2018; the Allegrippis Trails at Raystown Lake are ranking as number 25 on "The BEST Mountain Bike Trails IN THE WORLD" list. More than 36 miles of single track trails link up for endless possibilities of riding in The Alleghenies of Pennsylvania through the forests and shoreline of Raystown Lake on the Allegrippis Trails. The trails are designated as "multi-use" for mountain biking, hiking, snowshoeing…so bring your camera and enjoy some of the best trails available in North America. You can practice at the 2 acre Raystown Mountain Bike Skills Park (free to access) before heading out on the main trail system. (The Raystown Mountain Bike Skills is open Spring through Fall depending on prevailing weather conditions.)
With many outdoor public spaces, the Raystown Lake Region has opportunities aplenty to breathe in the fresh air, walk through the forest, enjoy the wilderness scenery of Raystown Lake and paddle the gentle waters of the Juniata River. So bring your boots, kayak and mountain bike to really get the most out of your sojourn in Huntingdon County. You will find many spots to relax and unwind that are free to access — like Raystown Lake (8,300 acre lake surrounded by 29,000 acres of public lands), Trough Creek State Park with Rainbow Falls and Balanced Rock, Whipple Dam State Park for a beach alternative and Greenwood State Park with its top-notch historical exhibits and hiking trail access.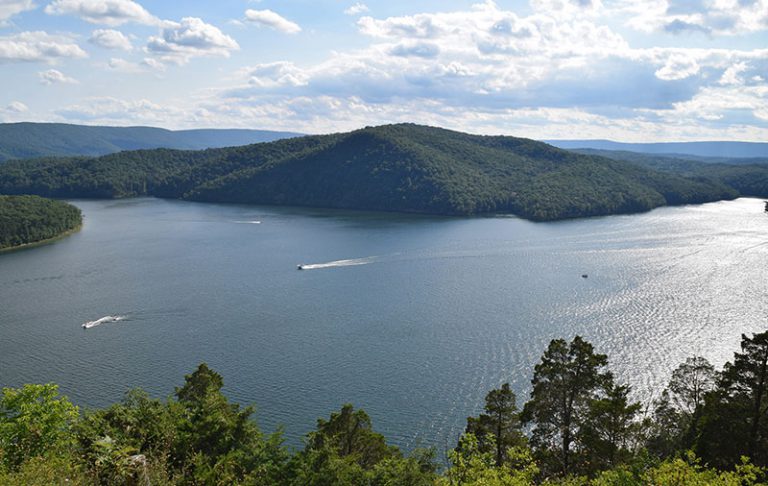 The Raystown Lake Region is home to Juniata College; a national liberal arts college dedicated to hands-on learning, preparing students for a life of service and leadership in a global setting. Juniatians benefit from rich traditions and academic experiences that flexibly support learners. Their "emphasis" approach to a traditional major creates a unique learning experience.
The interesting industrial history of the region, museums, caves, hiking trails, natural outdoor spaces and more await your pleasant journey to the Raystown Lake Region of Pennsylvania. We welcome groups of any size to visit the Raystown Lake Region for corporate meetings, family outings, day trips, reunions, honeymoons and vacations.
For a complete and updated list of events in the Raystown Lake Region, click to www.Raystown.org/events
Where can I sleep in the Raystown Lake Region?
— There are about 3,000 campsites to choose from within Huntingdon County, Pennsylvania… 790 campsites are near the shoreline of Raystown Lake and most of the remaining numbers of campsites are located with a few miles of the lake. Campsites with amenities range: about $30-80 per night.
— Raystown Lake is the only lake within Pennsylvania where you can stay in a houseboat and live on the water during your vacation.
[324 campsites in the Seven Points Recreation Area, 221 campsites at Lake Raystown Resort, 50 at Nancy's Boat-To-Shore and 195 at Heritage Cove Resort = 790 located near the shoreline of Raystown Lake.]
Whether you like to camp in a hammock under the stars, a finely appointed luxury vacation home, the shelter of a tent, hotel, inn, bed & breakfast or the comfort of a recreational vehicle, the Raystown Lake region has a site for you! With about 3,000 campsites to choose from, including permanent sites, transient sites, boat-to-shore sites and more, you should have no trouble finding a site that you like. Other accommodations include hotels, luxury vacation homes, cabins, lodges and…Raystown Lake is the only lake within Pennsylvania where you can get a houseboat and live on the water during your vacation! Many sizes of houseboat (some have hot tubs and sliding boards!) are available to accommodate smaller or larger groups as needed.
For more information on lodging and destinations in Raystown and Huntingdon County log on to  www.raystown.org