Adams County Pour Tour
Wendy Royal Fall 2019
The lush rolling landscape of Adams County is as bucolic as it is fertile. The Adams County Fruit Belt is Pennsylvania's largest fruit-growing contingency. With its abundance of fresh fruit, it's no surprise that the production of wine and ciders is also a winner for the county and anyone who tastes them.
When I decided to take the Adams County Pour Tour, I was already familiar with most of the wineries. While tasting was a great perk, I was interested in experiencing the production side of the industry. What I came away with was a great appreciation for the role that family and heritage play in the county's wineries, breweries, and distilleries – and even more so in the generations of families that are proud to be among the fruit growers of Adams County.
Day One 
405 Boyer Nursery Road, Biglerville, PA 17307
717-677-8558, boyercellars.com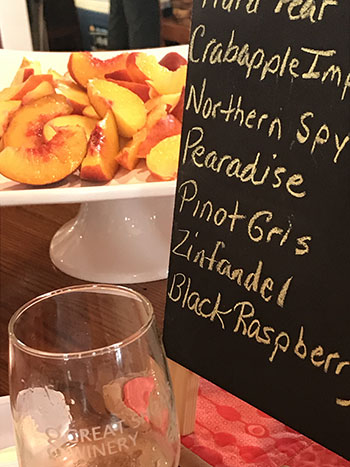 It's only fitting that we began the tour at Boyer Nursery & Orchards in Biglerville, where five generations of the Boyer family have carried on the heritage. When we arrived, we were greeted by Emma Lower, whose great-great-grandfather W.W. Boyer opened the business in 1900. Boyer's has a total of 1,800 acres with 500 acres in production. Three hundred of those acres are devoted to apple orchards. Cherries are Boyer Orchards' second-largest crop, with apricots, peaches, nectarines, plums, and pears also sharing the acreage. The fruit market is open from cherry season (mid to late June) to Christmas. In addition to fruit, the market has a variety of fresh vegetables, jams, jellies, honey, and locally made pottery.
Since 2010, Great Shoals Winery in Maryland has been purchasing fruit from Boyer for its ciders and fruit wine. The partnership between the two led to the opening of Boyer Cellars, located at Boyer Nurseries' garden center. The tasting room features a pleasant atmosphere with ample seating and a reclaimed chestnut wood bar. You can sample a variety of traditional and sparkling wines as well as Boyer's popular hard ciders. Northern Spy, a dry still cider made with Boyer's Northern Spy apples, is a best seller and perfect in the fall. Boyer Cellars has indoor and outdoor seating with great views of the countryside. The tasting room is open Friday – Sunday. See website for times.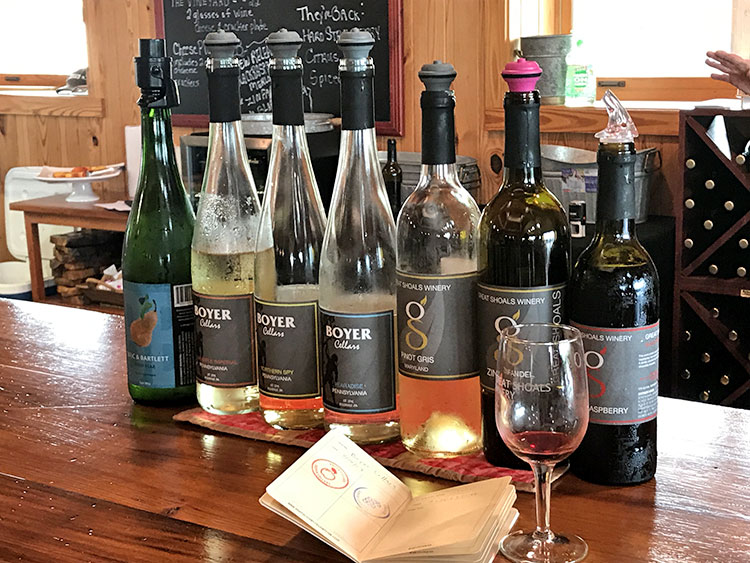 Tasting Room: Fri., 2 pm – 8 pm; Sat., Noon – 8 pm; Sun., Noon – 6 pm.
Fruit market: Mon. – Sat., 7 am – 5 pm; Sun., Noon – 5 pm.
---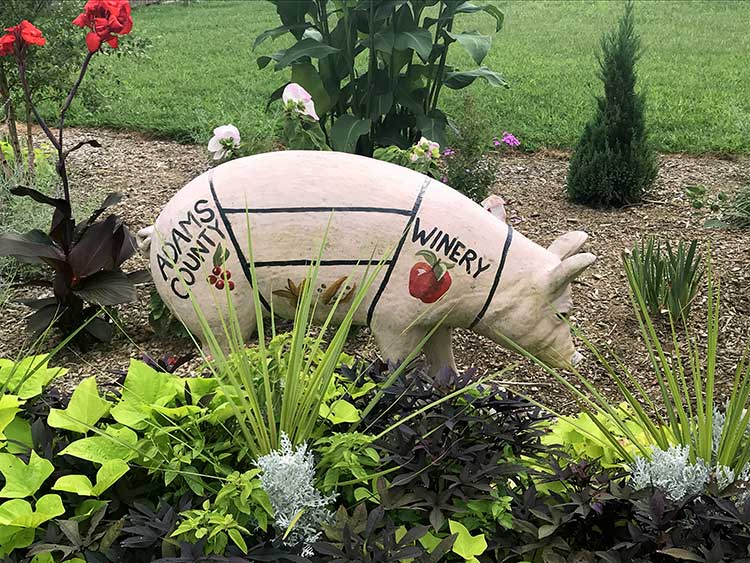 Farm Winery: 251 Peach Tree Road, Orrtanna, PA 17353
717-334-4631, adamscountywinery.com
Gettysburg Wine Shop: 25 Chambersburg St., Gettysburg, PA 17325
717-334-1381, adamscountywinery.com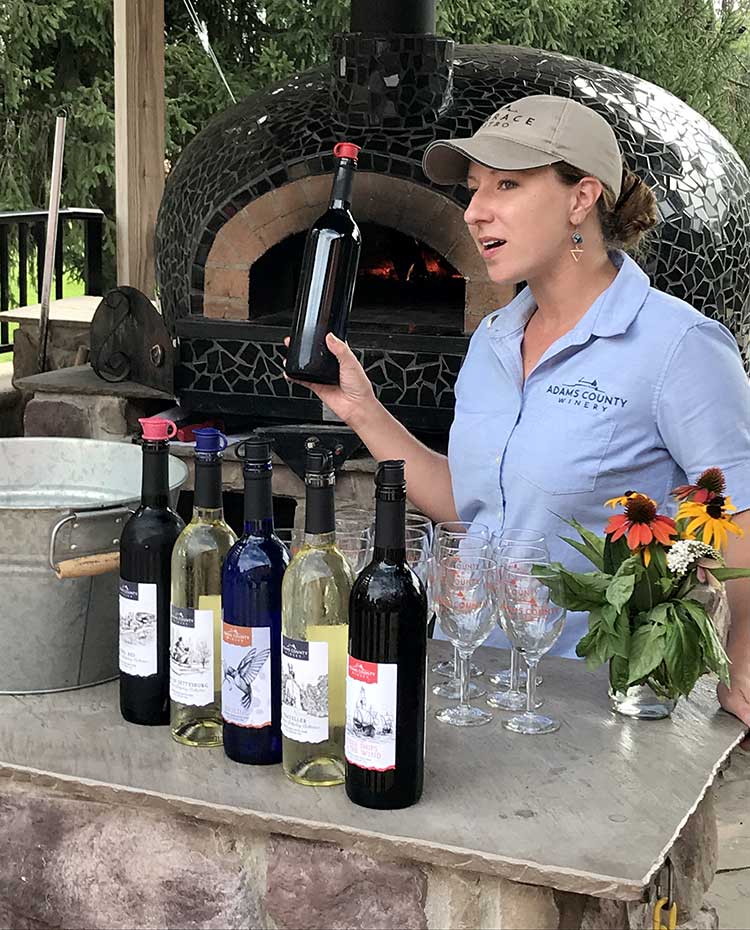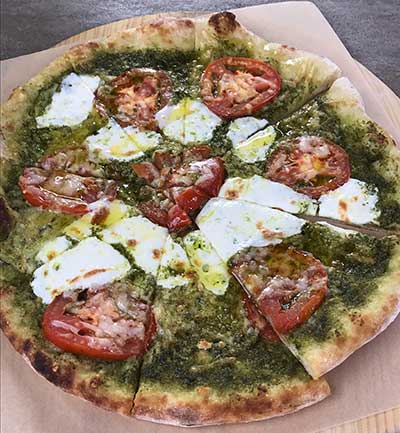 About 15 minutes southwest of Biglerville in the town of Orrtanna is where you'll find one of the oldest operating wineries in Pennsylvania. Upon arriving at Adams County Winery, we were greeted with a tantalizing smell. The aroma was coming from the Italian wood-fired pizza oven of the Terrace Bistro, which is located on the large patio in front of the winery. The outdoor bistro, surrounded by lush landscaping and lovely seasonal flowers, is a pleasant place to have lunch. After enjoying a delicious lunch, which for me included more than one slice of pesto pizza, we headed into the winery tasting room.
Inside the site's1860s bank barn, the friendly staff members were happy to introduce us to their award-winning wines. I sampled the Twisted Thicket, a sweet wine made with a blend of Concord, Niagara, and blackberry. I also tried the Rebel Red, which is Adams County Winery's most popular red wine, and I can see why. It tasted like a grape right off the vine. And finally, I had to sample the hallmark wine, Tears of Gettysburg, which the winery has been producing for more than 30 years.
Adams County Winery owners Katherine Bigler and her husband, John Kramb, are celebrating 20 years in the winemaking business this year. On Tuesday, Oct. 1, to celebrate the anniversary, the winery is bringing back one its most requested wines from the past, Fireside Memories. The semi-sweet blend of Vidal and local cherries also features a hint of Cabernet Sauvignon. Fireside Memories has a limited-time release and will only be around while supplies last.
Farm Winery tasting room hours: Mon. – Sun., 10 am – 6 pm.
Gettysburg Wine Shop hours: Sun., Noon – 5 pm; Mon. – Thurs., Noon – 6 pm; Fri. – Sat., 11 am – 8 pm.
---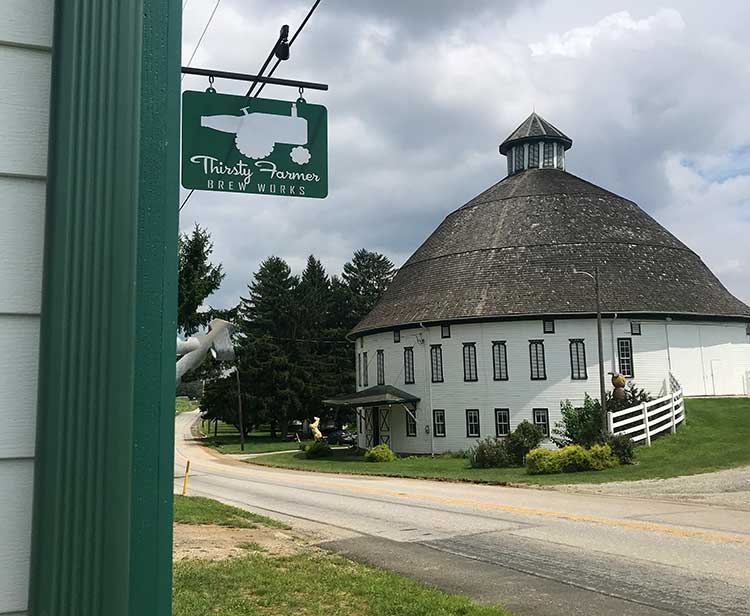 290 Cashtown Road, Biglerville, PA 17307
717-334-3325, thirstyfarmer.com
Like Boyer Cellars, Thirsty Farmer Brew Works also is located in Biglerville. Though the brewery is fairly new, the Knouse family, which owns it, has been farming the land in Biglerville for four generations. Every year after the harvest, about 20 members of the Knouse family would take a vacation together. As the cousins got older, the vacations tended to include brewery tours. Kevin Knouse explained that his father and uncle had been home-brewing for 30 years before they opened the brewery in 2015. The Knouse's renovated an old shop shed and turned it into the Thirsty Farmer Brew Works. You'll find a good variety of ales and lagers, as well as wheat beer, Chocolate Porter, and hard ciders that range from dry to sweet. The family's own hops and apples are used in the beer and cider. The menu at Thirsty Farmer showcases fresh ingredients grown on the farm and meats family members smoke themselves. There is both indoor and outdoor seating.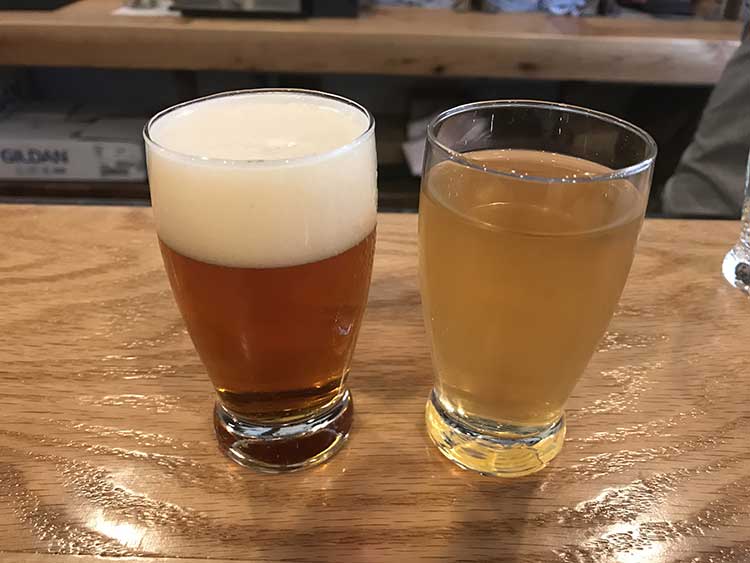 Located across the street is the Historic Round Barn & Farm Market. The rare round barn was built in 1914 by Noah Sheely. It was built to house cows, horses, and mules. The Knouse family bought the iconic structure in 1984. Today, the market features fresh produce, baked goods, jams, jellies, and sauces. The Round Barn may also be rented for special events. After outdoor ceremonies, wedding receptions take place inside the barn. The highly vaulted second story provides one of the most unique and stunning venues you're likely to find. The landmark is registered with the National Trust for Historic Preservation.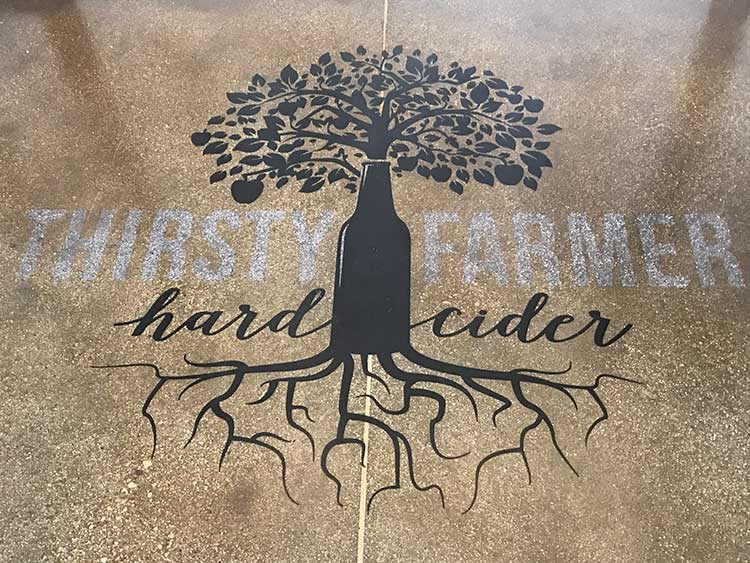 Thirsty Farmer hours: Thurs., 4 pm – 9 pm; Fri. – Sat., 11 am to 10 pm; Sun., Noon – 7 pm.
Historic Round Barn hours: (Late April – Dec. 1) Fri. – Sun., 9 am – 5 pm.
---
The Altland House, 1 Center Square, Abbottstown, PA 17301
717-259-9535, altlandhouse.com/center-square-brewing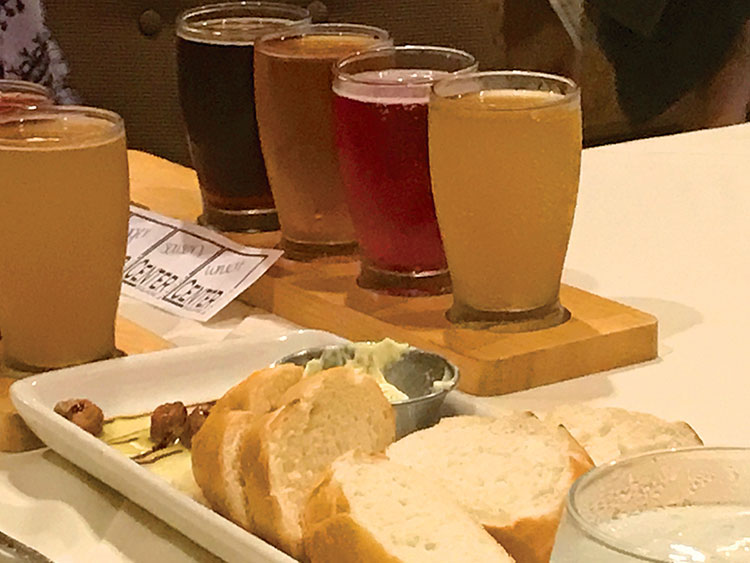 To say that the Altland House Grill & Brewery in Abbottstown has been a town staple for years is an understatement. The iconic restaurant and brewery were built as a tavern in 1763. It is among the oldest continuously operating taverns in the U.S.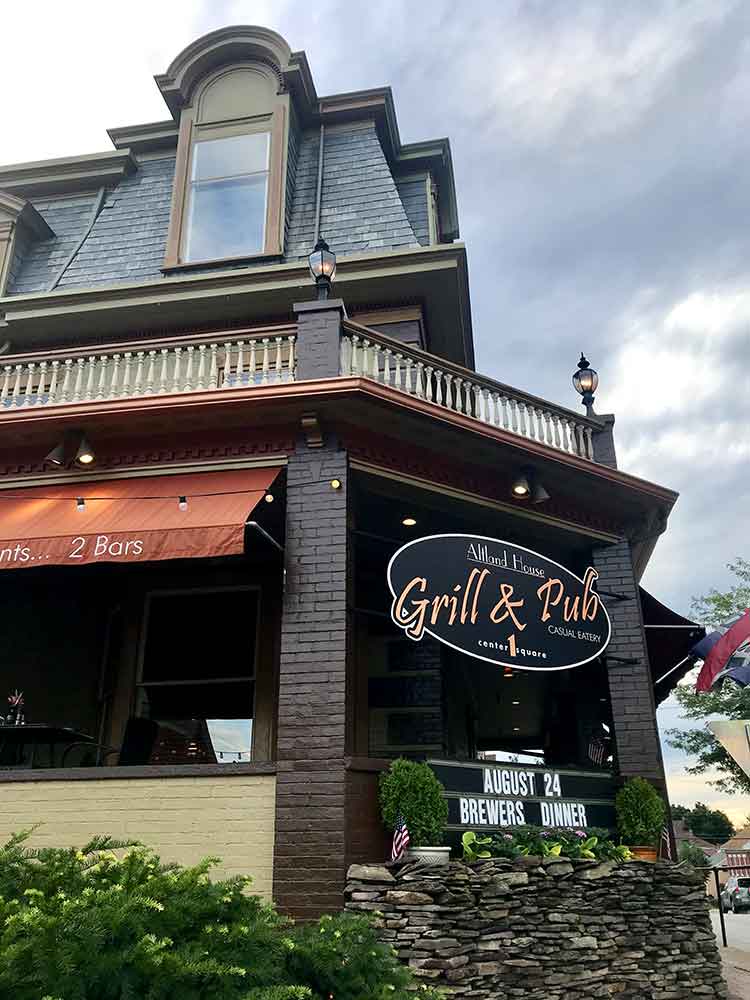 Three generations of the Hough family have owned and operated the restaurant. In the 1920s and '30s, the only dish on the menu was chicken and waffles. Altland House still serves its famous chicken and waffles along with a full menu of delicious classic and seasonal offerings. It was said to have been the favorite restaurant of President Dwight D. Eisenhower, whose farm in Gettysburg is open to visitors.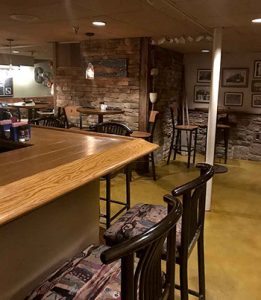 Center Square Brewing is located in the lower level of the Altland House. The three-barrel brewhouse produces handcrafted brews using local ingredients whenever possible. Center Square offers four rotating drafts and a rotating seasonal brew along with pub food at a table or the bar. One of the brewery's most popular brews is the German Chocolate Stout. I tried the 1763 Lager, which I found very tasty. Then I decided to step out of my craft beer comfort zone. After all, isn't that what tasting is all about? I had a bit of the John Abbott Alt, which had twice the IBUs as the lager I had already tasted. I just can't seem to turn myself in a hoppy girl, but my companions enjoyed it very much; in fact, they went on to try the STB Double IPA. Overall, we had a fun evening in a great laid-back atmosphere. Soon it was time to head back to the Gettysburg Hotel, where my very comfortable accommodations were waiting.
Center Square Brewing hours: Wed. – Thurs., 4 pm – 10 pm; Fri. -Sat., 4 pm – 11 pm.
Altland House hours: Mon. – Sat., 11 am – 9 pm; Sun., 11 am – 8 pm.
Day Two
1150 Evergreen Way, Orrtanna, PA 17353
717-334-7784, halbrendtwinery.com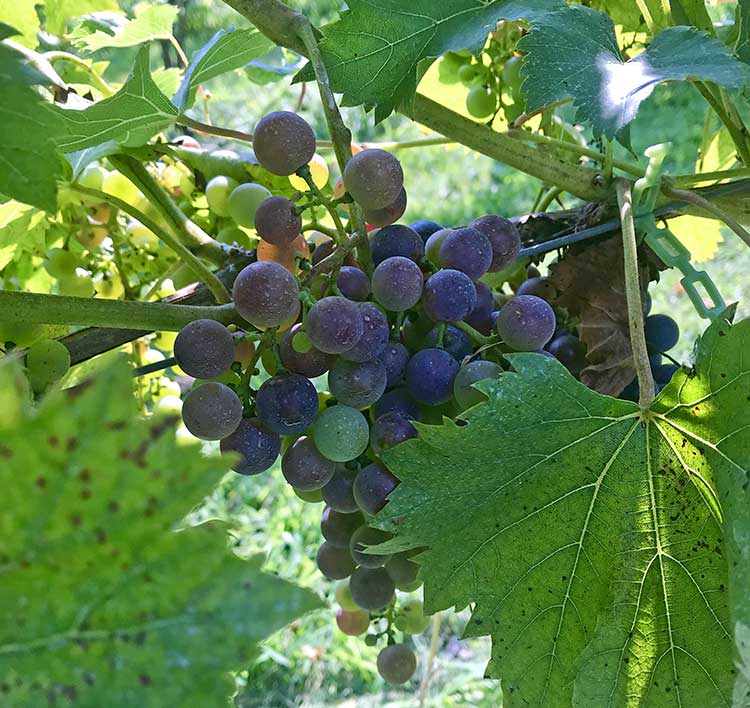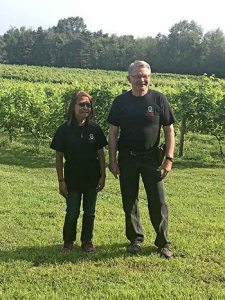 For John and Noemi Halbrendt, the journey to Halbrendt Vineyard and Winery in Orrtanna was anything but traditional yet made perfect sense. The two worked at Penn State University Fruit Research & Extension Center when they acquired the land that now is home to nearly five acres of grapes. "The vineyard was not our grand plan; we just wanted to live closer to nature," stated Noemi, who developed a successful sustainable vineyard pest management program that produces high-quality fruit.
Before opening the winery, John, a nematologist, won several medals in international amateur wine competitions. After he retired from Penn State in 2014, the garage was converted to a commercial winery, and John was no longer simply an award-winning wine hobbyist. Halbrendt Vineyard consists of four acres of hybrid European and native American grapes and one acre of viniferous grapes. The small winery has no employees. When asked how they manage the harvest, John explained, "We have many friends and great neighbors. So, when we're ready for harvest, we put out the word and people come."

Since both are plant pathologists, they know that fine wines are created in the vineyard. The Halbrendts use sustainable methods in tending their vines. They hand-pick and hand-sort the grapes so that only the very best fruit goes in the crusher. What I really enjoyed about this tour was how John and Noemi's passion for the process and product shone through as they spoke to us.
There is a quaint patio outside to sit and enjoy a glass of Frisky Blush, which was my pick of the day. A short walk up the lane leads to an open grassy picnic area. It was here that we had a wonderful breakfast overlooking the vineyard.
Regular Tasting hours: Fri. – Sun., 11 am – 6 pm. Other hours: the tasting room is open when the Halbrendts are working in the winery. Call for availability.
---
Home Winery Tasting Room: 2135 Buchanan Valley Road, Orrtanna, PA 17353 (closed for the 2019 season for renovation)
Tasting Room and Cider House: 400 Baltimore St., Gettysburg, PA 17325
717-677-7047, reidsorchardwinery.com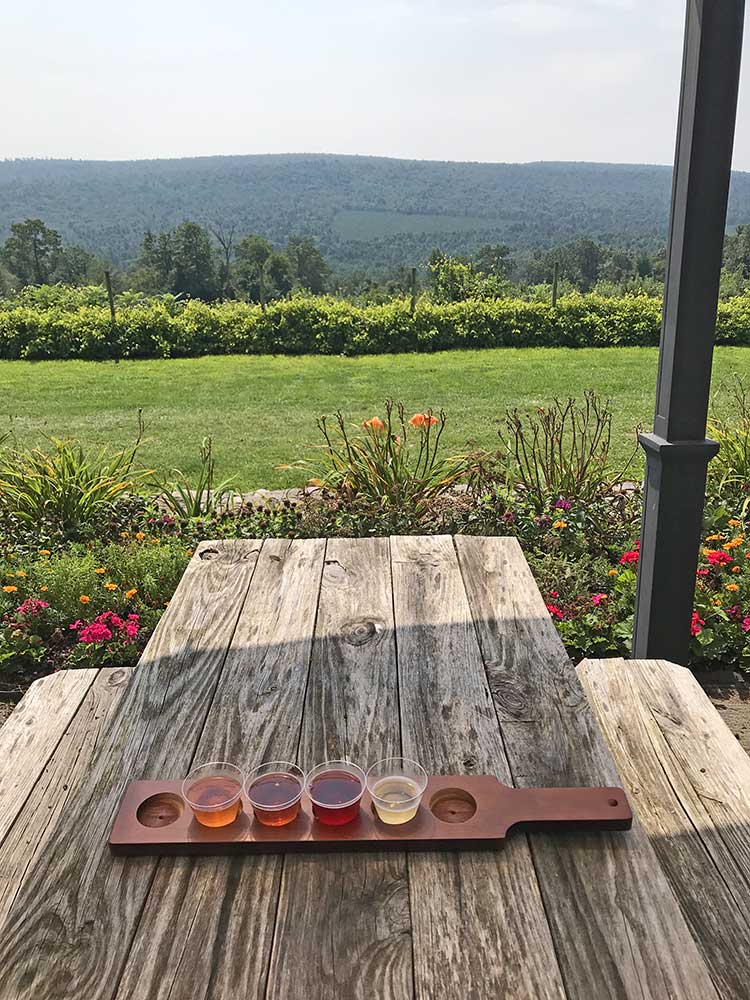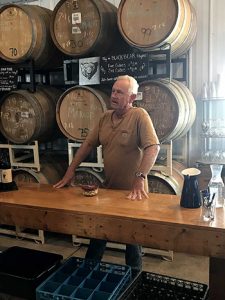 Reid's is located in the beautiful Buchanan Valley of Adams County. Reid's Orchard has 100 acres of fruit, which is parsed out equally with apples, peaches, grapes, and berries. The story of this winery is like the old adage "When life gives you lemons, make lemonade." About a decade ago in August, a huge hailstorm blew through the Buchanan Valley, damaging the fruit to the point where it wasn't marketable. Today, you can find "ugly" fruit in markets at a reduced price, but at the time there wasn't a market for it. So, what do you do with an orchard full of damaged but edible fruit? You make wine.  Today, Reid's makes red, white, and fruit wines in addition to hard ciders. Although I didn't sample any wines on this visit, I am fond of Reid's Red. I was there to sample the Black Bear Hard Cider, of which I had heard great reviews. Reid's has seven varieties of cider on a regular basis and a total of 15 when it offers seasonal selections. The cider flight I chose included Peach, Sweet Scarlet, JD (aged one year in Jack Daniels' barrels), Country Bear, and Apple Grape. They were all very tasty, but my favorites were the Peach and Apple Grape ciders.
This winery had the best view that I had seen on the Adams County Pour Tour. There is an outdoor seating area behind the tasting room, where sweeping views of the orchard are before you. Visitors are welcome to bring a picnic lunch to go with their wine and cider purchases.
Reid's Home Winery Tasting Room Hours: (Closed for the 2019 season will reopen on weekends from May through December) The winery does not offer tours, but the staff members are happy to explain their wine-making process.
Reid's Winery Cider House hours: Sun. – Thurs., Noon – 6 pm; Fri., Noon – 10 pm; Sat., Noon – 10:30 pm.
---
331 E. Water St., Gettysburg, PA 17325
717-398-3385, masondixondistillery.com
My final stop on my two-day Adams County Pour Tour journey was Mason Dixon Distillery. Like every other location I visited, the family is key in this endeavor. George and Yianni Barakos are the father and son duo behind the distillery. While the Barakos roots are in Greece, George was the first generation of the family to be born in the U.S. Yianni, who was our tour guide, shared how he built his first still in the family garage at the age of 11 and nearly burned the house down. From then on, Yianni would hone his distilling skills outside. You might be asking yourself how an 11-year-old would even know how to build a still. His grandfather, who distilled his own tsipouro (a Greek spirit often referred to as grappa), made Yianni a sketch of a still. After an apprenticeship in West Virginia, Yianni set off to open his own commercial distillery.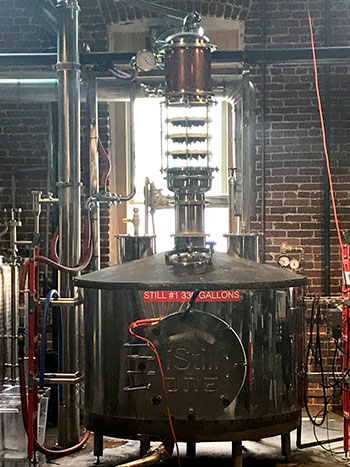 Father and son purchased an old furniture factory in Gettysburg and took a year and a half rehabbing it. The old furniture factory may have a new life, but the duo was careful to keep the old character of the building. While Yianni is the distiller, George is in charge of the restaurant. Before putting all his efforts in the new family endeavor, George owned three successful restaurants in Lancaster County. The restaurant is styled after a German beer hall, which I found to be very inviting. The kitchen uses locally sourced ingredients (some from its own large garden on-site) in its dishes when they are available. The menu offerings are comfort food from around the world.
On this tour, we learned about the distilling process from grain to bottle. Everything is made on-site. The grain is grown on the Trostle Farm located on the Gettysburg Battlefield. The distillery produces corn whiskey, vodka, and rum. The distillery is currently working on perfecting its gin and genever recipes. Craft cocktails using Mason Dixon spirits are available in the restaurant and bar.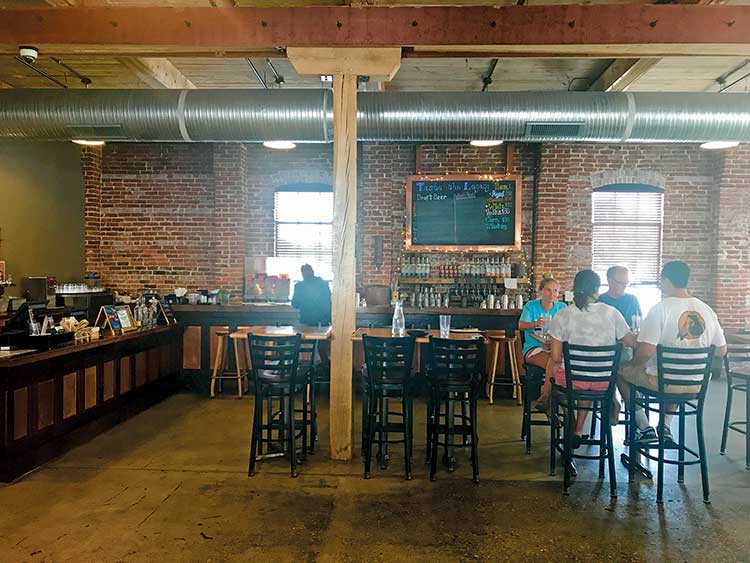 Tours: By appointment or Wed. – Sat., Noon – 4 pm every hour on the hour; Sun., call for availability.
Restaurant: Mon. – Tues., closed; Wed. – Thurs., Noon – 9:30 pm; Fri. – Sat., Noon – 10:30 pm; Sunday Brunch, 11 am – 3 pm.
---
Complete list of Adams County Pour Tour Locations