Celebrate The Holidays In the Lebanon Valley
Wendy Royal Winter 2020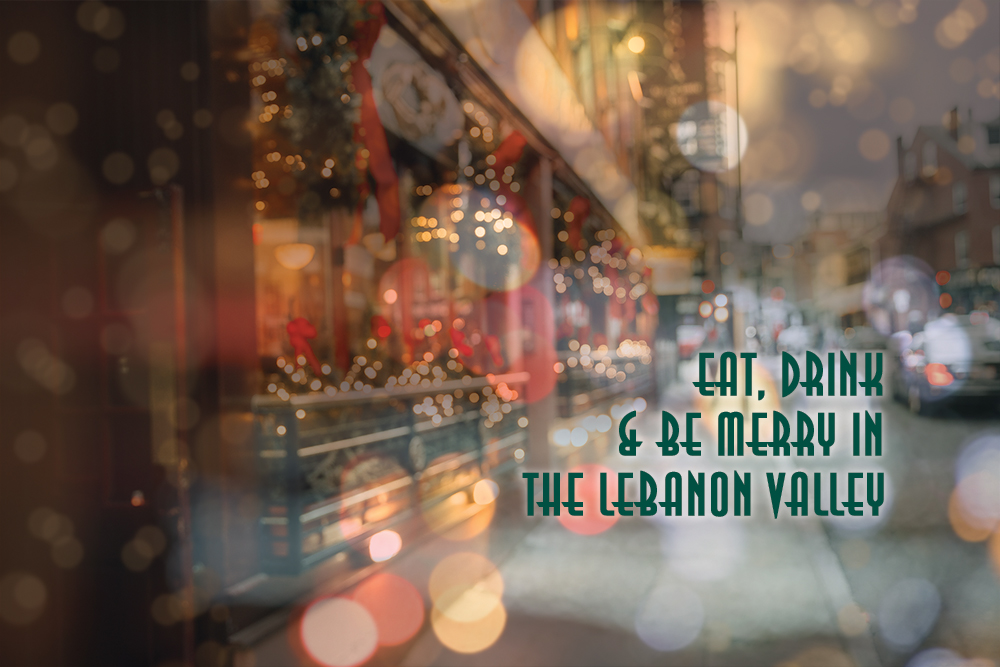 Throughout Pennsylvania, you will find counties where Amish and Mennonite farms create a quilted landscape, small towns where "local" has always been the way, and city hubs where the community thrives around the arts, history, shops, and restaurants. Like Lancaster to the south, Lebanon County has a rich agricultural heritage in addition to great shopping, history, and arts. Quaint towns, including Mount Gretna, Annville, Cornwall, and Schaefferstown, each have a unique character that sets it apart. Lebanon's Pennsylvania German roots are evident in many of the county's events and traditions. During the Christmas season, the best of Lebanon is on full display.
The holidays are the season of merriment – a time when we gather with family and friends to celebrate. These are some of my favorite destinations to enjoy the company of loved ones in Lebanon County.
EAT
The Blue Bird Inn in Cornwall is one of the oldest continuously operating inns/restaurants in Pennsylvania. Joseph and Ann Bowman built it as the Ye Olde Golden Key Hotel in 1859. In the 1930s, Matthew Karinch purchased the property and named it the Blue Bird Tea Room. The name eventually changed to the Blue Bird Inn. Andrew and Richelle Arnold have been the inn's owners since 2001.
Today, the Blue Bird Inn is a favorite of locals. During the warmer months, the relaxed vibe of the spacious deck is welcoming sight. During the winter months, the vaulted ceiling and massive stone fireplace exude a ski chalet feel. The warm, casual atmosphere combined with great food makes this my choice for a great place to celebrate with friends. I'm not usually adventurous when it comes to food, but on my most recent visit to the Blue Bird, I ordered the Lebanon Cheesesteak. I am a big fan of Philly cheesesteaks, so this seemed irreverent at best. The sandwich of grilled Lebanon bologna, onions, peppers, honey mustard, and American cheese on a fresh grilled Italian roll was quite good. You know what they say, "When in Lebanon…"
Ten minutes to the east of the Blue Bird, on Route 419, you'll find Schaefferstown, a village with a population of approximately 1,000. Like in Cornwall, you'll find stone structures, which were common in southeastern Pennsylvania in the 18th and 19th centuries.
One of those properties, The Franklin House, was built in 1746 by the town's founder, Alexander Schaeffer. It was initially called the King George but was wisely changed to the George Washington after the Revolutionary War ended. Later it became the Franklin House.
The menu offered at this historic property features everything from hearty tavern fare to a mouth-watering Filet Mignon Oscar. If you plan an intimate or family get-together at the historic Franklin House, go early and explore this quaint town. Stop in at The Tweed Weasel Folk Art & Primitives, known for handmade traditional folk art, redware, and gifts.
Ten years before building the Franklin House, Schaeffer built his home just a short walk from the tavern. Today, the Alexander Schaeffer Farm is used for living history events hosted by Historic Schaefferstown Inc.
Lebanon city's hidden gem has to be Trattoria Fratelli. This cozy Italian restaurant opened in 1996 and has enjoyed many accolades since then. The seasonal menu is created using the freshest ingredients for culinary treats that will rival grandma's Italian recipes. Trattoria Fratelli makes special occasions more special. The exposed brick and wood floors add to the warmth of this fantastic restaurant. From wood-fired pizza to an extensive wine list, this is my pick for dinner for two or three or eight!
Trattoria Fratelli is open Tuesdays through Saturdays from 4 to 10 p.m. The restaurant does not accept reservations except for parties of eight or more on Tuesdays through Thursdays only. If you have to wait to be seated, know it will be worth it.
DRINK
In 2014, Snitz Creek Brewery became the first brewery in Lebanon County in more than 50 years. The Lebanon Valley has a long tradition of brewing and distilling, so, when Snitz Creek Brewery opened its doors, it felt like a part of Lebanon that was missing had returned. Not only did co-founders Patrick Freer and Adam Szjada bring commercial brewing back to Lebanon, but they've successfully incorporated the Lebanon area into their craft beer. Their Seltzer's Smokehaus 7 is a Rauchbier that is created using grains smoked in smokehouses at Seltzer's Bologna in Palmyra. Another nod to the city of Lebanon is the Opera Fudge Stoudt, which pays homage to the famous opera fudge from Wertz Candies and Van Winkle.
Love for the outdoors and specifically fishing is showcased in the names of the brewery's flagship beers, Line Breaker and Opening Day IPA. When you order one of six selected beers on the menu, Snitz Creek donates 10 cents to local charities. It's what they call Brewing With a Purpose.
The menu is anything but traditional pub fare – the offerings are as creative as they are tasty. The food here is delicious, and you'll find the perfect beer to pair it with right on the menu. Friends and family will enjoy pairing great beer with great food at Snitz Creek Brewery & Restaurant.
A staple of the city of Lebanon for more than 40 years, The Downtown Lounge (DTL) is more than a neighborhood bar; it's part sports memorabilia museum, part sports bar, and part impressive restaurant. After working at the Downtown Lounge for nearly 30 years, Nanette Wright purchased the local favorite in 2018. "After 30 years, I bought my job," Wright joked.
Live music and events make the DTL a fun gathering place for friends. When not in use for private events, a spacious back room has a second bar, tables, a pool table, jumbo Jenga, and other games that make this a relaxed space to hang out. An extensive buffet menu is available to choose from when holding your event at The Downtown Lounge.
The food doesn't take a back seat at The Downtown Lounge. From seafood and steaks to burgers and salads, the only problem I had with the menu was making up my mind. I love pub food, and it exceeded my expectations in selection and taste. The Classic Pittsburgh Salad with New York Strip was perfect.
BE MERRY!
Remember when red noses and frozen fingers couldn't coax you inside? When the wind from flying downhill on your Radio Flyer left your face completely numb? Now you can make those lasting memories with your kids at Iron Valley Tubing. Tickets are good for four hours of good old-fashioned fun!
Iron Valley has a smaller hill for younger children and families and a massive hill with more than a dozen lanes, so there is rarely a line. Two lifts are available to take tubers back to the top for another blast down the hill.
If you need a quick warm-up break, the Tubing Shop and Club House is open to tubers. The Club House has a snack bar and restrooms. If you're looking for more than just a snack, The Miner's Pub at Iron Valley seats 100 and has a full regular menu as well as offerings for the kids. Stone-fired pizza is always a favorite. Locally brewed beers by Snitz Creek Brewery and Yuengling are on tap for patrons 21 years and older.
The Miner's Pub has a private room for 25, perfect for hosting a fun event for a group of friends or a small office party.
Keep in mind that the seasonal opening is dependent on the weather. Iron Valley needs several days of below-freezing temps to make snow. Check for updates on its website and Facebook page.
When was the last time you were on ice skates? The Klick Lewis Arena in Annville is open year-round with opportunities to get on the ice. The arena is the home ice of youth ice hockey and figure skating, as well as public skates held daily from 1 to 3 p.m. from Sept. 3 through Sunday, June 7, 2020. Laser Lights in the Night public skates offer two hours of great family fun every Friday and Saturday evening through April 25, 2020. The rates are very affordable at $6 for people age 11 and up and $3 for children under age 11. Skate rentals are $2. Snacks and beverages are available in the KLA Café. Party rooms are available to reserve an hour before or after public skates.
When visiting Lebanon, stop in at the Lebanon Valley Visitors Center located inside the historic Lebanon Farmers Market on South Eighth Street. The center is open Tuesdays through Fridays from 10 a.m. to 4 p.m. and Saturdays from 10 a.m. to 3 p.m. The friendly and knowledgeable staff of Visit Lebanon Valley will greet you. Get great tips for your visit, like where the locals like to shop and eat and explore the valley's rich history. Jennifer and Paige will also point you in the right direction to see Lebanon's impressive architecture and outdoors destinations. Visit the organization online at www.visitlebanonvalley.com.
MORE INFORMATION
2387 Cornwall Road, Lebanon, PA 17042
717-273-3000
Franklin House Tavern & Restaurant
101 N. Market St., Schaefferstown, PA 17088
717-949-2122
502 E. Lehman St., Lebanon, PA 17046
717-273-1443
7 N. Ninth St., Lebanon, PA 17046
717-450-4467
734 Cumberland St., Lebanon, PA 17042
717-274-2119
201 Iron Valley Drive, Lebanon, PA 17042
717-279-7409
101 Landings Drive, Annville, PA 17003
717-685-1401