Montage Mountain
Morgan Christopher Winter 2019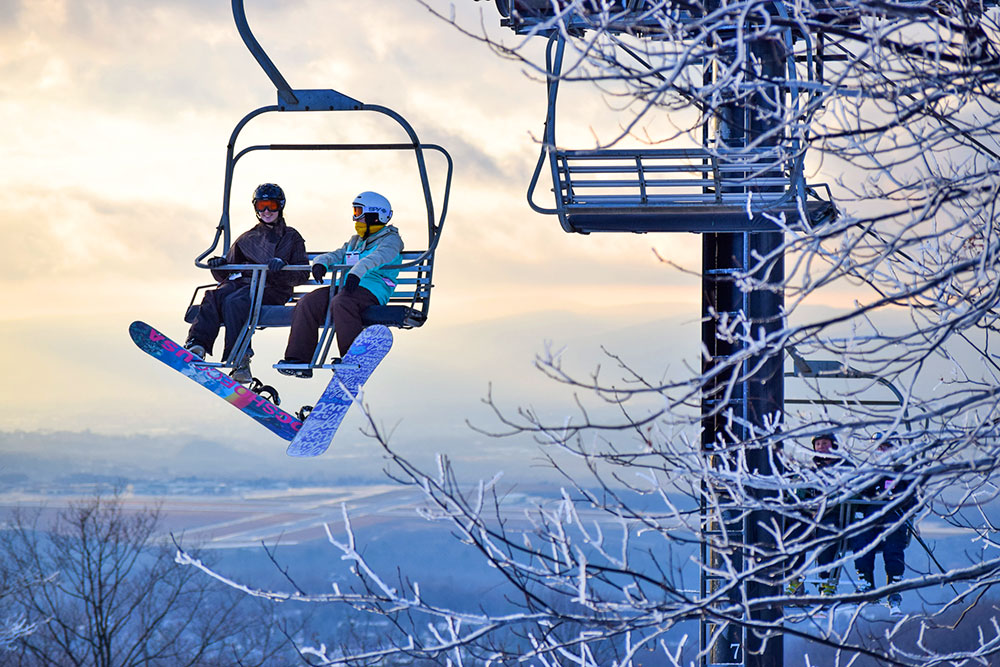 When driving north on Interstate 81 in winter, if you look to your right as you approach Scranton, you will see a series of trails cut into the snow-covered mountainside that serves as the backdrop for the retail and commercial businesses located right off Exit 190. This scenic mountainside is the home of one of northeastern Pennsylvania's most popular ski areas – Montage Mountain.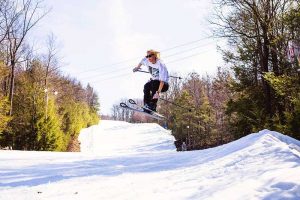 Opening in 1984 with seven trails, today Montage Mountain offers visitors 24 trails, including White Lightning, the second-steepest trail in the eastern United States. Home to two terrain parks designed with jumps, rails, and features ranging from beginner to expert, the resort has become a popular winter destination for snowboarders seeking an exciting mountain experience. Skiers of every skill level from beginner to expert agree that the experience waiting to be discovered on these 140 pristine acres makes a trip to Montage Mountain worth the two-hour drive from points like Philadelphia and Harrisburg.
Have you considered hitting the slopes but feel intimidated to try? Montage Mountain's Ski School offers classes for people of all ages designed to teach beginners the basics. Most lesson pricing at the resort is inclusive, with lift ticket, rental, and instruction offered for one economical price.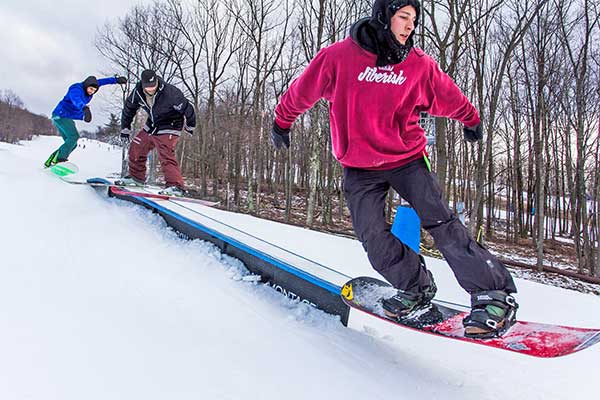 One of winter's newest trends – airboarding – is a popular draw to the resort, which boasts the largest program in the United States dedicated to this growing winter activity. Airboarding (gliding down the mountain slopes on an inflatable sled-like board) can be learned in minutes! Instructors provide a quick lesson, and in no time, airboarders will be gliding down the mountain as if they have been practicing their airboard technique for years. Snow tubing, another popular winter activity, remains a major draw at the mountain each year, where 10 snow tube tracks await visitors of all ages and all skill levels.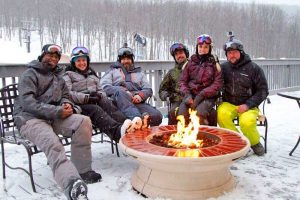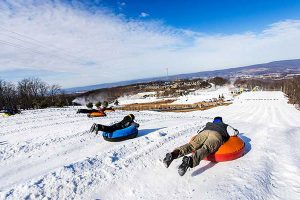 Visitors, groups, and families looking to dine while visiting the mountain will discover a variety of options within the lodge at Montage Mountain. At the food court, burgers, pizza fresh from the oven, and hot beverages are always on the menu. Those who want to truly brave the elements can enjoy a big cone of their favorite flavor of ice cream. Slocum Hollow Bar & Restaurant offers guests a relaxing place to dine while enjoying spectacular views of the mountain scenery. Featuring a wide menu of draft beer options, a full bar, and a menu of filled with American bistro favorites, Slocum Hollow offers a warm time and a great meal waiting for guests at the lodge.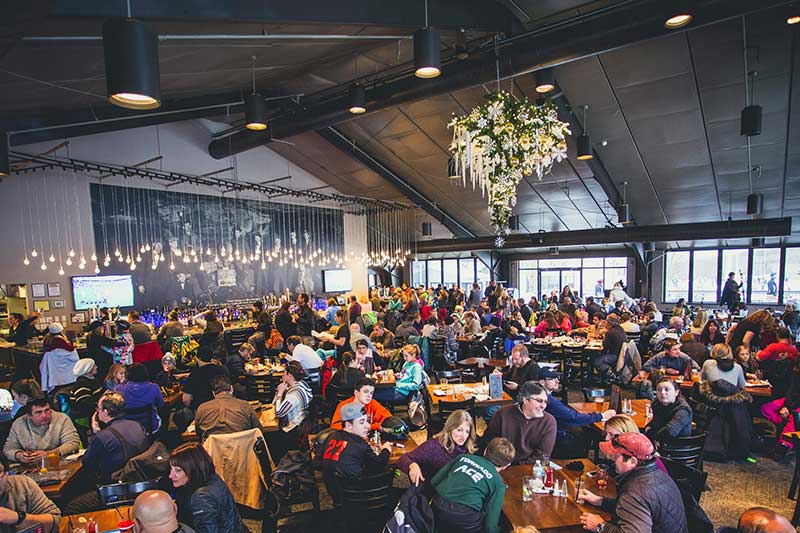 Special events scheduled throughout the season put the spotlight on having fun in the snow during winter. This January's "Splashin' With Compassion" will be the fourth annual Polar Plunge to support young individuals with cancer in northeastern Pennsylvania. Fun and creativity will take center stage at February's Cardboard Box Derby, during which friends and families build sleds out of cardboard, tape, glue, and string to compete to cross the finish line in the most snow-worthy sled they can create. This event culminates with a Torch Light Parade down Main Line slope followed by a fireworks display at the lodge. Ski races throughout the season (including the Mid-Atlantic Masters Race) mean there is always something on the calendar to welcome guests for a great time on the slopes.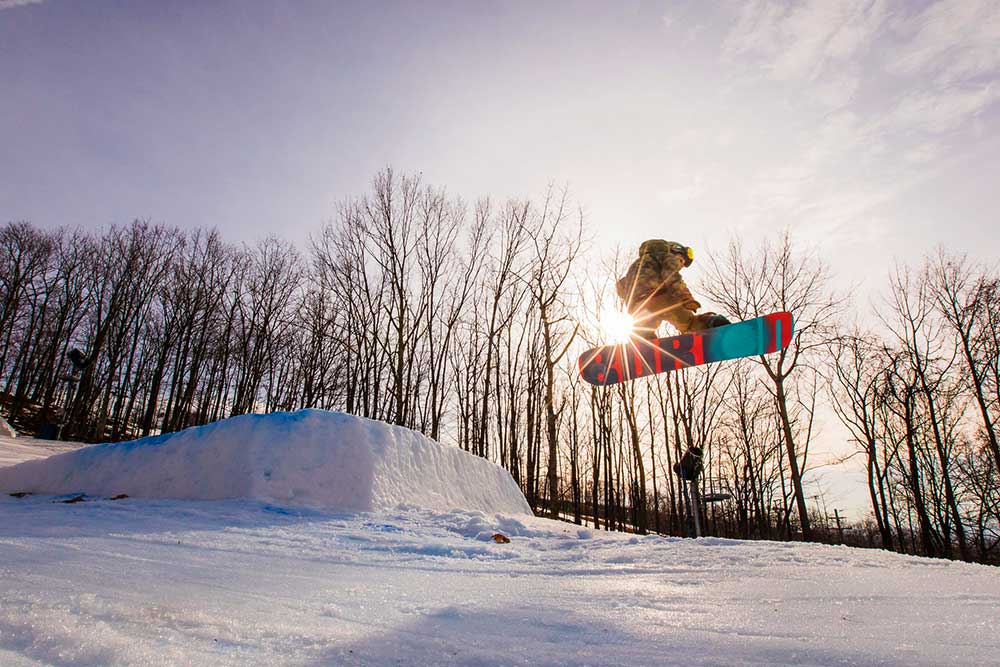 Located 8 miles from the heart of Scranton and the popular downtown attractions like Steamtown National Historic Site, Scranton Cultural Center, and the Houdini Museum, Montage Mountain is the ideal destination for a winter getaway that is easy to access despite changing weather forecasts. Thanks to the diligent work of Pennsylvania Department of Transportation crews, Interstate 81 (the region's main traffic artery) is one of the roadways cleared first during snow events. From the highway exit to the main entrance of the resort, local crews take over seasonal cleanup duties, allowing visitors easy access to the site. Several hotels located at the base of the mountain offer winter packages and ski rates to draw visitors looking for a winter holiday. The Shoppes at Montage, Cinemark 20 and popular restaurants located on the mountain fill out an itinerary for visitors to consider when planning a ski vacation to northeastern Pennsylvania.