DOWNHILL: Northern Pennsylvania Ski Resorts
Rick Hiduk Winter 2022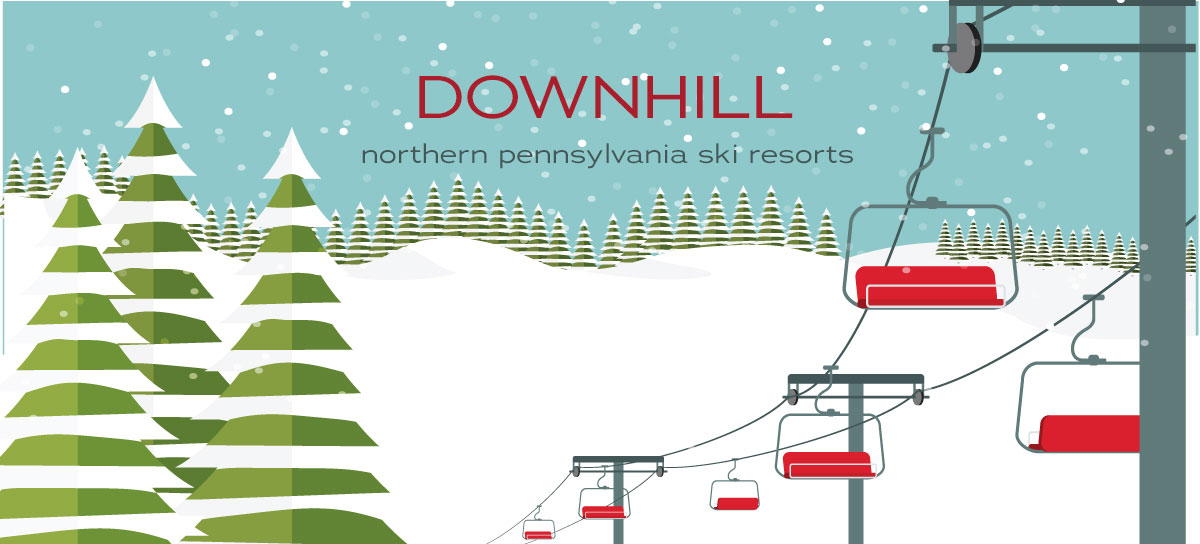 Winter recreation has evolved steadily over the past few decades, and outdoor venue operators have kept up with trends that saw snowboarding and tubing rivaling the popularity of traditional downhill skiing. Terrain parks are a quickly growing element, providing features that allow skiers and snowboard enthusiasts room to enhance specific skills.
The pandemic kept some places from opening last year, but resorts and other recreation centers are gearing up to get people back on the slopes this year, even with preventive measures in place. Before loading the skis and suitcases, sound planning is the key to a successful trip into the mountains this year, including checking for daily reports from your host destination.
Lodging and dining options vary significantly from one site to another. Ski centers that do not offer amenities of their own often partner with hotels and restaurants in the immediate vicinity, as reflected on their individual websites. Most websites also provide a registration cue for updates via email or phone.
---
Adventure Center at Skytop Lodge
1 Skytop Lodge Road, Skytop, PA 18357, (855) 345-7759
The Inn at Skytop Lodge, which was renovated during 2020, sits near the center of this 5,500-acre property. The Lakeview Restaurant offers fine dining and stunning views of Skytop Lake, and casual fare is available at Callaway's. Skytop Lodge prides itself on a natural environment and sustainability, so all winter activities, including skiing, snowboarding and ice skating, are weather-dependent. Lessons are available by registering in advance.
---
Bear Creek Mountain Resort
 101 Doe Mountain Lane, Lehigh Valley, PA 18062, (866) 754-2822
Since 1999, Bear Creek Resort has offered 23 trails and seven lifts among 330 wooded acres on Doe Mountain. The grounds are open to downhill skiing, snowboarding and snowtubing. Guests can relax in the Spa at Bear Creek or grab a meal and a beverage in the Grille or the Trail's End Cafe.
---
Blue Mountain Resort
1660 Blue Mountain Drive, Palmerton, PA 18071, (610) 826-7700
Blue Mountain boasts 40 ski trails, five terrain parks, 16 lifts and up to 34 tubing lanes. There are 171 skiable acres. The longest run is 6,400 feet and the highest vertical drop is 1,082 feet. Eating options range from the upscale Slopeside Pub & Grill to Valley Dogs just outside the Valley Lodge. Adult and non-alcoholic beverages are available at both.
---
Camelback Mountain Resort
301 Resort Drive, Tannersville, PA 18372, (570) 629-1661
Guests can enjoy skiing, snowboarding and tubing on 39 trails with 100% snowmaking, serviced by 16 lifts. Stay at Camelback Lodge and enjoy discounted pricing for lift and/or tubing tickets. Food and beverage options include Berrelli's Italian Chophouse, Trails End Pun & Grille, Graffiti Pizza, Hemispheres, and the Oasis.
---
Elk Mountain Ski Resort
344 Elk Mountain Road, Union Dale, PA 18470, (570) 679-4400
Elk Mountain Ski Resort boasts 180 acres and 27 trails for skiers and snowboarders of all skill levels in Herrick Township, Susquehanna County. In addition to full amenities such as restrooms and an on-site eatery, Elk Mountain offers two terrain parks with exciting features like jumps, boxes, bonks and rails. After a day on the slopes, guests can unwind at the newly renovated Winter Garden Restaurant.
---
Jack Frost Ski Resort
434 Jack Frost Mountain Road, White Haven, PA 18661,
and Big Boulder Mountain Ski Resort,
357 Big Boulder Drive, Lake Harmony, PA 18624,
(570) 443-8425
Jack Frost and Big Boulder are companion ski resorts. From the time snowmaking began there in 1956, the resorts laid claim to the distinction of being the first to open and the last to close each ski season. The summits are 2,000 and 2,175 feet, respectively, providing vertical drops of 600 and 475 feet, and the slopes offer a total of 35 trails served by 22 lifts, and a terrain park. Numerous restaurants and pubs can be found at both resorts.
---
Shawnee Mountain Ski Area
 401 Hollow Road, East Stroudsburg, PA 18301, (570) 421-7231
Shawnee Mountain has 23 slopes and trails, a snowtubing park, and two terrain parks offering multi-jumps, tabletops, spine and a full-scale rail and jib garden. Guests can enjoy food and beverages in Gromers Grill & Bar, the Summit Bar & Grill, Hope Lodge Cafeteria, Greenhouse Cafe, the Trepp Lodge Cafeteria, and The Tavern.
---
Ski Big Bear at Masthope Mountain
 192 Karl Hope Blvd., Lackawaxen, PA 18435, (570) 226-8585
Ski Big Bear is promoted as the perfect place to ski or ride for the first time, as well as having excellent trails for intermediate and expert users. There are 18 trails in all served by four lifts, plus a tubing trail. Visitors will find a country store and food services in the Mountaintop Village.
---
Ski Sawmill Family Resort
 383 Oregon Hill Road, Morris, PA 16938, (570) 353-7521
Ski Sawmill has 12 slopes and four lifts and boasts a 515-foot vertical drop. There is also a tubing tow and a terrain park to hone your skills or just have fun. A large staff of professionals offers group and private lessons for downhill skiing and snowboarding, and there are eight standard rooms available at Sawmill Mountain Inn.
---
Tussey Mountain
 301 Bear Meadows Road, Boalsburg, PA 16827, (814) 466-6266
Tussey Mountain offers three ski and snowboard lifts and one snow tube lift for seven trails on 50 acres near State College in Centre County. It includes a 500-foot vertical drop and trails designated for beginners, intermediate users and advanced users. There is also a terrain park with numerous challenging obstacles and skill-building elements, a lodge, a cafeteria and a pub.