Instagram Worthy Destinations in PA this Fall
Wendy Royal Fall 2018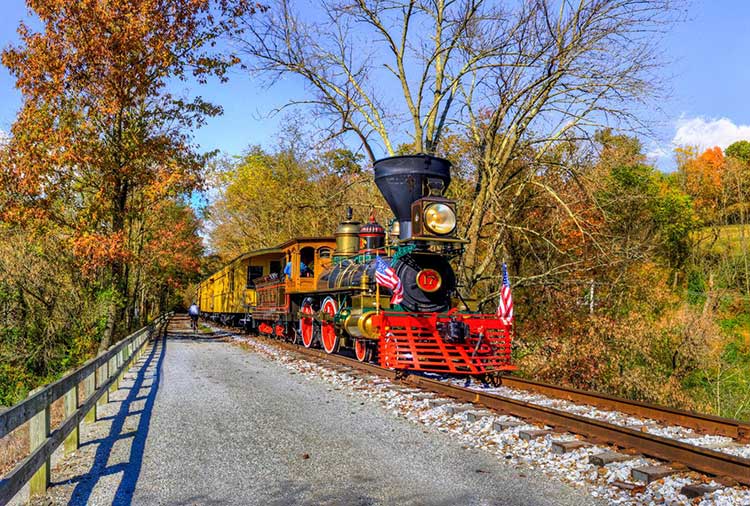 Steam Into History, New Freedom
For a truly unique leaf-peeping experience, hop aboard Steam Into History's William H. Simpson No. 17, a replica Civil War-era steam engine that runs along the same rails that President Lincoln rode on his way to deliver the Gettysburg Address. Based in New Freedom, the train follows the York County Heritage Rail Trail north to Hanover Junction. Steam Into History's fall foliage rides begin in mid-October and cover the peak viewing season for the area.
Photo by John Gensor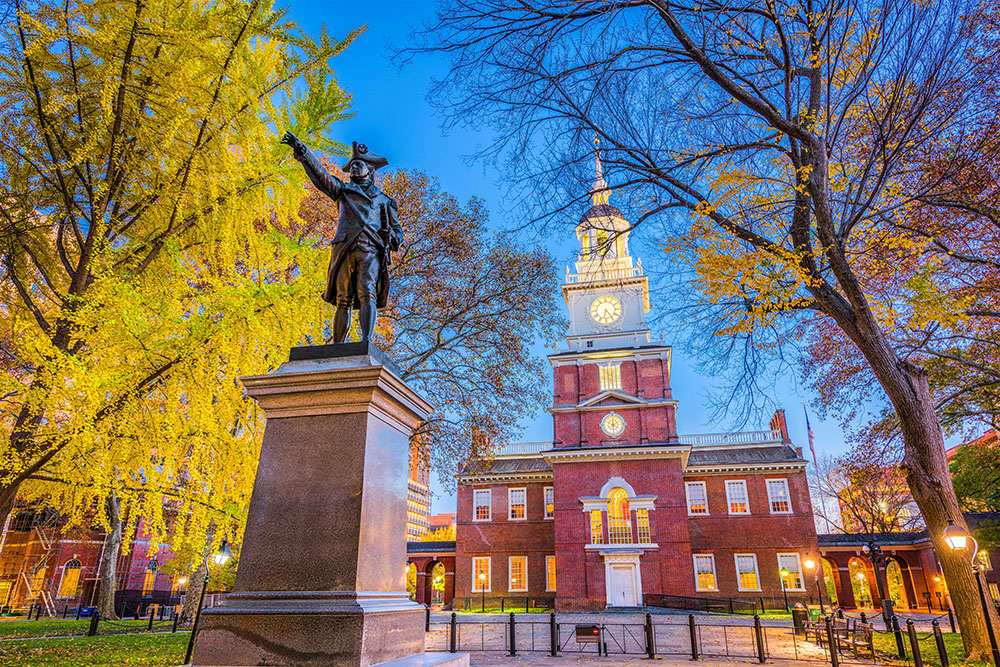 Independence Hall, Philadelphia
It's often said that history lives in Philadelphia, and fall is the ideal time to visit the city that helped stir a revolution and shape a nation.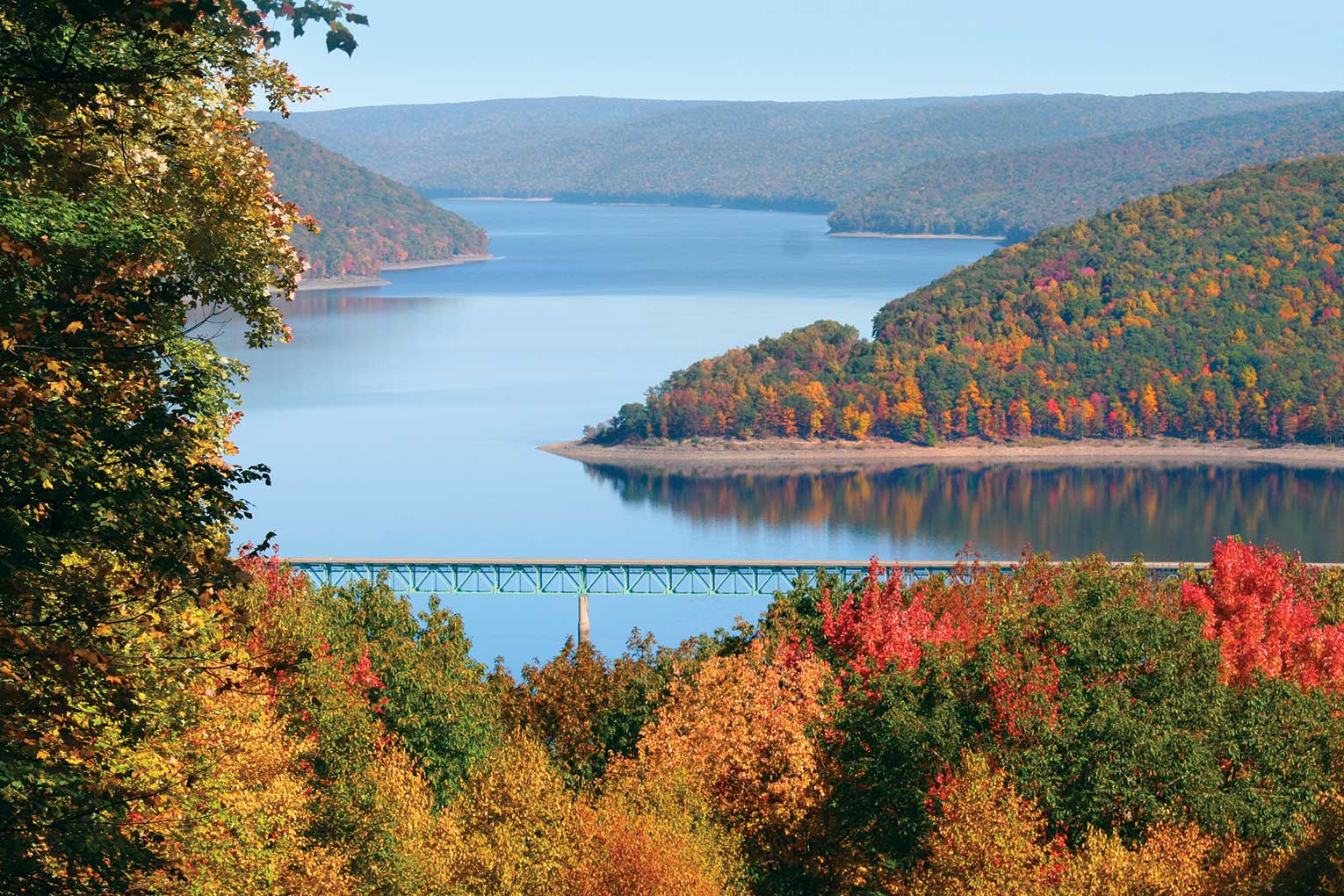 The Allegheny Reservoir, Warren
The Cornplanter Bridge (James Morrison Memorial Bridge) spans the Allegheny Reservoir.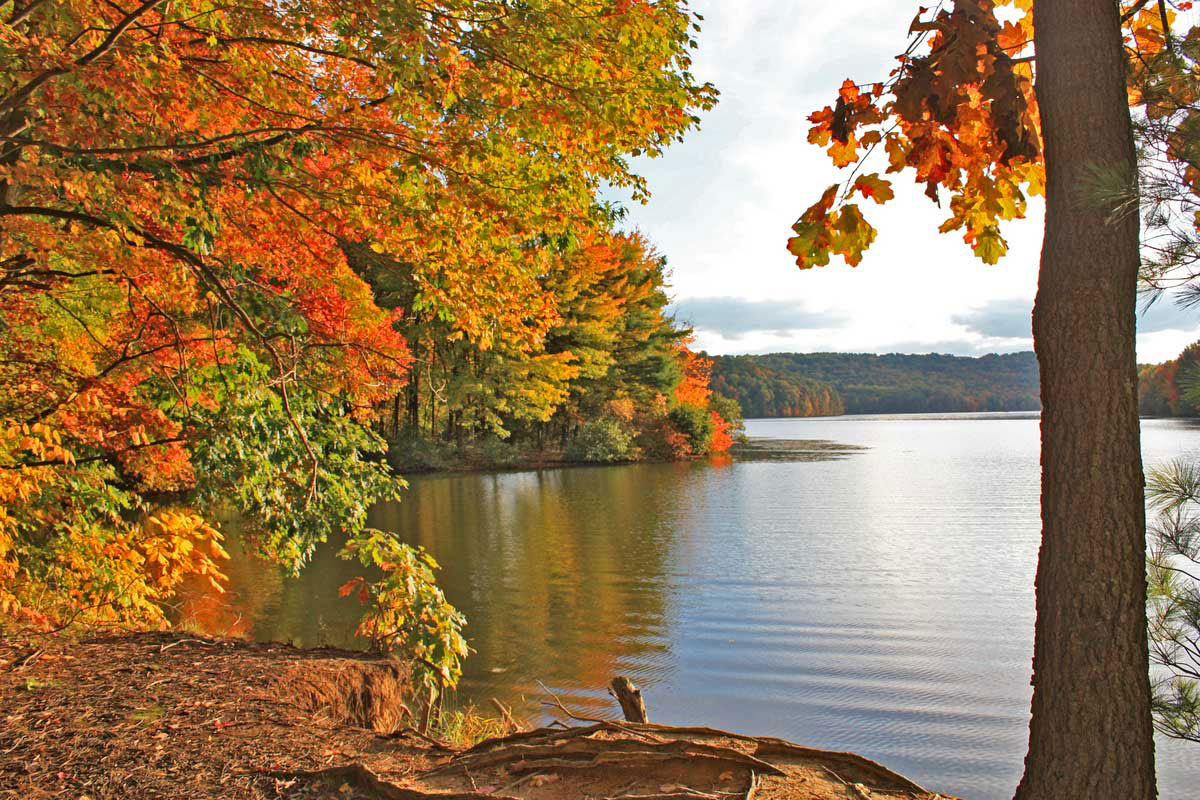 Lake Arthur, Moraine State Park, Portersville, Butler County
You can feel your stress fade away as you take in this serene view of Lake Moraine in autumn.
Photo by Butler County Tourism & Convention Bureau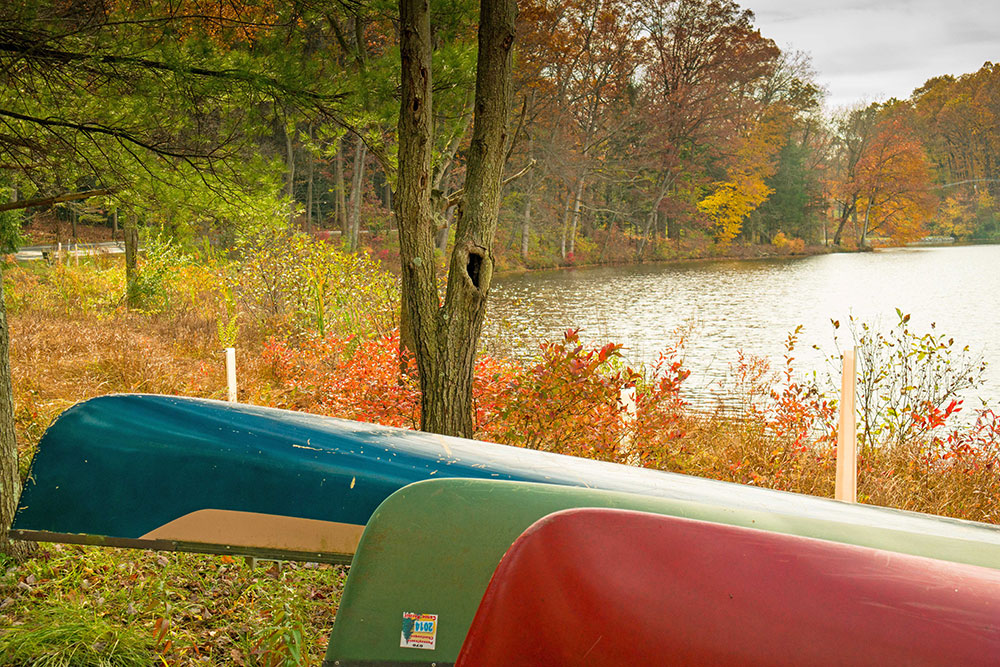 Mount Gretna
Canoes decorate the autumn landscape at Mount Gretna Lake in Lebanon County.
Looking for more great things to do this fall? Check out our EVENTS and THINGS TO DO pages.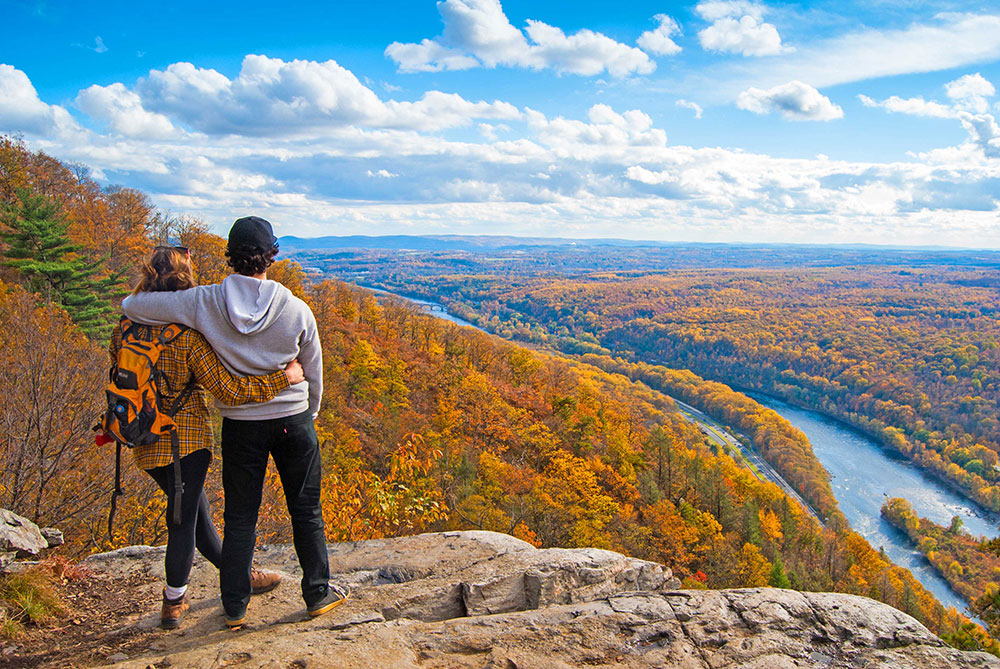 Delaware Water Gap, Monroe County
Hikers take in the stunning view of the Delaware Water Gap and the gorgeous fall foliage.
A total of 28 miles of the Appalachian Trail are within the Delaware Water Gap National Recreation Area.
Photo by Jerry Reardon courtesy of Discover Lehigh Valley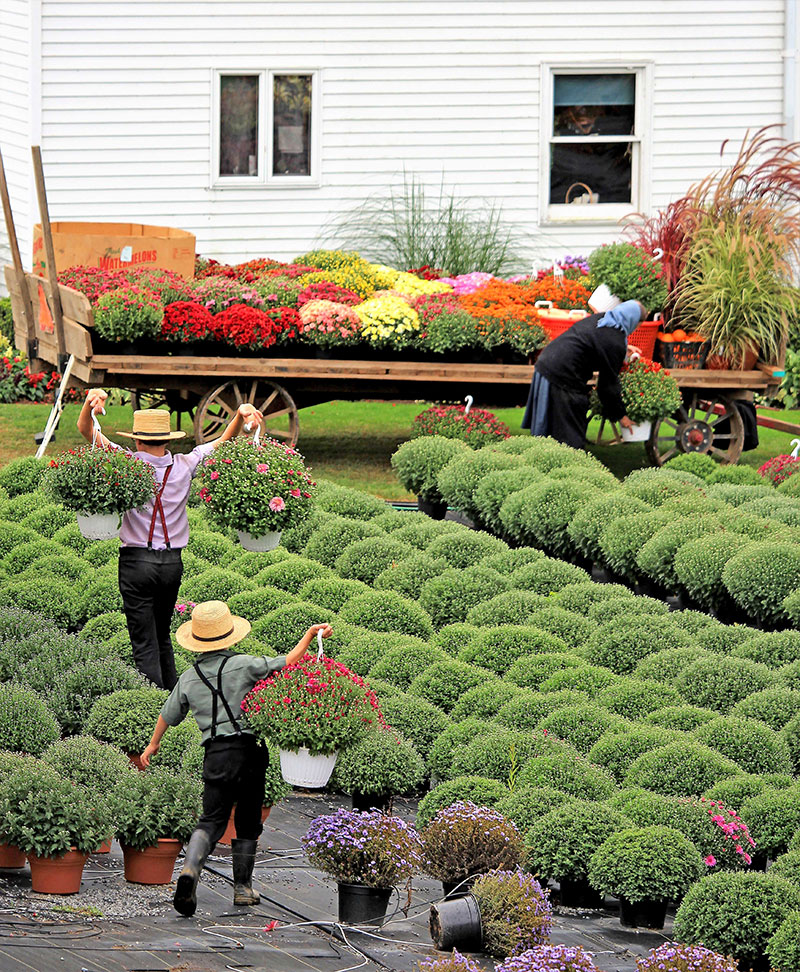 Amish Farmstand in Clinton County
An Amish family prepares for the day by setting up a large wagon full of colorful mums to sell at their farm in Mackeyville.
Photo by Clinton County Economic Partnership & Visitor's Bureau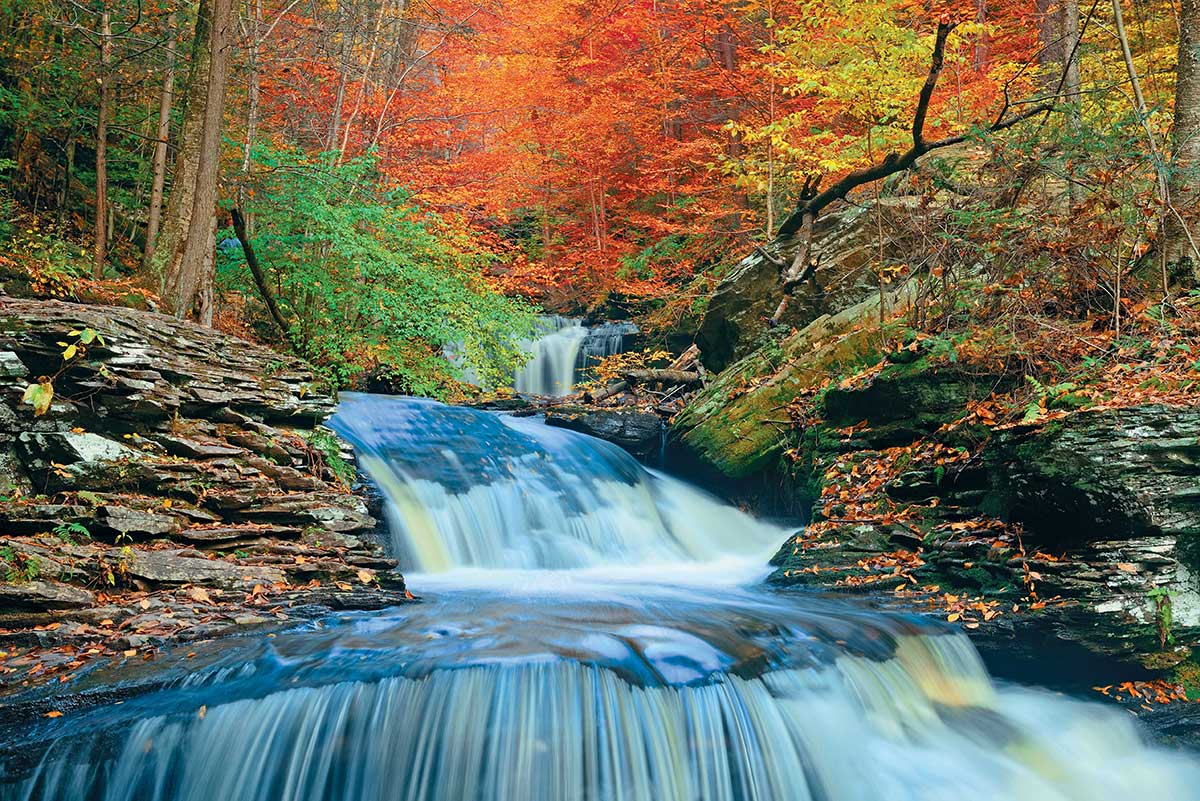 Rickett's Glen State Park
Rickett's Glen State Park encompasses more than 13,000 acres in Luzerne, Sullivan, and Columbia counties. Tuscarora Falls is one of 22 named falls within the park. It is a 47-foot two-tiered fall. The tallest of the falls in Rickett's Glen, Ganoga Falls, at 94 feet, is located a half-mile upstream from Tuscarora Falls.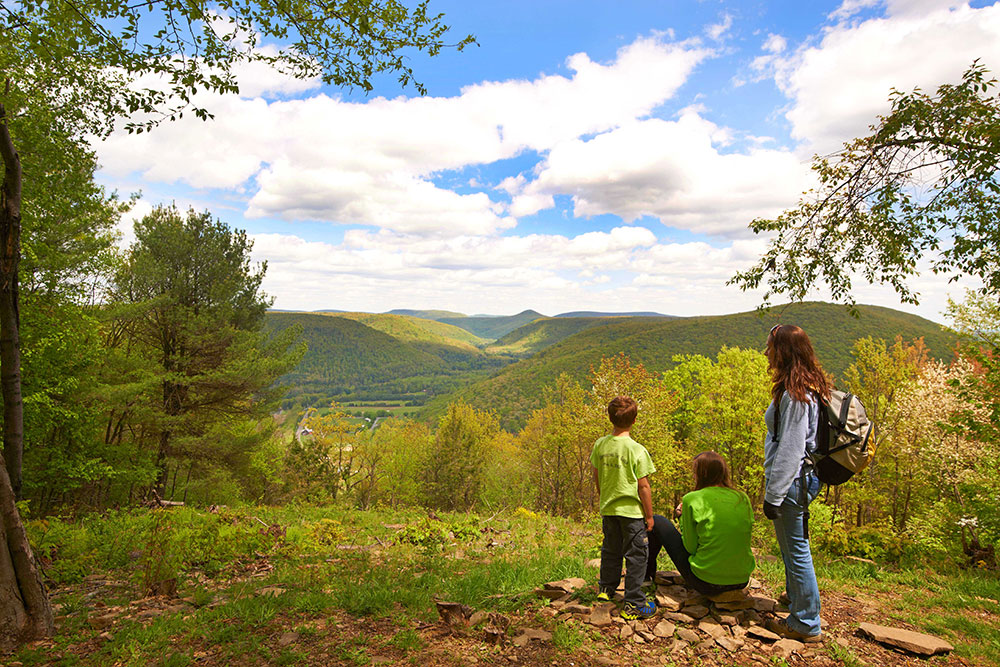 Rider Park, Warrensville, PA
This treasure in Lycoming County consists of 867 acres of private land available to the public year-round. Hiking, trail running, and mountain biking are just a few of the activities available thanks to the park's namesake, Thomas J. Rider, who gifted the land.
Photo by Lycoming County Visitors Bureau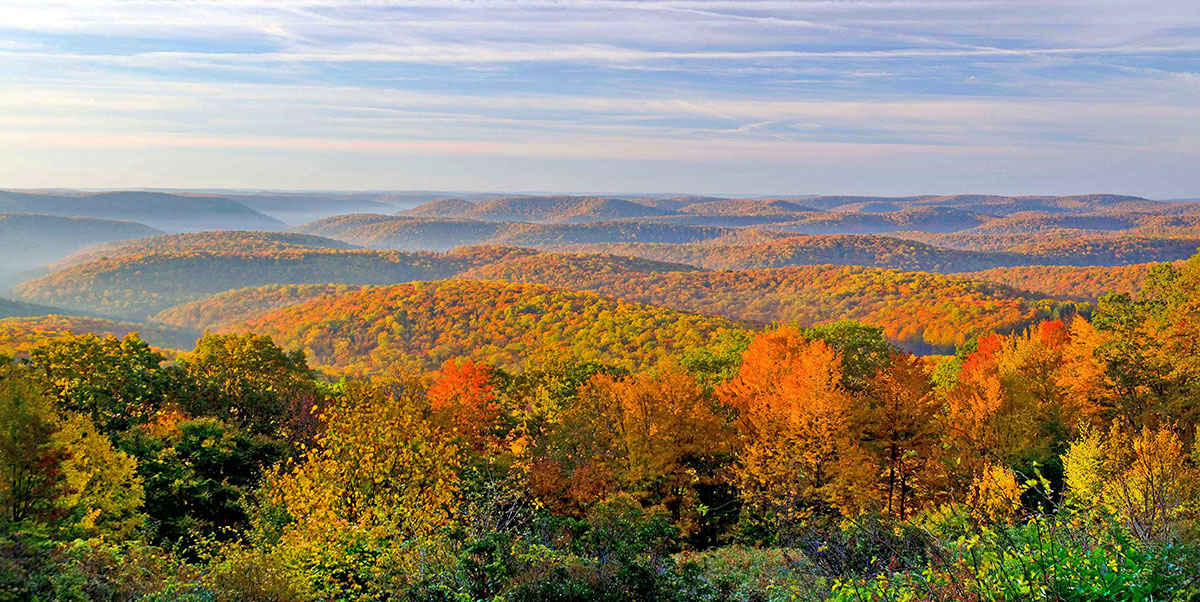 Cherry Springs Park, Potter County
Known for its dark skies, Cherry Springs Park attracts stargazers from around the world to get a glimpse of the Milky Way in the night sky. But the daytime views are just as spectacular during peak foliage season in early to mid-October.
Photo courtesy of Visit Potter-Tioga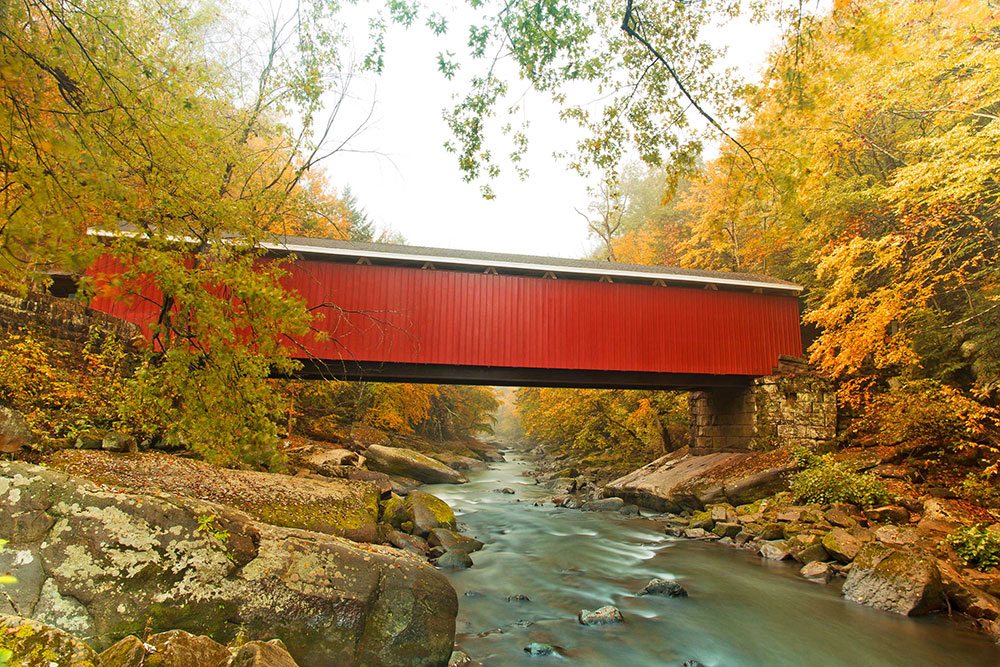 McConnells Mill State Park
McConnells Mill State Park is located in Lawrence County and more than 2,500 acres of the Slippery Rock Creek Gorge, a National Natural Landmark. The 1800s covered bridge (shown) and historic gristmill are popular destinations for shutterbugs.
Photo by Michael Fornataro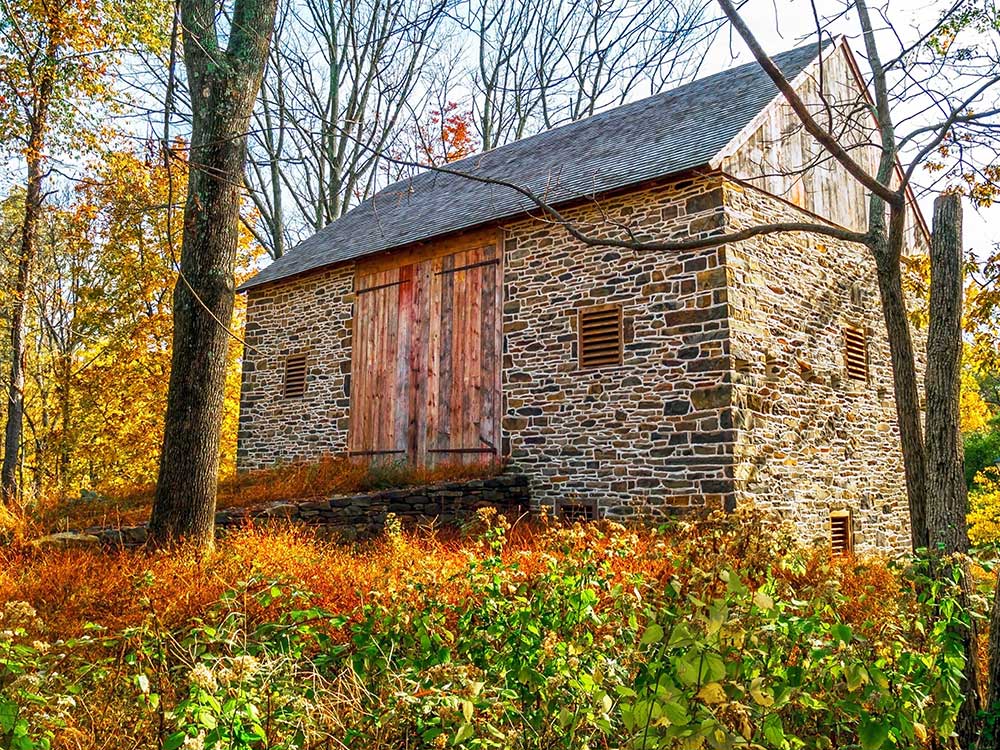 Historic Stone Buildings of Bucks County
Bucks County is known for its lovely landscape, historic covered bridges, and iconic stone structures. This stone barn is an example of the colonial craftsmanship that went into these structures, many of which date back to the 18th century.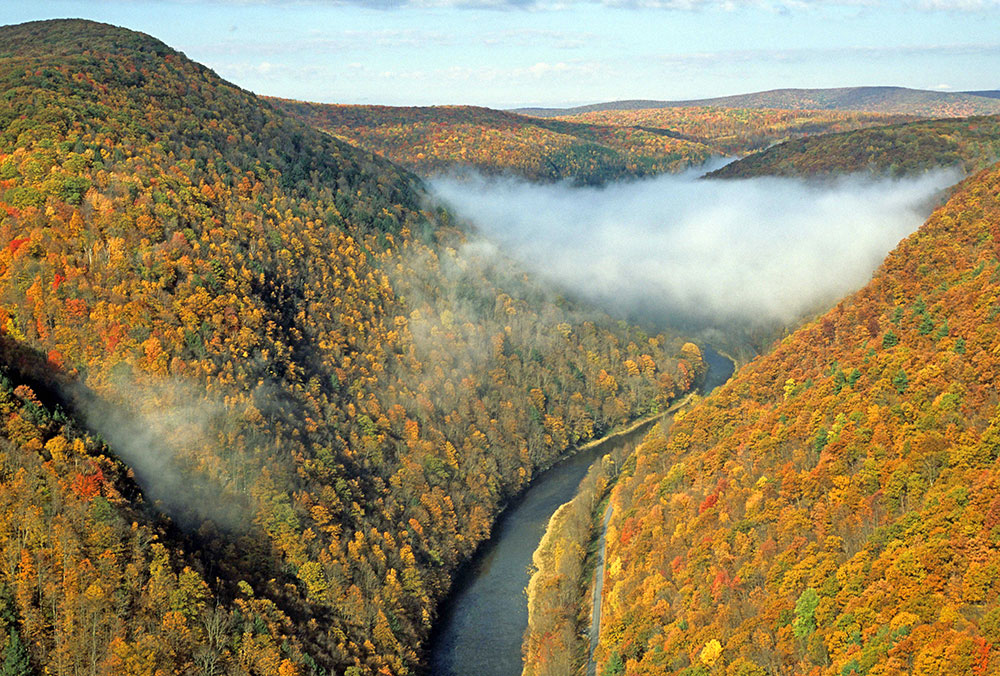 Pine Creek Gorge, Tioga County
There are many spectacular vistas of Pine Creek Gorge (Pennsylvania Grand Canyon). This view of fog in the gorge was taken from the Pine Creek Trail at Tiadaghton, Tioga County.
Photo courtesy of Visit Potter-Tioga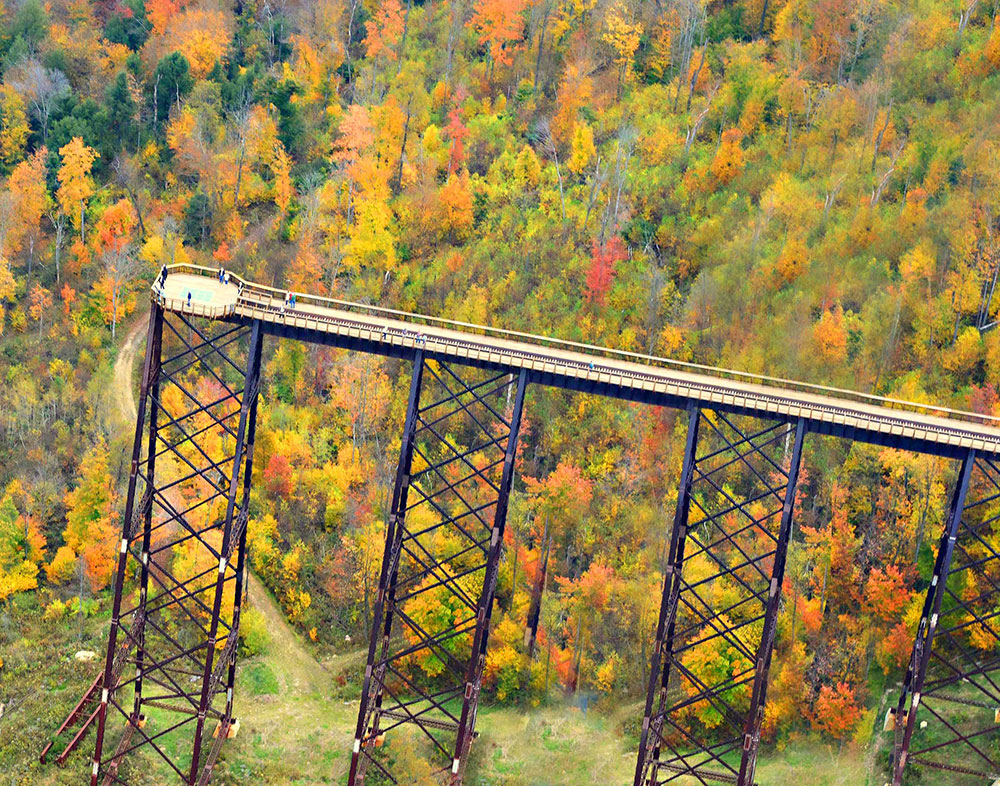 Kinzua Bridge State Park, Mount Jewett
"Walk the tracks across the sky." The Kinzua Sky Walk offers a unique bird's-eye view of the Kinzua Bridge State Park during fall.
Photo by Allegheny National Forest Visitors Bureau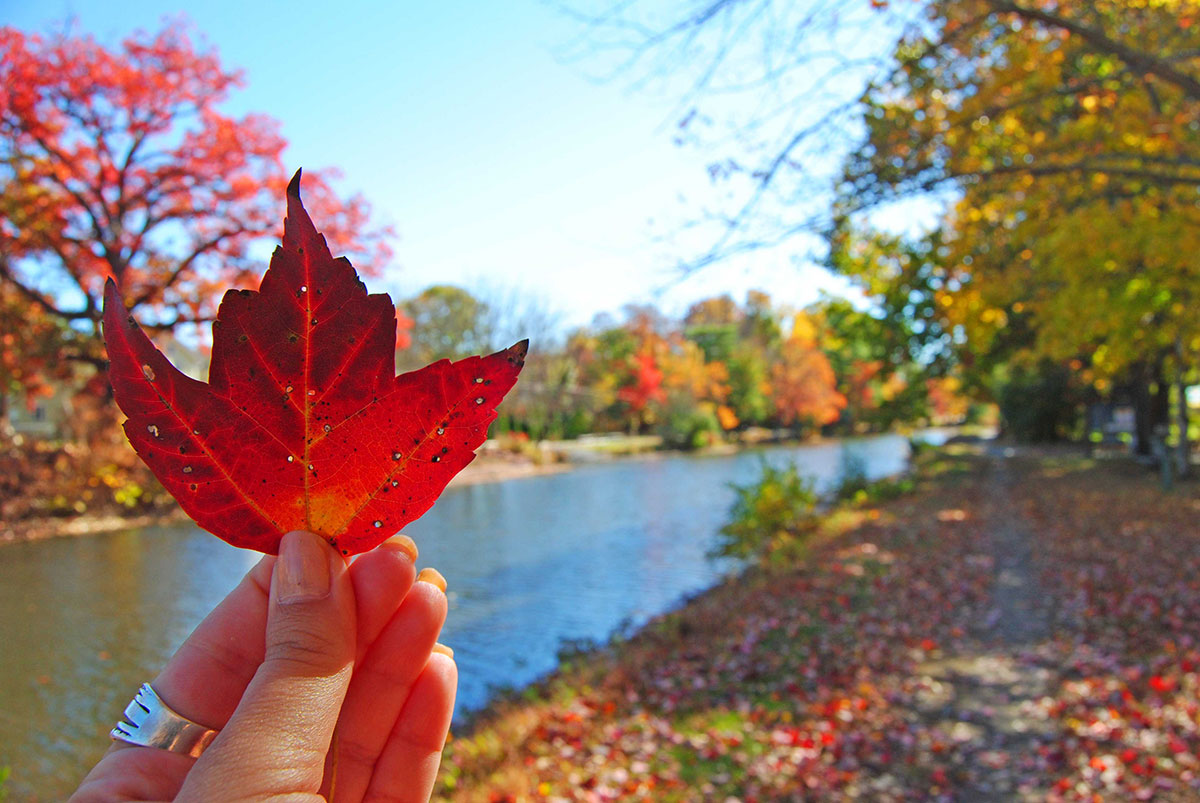 Delaware & Lehigh National Heritage Trail
Experience the brightest colors of fall as you take a scenic walk through Lehigh Valley along the Delaware & Lehigh National Heritage Trail. Photo taken along the Lehigh River between Slatington and Walnutport.
Photo by Discover Lehigh Valley
The Gettysburg Battlefield
Fall is perhaps the best time to visit Gettysburg National Military Park since the weather is still pleasant and crowds tend to be lighter than in summer. This view of the battlefield is from Little Round Top.
Photo by Destination Gettysburg
Looking for more great things to do this fall? Check out our EVENTS and THINGS TO DO pages.