Historic Blair County Road Trip
Wendy Royal Summer 2022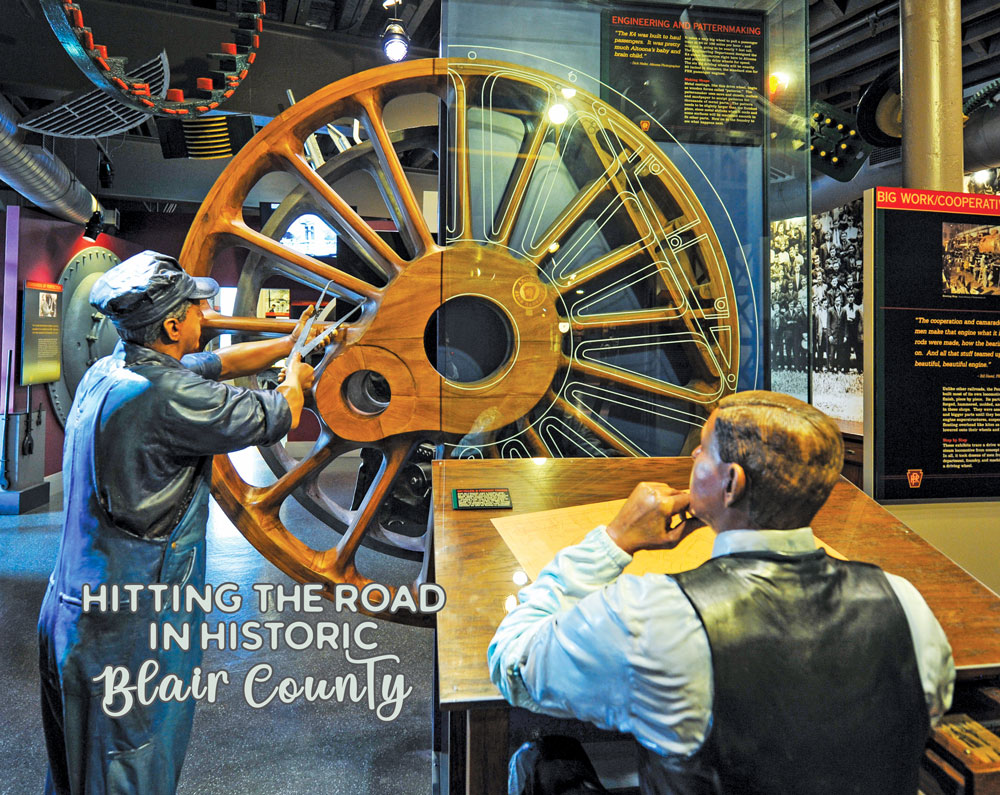 As the birthplace of America, Pennsylvania holds many historical distinctions. Every town, big and small, has a claim to fame when it comes to the development of our nation. Located two hours west of Harrisburg, Blair County holds many historic distinctions that draw scores of visitors every year.
Railroading History
Any road trip to Blair County must include a visit to the Horseshoe Curve in Altoona. Rail fans from across the globe continue to visit this National Historic Landmark built by 400 Irish immigrants hired by the Pennsylvania Railroad. It took three years of back-breaking work and innovative engineering to carve a path through the Allegheny Mountains and complete the Horseshoe Curve. Known as one of the eight engineering marvels of the world, it is a primary east-west artery for rail travel in the country. The site was so crucial that it became a target of Nazi espionage during World War II.
Horseshoe Curve gives trainspotters a unique and picturesque vantage point for taking photos. The site is operated by the Railroaders Memorial Museum, located just six miles from the curve. Guests can visit Wednesday through Sunday from 10 a.m. to 5 p.m. Horseshoe Curve can be watched anytime by visiting the livestream at railroadcity.org/curve.html.
Location: 2400 Veterans Memorial Hwy., Altoona, PA 16601
Phone: 814-941-7743
Website: railroadcity.org
Admission charged
---
The Railroaders Memorial Museum is America's only interactive railroad museum. Whether you are a train enthusiast, a history buff, or just curious, the Railroaders Memorial Museum houses exhibits on three floors. Here visitors learn about the people who worked on the railroad, their culture, and how Altoona became a transportation hub. The museum is housed in the historic Mechanics Building of the Pennsylvania Railroad. Like Horseshoe Curve, the museum is open Wednesday through Sunday from 10 a.m. to 5 p.m.
Location: 1200 9th Ave., Altoona, PA 16602
Phone: 814-946-0834
Website: railroadcity.org
Admission charged
---
Seven miles south of Altoona in Hollidaysburg, road trippers can take a train excursion on a steam or diesel train at the Everett Railroad Company. In addition to regular tourist train rides, themed train rides are scheduled throughout the year.
Location: 244 Pullman Dr., Hollidaysburg, PA 16648
Phone: 814-696-3877
Website: everettrailroad.com
Fare charged
---
Historical Sites
The Baker Mansion is the home of the Blair County Historical Society. The Greek Revival-style structure was originally the home of ironmaster Elias Baker. After several years of planning and construction, the home was completed in 1849. Today, the museum tells the story of the Baker family and presents exhibits featuring Blair County's rich industrial heritage.
The museum grounds host live music and events throughout the summer and fall. The history museum will celebrate its 100th anniversary this year with a kickoff event on May 29.
Location: 3419 Oak Ln., Altoona, PA 16602
Phone: 814-942-3916
Website: blairhistory.org
Admission charged
---
Fort Roberdeau is America's western-most Revolutionary War site. The fort was built to protect a lead mining and smelting operation, which provided the lead for ammunition during the war for independence. The fort provided refuge for soldiers and settlers from 1778 to 1780.
Visitors will find the park grounds open from 8 a.m. to sunset. There are about 230 acres, including picnic areas and trails for the public to enjoy. The fort is open Monday-Saturday, 10 a.m. to 4 p.m., and Sunday, 1 to 4 p.m., from May 1 to October 31.
Special events are held throughout the year, including the Star-Spangled 4th held on July 4 and Revolutionary War Days on July 16-17. In addition to tours and events, Fort Roberdeau hosts several public sky watches where guests can explore the night sky at the Mountain Lion Observatory.
Location: 383 Fort Roberdeau Rd., Altoona, PA 16601
Phone: 814-946-0048
Website: fortroberdeau.org
Admission charged
---
Side Trips
Slinky Action Zone
Since this is a history tour, and there is no reason history cannot be fun, make plans to take a side trip to Duncansville, where you'll find the Slinky Action Zone. Duncansville, Pennsylvania, is the home of the original Slinky. You might think this 5,000-square-foot play zone is just for kids, but you would be wrong; the entire family will have a great time. In addition to a two-tier laser tag arena, a massive arcade, and duckpin bowling, guests can grab a bite to eat or sample a craft beer from the Juniata Brewing Company. Slinky Action Zone is open from noon to 8 p.m., Tuesday through Friday, 11 a.m. to 8 p.m. on Saturday, and noon to 8 p.m. on Sunday.
Location: 491 Municipal Dr., Duncansville, PA 16635
Phone: 814-695-1515
Website: slinkyactionzone.com
Admission charged
---
DelGrosso's Park and Laguna Splash Water Park
Speaking of fun, Blair County has two amusement parks and one water park. DelGrosso's Park and Laguna Splash is America's only Italian-themed water park. Lakemont Park is home to Leap the Dips, the world's oldest wooden roller coaster, and is listed on the National Register of Historic Landmarks.
Location: 4352 E. Pleasant Valley Blvd., Tipton, PA 16684
Phone: 800-521-5880
Website: delgrossos.com
Admission charged
---
Lakemont Park
Location: 700 Park Ave., Altoona, PA 16602
Phone: 814-949-7275
Website: lakemontparkfun.com
Admission charged
---
Like in most historical places, the landscape and natural resources of Blair County shaped the region's history. Outdoor enthusiasts will find an abundance of recreational opportunities throughout the county. Activities, including hiking, swimming, boating, and camping, are available at Canoe Creek State Park. The park's historic limestone kilns are a must-see while hiking.
This is just a sample of what visitors will find in and around Altoona. For more information, visit explorealtoona.com.