Bucktail Trail Scenic Byway Road Trip
Rick Hiduk Summer 2017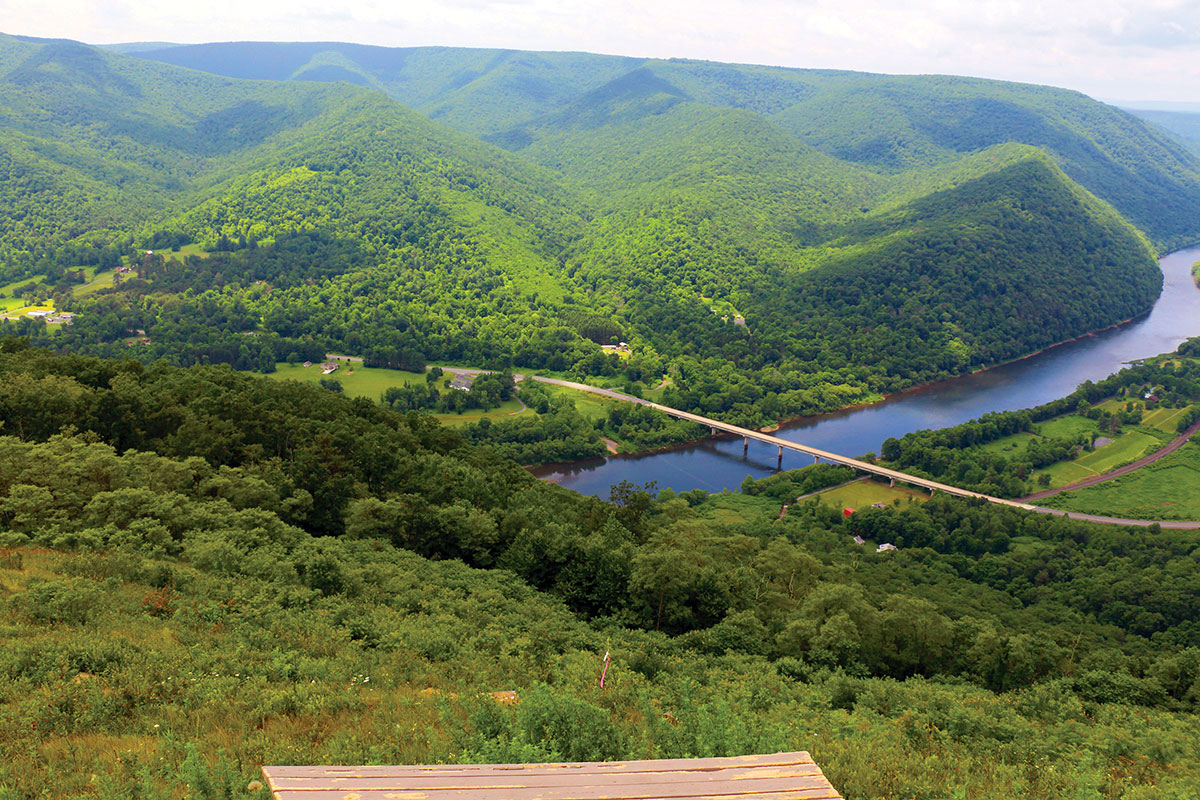 When the need to escape the hustle and bustle of suburban life and expressways hits, it might be time to strike out on an adventure into the Pennsylvania Wilds, which is not so far from Williamsport, State College, and Punxsutawney but seems worlds away upon arrival. The Bucktail Trail, named for The Pennsylvania Bucktails Regiment of Civil War rangers, follows Route 120 between Ridgway and Lock Haven, loosely paralleling Interstate 80 to the south.
National motorcycling publications refer to the full two-and-a-half hour ride as "103 miles of riding bliss" and "addictive." Flanked by high cliffs and drop-offs to streams and rivers, riders report that you can "feel your stresses and life's worries disappear." But why hurry? Take your time and absorb all that this designated Pennsylvania Scenic Highway has to offer.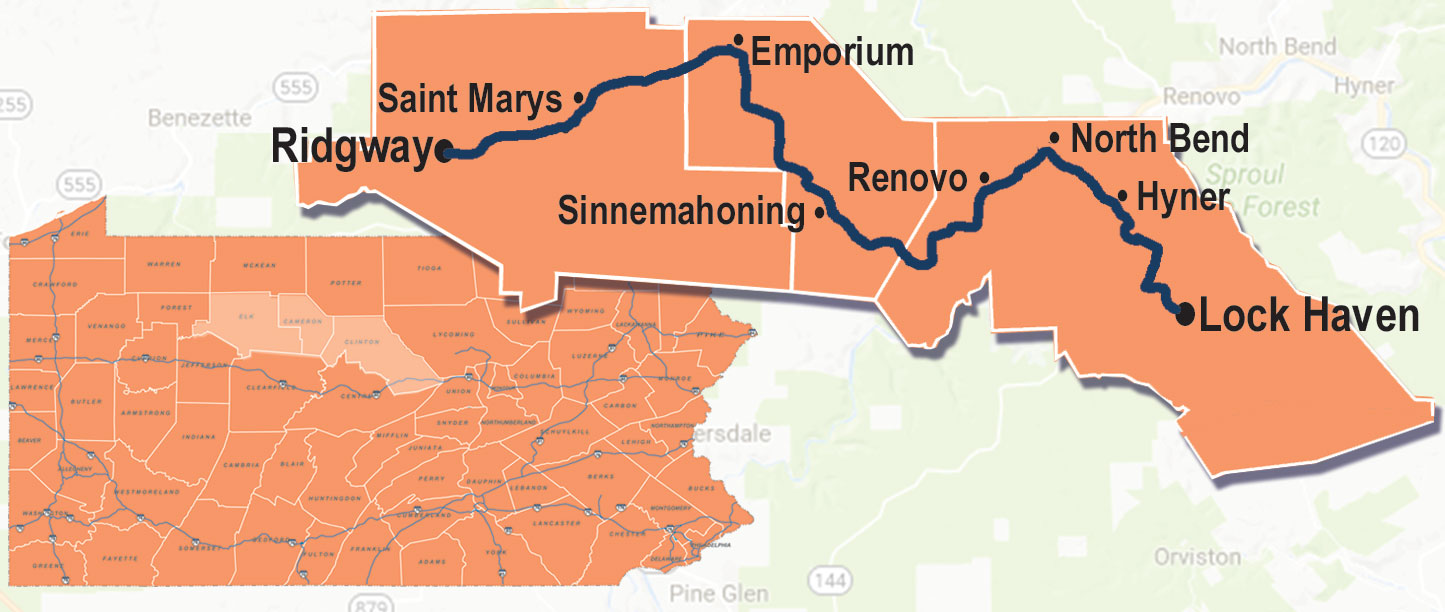 Passing through Elk, Cameron, and Clinton counties, travelers can access the Sproul and Elk state forests, Kettle Creek State Park near Renovo, and numerous designated wildlife areas. Key towns and villages along Route 120 include St. Marys, Emporium, Driftwood, Sinnemahoning, Keating, Westport, Renovo, North Bend, and Hyner.
Route 120 follows the Sinnemahoning Path, an old Native American trail, with charming Cameron County, second-smallest county in Pennsylvania in both area and population, at the center of the journey. The Pennsylvania Bucktails Regiment camped at Emporium, one of only two incorporated boroughs in Cameron County.
The route was used by early pioneers traveling west as the best way to cross the Allegheny Front, which split the watersheds to the Chesapeake Bay and the rivers flowing to the Gulf of Mexico. In 1926, the Bucktail Trail was considered for further development as the primary route from Philadelphia to Erie but was truncated by other highways, including US Routes 6, 422, and 220.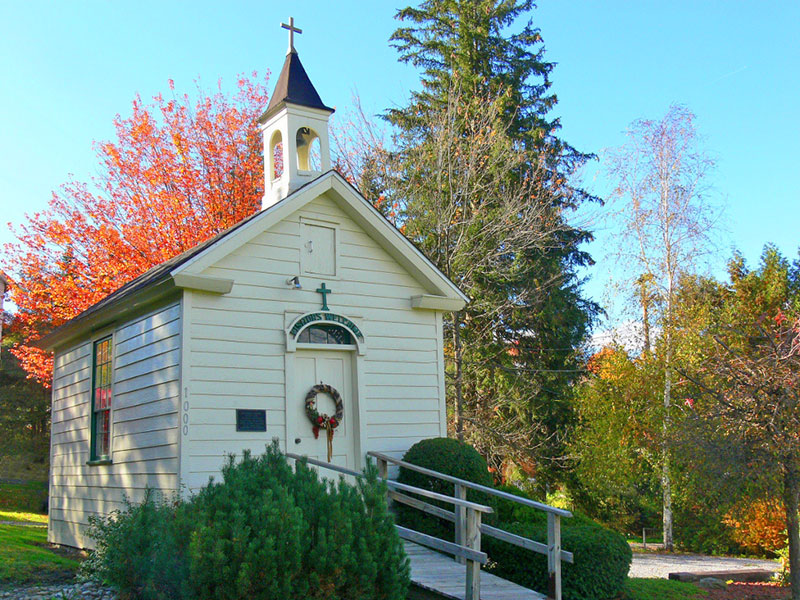 Like many small but once booming regions in Pennsylvania, the Bucktail region found that being bypassed slowed its economic prowess but, in turn, preserved its cultural integrity and spurred the protection and conservation of its natural resources. Today, the Bucktail Trail is highly revered by motorists as a trip back in time, buoyed by natural splendor that is difficult to surpass.
Emporium, the seat of Cameron County, is considered a gateway to the northern Pennsylvania Wilds and to cities west, east, and south. Streams from four directions converge to form the West Branch of the Susquehanna River. The Pennsylvania Little League Senior Division Championships are held in Emporium each July.
Lumber was Emporium's primary export into the mid-20th century. During World War II, a Sylvania Electronics plant there employed so many women that Emporium was featured in a national magazine as Girls' Town, USA. Today, lumber is once again the predominant industry there, as is tourism.
With a population estimated at 2,000 in 2013, Emporium features a bustling downtown with family-owned eateries like Fox's Pizza Den at 41 E. Fourth St. Menu highlights include specialty hoagies and gourmet pizzas with hand-tossed pizza dough and award-winning sauce. Additional culinary options can be found next door at the Midtown Sports Bar & Grill and Charlie's Friendly Tavern at 534 E. Allegany Ave.
Lodging options include the Buttonwood Motel at 368 Sizerville Road (Route 155) and the more rustic Creekside Inn and 23 campsites at Sizerville State Park, a 386-acre naturalist's paradise surrounded by the Elk State Forest. There, hiking enthusiasts will find the trailhead to the Bucktail Path Trail, which meanders 34 miles to the south to the village of Sinnemahoning. Highlights of the hike include former railroad grades and the Johnson Run Natural Area, 200 acres of old-growth hemlock and hardwoods.
Sinnemahoning is 2.4 miles southeast of the borough of Driftwood, a tiny but picturesque community located at the bottom of a 1,200-foot gorge carved out of the Allegheny Plateau. Driftwood is the smallest incorporated borough in the state with a population of just 64 people in 2016. About a third of its 2.5 square miles includes a portion of the Johnson Run Natural Area.
Twenty-eight miles east of Driftwood is the borough of Renovo in Clinton County. Unlike many Pennsylvania towns that simply sprouted around industries, Renovo was a planned city, built by and for the Pennsylvania and Erie Railroad, with broad avenues named after the Great Lakes and primary streets numbered 1 through 16. For entourages composed of both naturalists and those who prefer amenities, Renovo is arguably one of the more cosmopolitan stops on Route 120, though literally surrounded by state parks and game lands.
As Renovo was a hub of the railroad company, hotels, specialty shops, recreational facilities, schools, and even taxi services were created with Renovo's future as a prominent American city in mind. The demand for both passenger and freight transportation eventually declined, but the residents of Renovo proudly retain the gumption of their 19th– and 20th-century forefathers and welcome visitors, especially during the Flaming Foliage Festival held every October.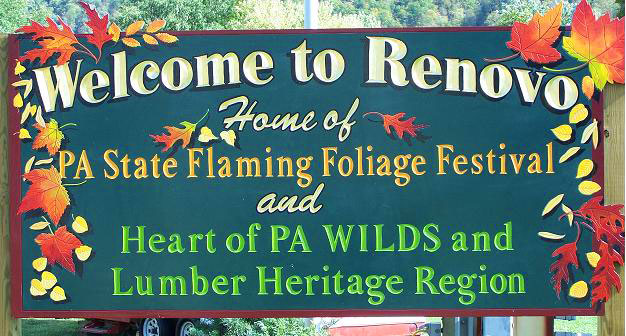 Popular eateries include The Green Lantern Bar & Restaurant, just west of town on Route 120, and Yesterday's Restaurant & Hotel at 100 Third St., which also offers overnight accommodations. Other places to stay include the Sportsman's Hotel, Restaurant, and Lounge, just outside of town on Route 120, and the highly rated North Bend Bed and Breakfast at 11890 Renovo Road.
Whether traveling east or west, a stop at the Straub Brewery, 303 Sorg St. in St. Marys is a must. Family owned and operated since the 1800s, the brewery offers tours for visitors age 12 and older and a complimentary taste of its all-natural beer for those 21 and older from the famous External Tap. Beer can be purchased on-site, with a variety of souvenirs available from the gift shop.