12 Can't Miss Fall Festivals
Morgan Christopher Fall 2018
In 1765, Quaker settlers received a charter issued by Thomas Penn (son of commonwealth founder William Penn) that granted permission for their community to gather for annual festivals. Since that first celebration of fall harvest, festivals and fairs have historically played a role in the lives of Pennsylvanians. From these first events held near York and Lancaster, county fairs and festivals are now celebrated across all 67 counties in the state from mid-summer through Thanksgiving. Following is a list highlighting 12 of the many seasonal festivals and events visitors may want to check out when considering their fall travel plans: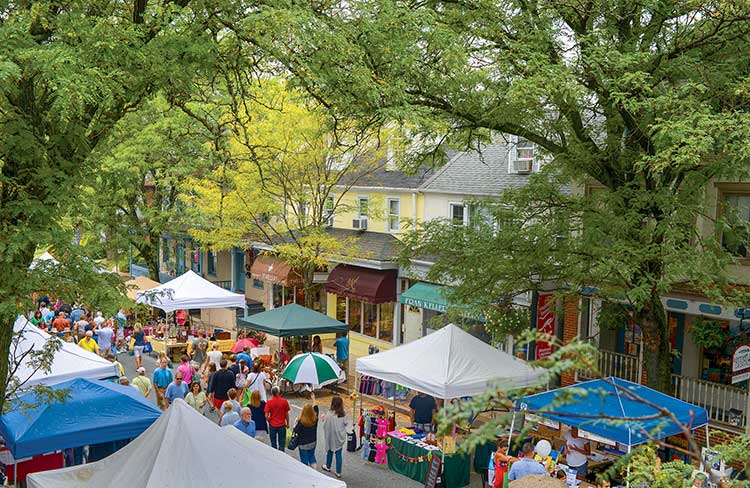 Northern Region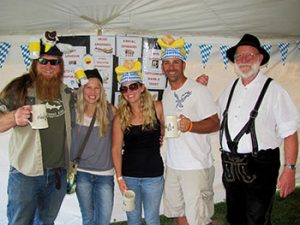 Mifflinburg Oktoberfest – October 5-6, 2018 | www.Oktoberfest.Mifflinburgpa.com  – (Mifflinburg, PA) History tells us the first Oktoberfest took place in Munich in 1810 to honor the wedding of Prince Ludwig of Bavaria; since then, Oktoberfest has been a fall tradition for those of German descent around the world. In Mifflinburg, where German settlers worked the fertile farmlands of the Susquehanna River Valley, Oktoberfest offers visitors the chance to celebrate all things German. From the ceremonial tapping of the keg at 1 p.m. on Friday that officially marks the start of the festivities, a weekend full of cultural foods, dancing and entertainment await visitors in this historic town.
Fall Festival Lumberjack/Chainsaw Carving Competitions – October 13-14, 2018 | www.SullivanPAChamber.com (Forksville, PA) The lush seasonal colors of Sullivan County provide a brilliant backdrop for this annual event honoring the region's skilled woodsmen and the region's lumber heritage. Family fun, entertainment, and food are all part of the festivities, which feature lumberjack contests as well as the annual Mid-Atlantic Chainsaw Carving Competition. Include visits to Worlds End State Park, Ricketts Glen or Loyalsock State Forest as part of your visit and discover the autumnal beauty of the Endless Mountains!
Punkin' Chunkin' Fall Festival – October 20, 2018 | www.howardfire.com/punkin–chunkin–fall-festival.html (Howard, PA) Nothing says "autumn" like a big, beautiful pumpkin; nothing says "fun" more than a pumpkin flying out over Sayers Lake at Bald Eagle State Park. You can't help but "ooh" and "ah" as the orange squash take flight across the lake while the food, fun, and activities will keep you smiling throughout the day!
Southern Region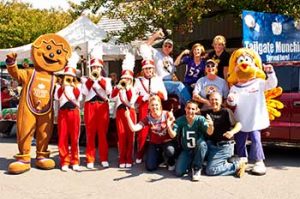 Tailgating Festival – September 14-15, 2018 | www.kitchenkettle.com (Intercourse, PA) How do you not include a festival that celebrates every football fan's favorite party … tailgating? Discover delicious homemade foods waiting to be sampled and savored under the Eagles and Steelers tents. The festival highlights favorite foods, cooking demonstrations and activities like Pumpkin Bowling and the Tailgate Toss. Save room to compete in the Pumpkin Whoopie Pie Filling Contest and burn calories by tapping your toes to the sounds of the Dixieland Band keeping the beat at this fun-filled weekend near Lancaster.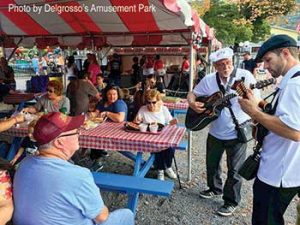 Italian Food and Heritage Festival at Del Grosso's Amusement Park – September 23, 2018 | www.mydelgrossopark.com (Tipton, PA) – Get an early start on your Columbus Day celebration while enjoying one of the summer's last hurrahs at an Italian Food Festival sponsored by the state's popular tomato sauce producer, the Del Grosso family. The amusement park in Blair County is a great destination to celebrate Italian heritage while enjoying one of the last weekends before cold weather sets in.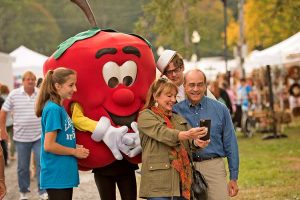 National Apple Harvest Festival – October 6-7 and October 13-14 – | www.appleharvest.com (Biglerville, PA) Held the first two weekends in October, this spectacular festival has something for everyone! Entertainment and events in the Apple Auditorium, antique cars, orchard tours, a petting zoo, demonstrations and appearances by the Pennsylvania Apple Queen are all part of the fun visitors can expect. Make it a getaway weekend and visit historic Gettysburg or tour the nearby Apple Museum. The National Apple Harvest Festival is located at the South Mountain Fairgrounds and is held outdoors rain or shine.
Eastern Region
Railfest at Steamtown National Historic Site – September 1-2, 2018 | www.nps.gov/stea (Scranton, PA) Railfest is a can't miss event over Labor Day weekend for train buffs and railroaders of all ages. Steam power, diesel and electric rail power exhibits and demonstrations are part of the event, as well as tours and educational presentations. Steamtown and the adjacent Electric City Trolley Museum offer short-distance rides on restored cars and a longer train excursion for visitors on September 2. (Scranton's other big event, La Festa Italiana, is also happening all weekend only two blocks away!)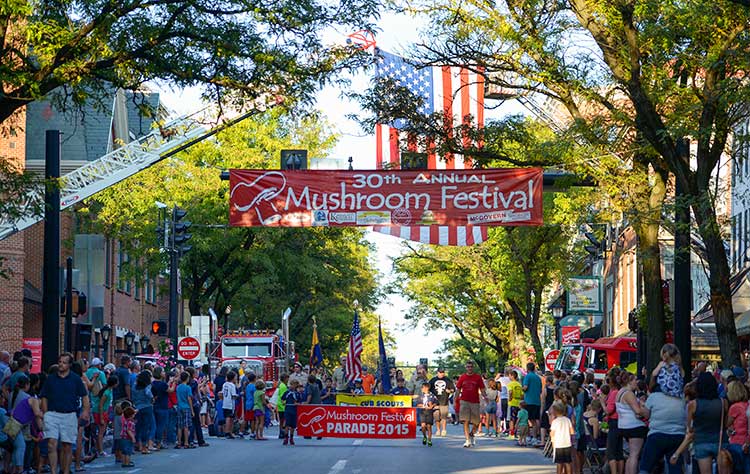 33rd Annual Mushroom Festival – September 8-9, 2018 | www.mushroomfestival.org (Kennett Square, PA) Celebrate the humble mushroom in the historic Brandywine Valley, where more fresh mushrooms are produced than any other location in the world. Enjoy a street fair featuring 250 craft and food vendors as well as mushroom growers sharing the story of the growing process in the Growers' Exhibit. The Culinary Stage offers cooking demonstrations by local, regional and celebrity chefs while Saturday features the Amateur Mushroom Cook-Off. Sunday features the Soup and Wine Event, the Mushroom Run/Walk and the Mushroom Judging contest. This festival is guaranteed to put the "fun" in fungi for you and your family!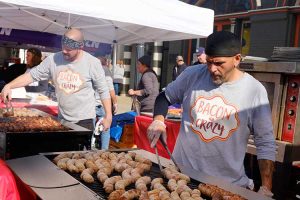 PA Bacon Fest – November 3 – 4, 2018 | www.pabaconfest.com (Easton, PA) Featuring 150-plus vendors, more than 12 musical acts and every sort of bacon-inspired dish you can imagine, this two-day festival celebrating Pennsylvania's favorite pork product draws nearly 100,000 attendees to downtown Easton. PA Bacon Fest, earning a Townie Award from the Pennsylvania Downtown Center as well as national recognition as one of the country's top 300 festivals by FEST300.com, offers visitors great food and one more fun thing to experience on a visit to the wonderful Lehigh Valley.
Western Region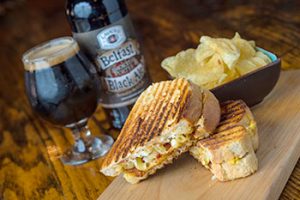 Erie Irish Festival at St. Patrick's Church – September 14-16, 2018 | www.erieirishfestival.com (Erie, PA) When it comes to celebrating Irish culture and all things green, March traditionally is the month for that. However, in a season where everything has transitioned to rust, gold, and orange, the chance to celebrate the green is worth taking! Irish food, entertainment, art, and culture await visitors at this annual festival in the heart of everyone's favorite Pennsylvania shoreline destination, Erie. Plan a weekend in this Great Lake city and explore the Ale Trail or enjoy lake views from Presque Isle to create a great fall getaway.
Washington & Greene Counties Covered Bridge Festival – September 15-16, 2018 | www.facebook.com/CoveredBridgeFestivalPA (Locations across Washington and Greene counties, PA) Ten locations throughout this beautiful part of southwestern Pennsylvania host a wide variety of activities, demonstrations, arts and events during this festival celebrating historic structures that draw visitors to the region all year long. Pack your camera or smartphone because the photo opportunities and autumn scenery alone are worth the visit to the popular event.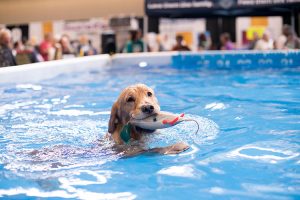 Pittsburgh Pet Expo – November 2-4, 2018 | www.pghpetexpo.com (Pittsburgh, PA) Why should the human members of the family have all the fun? The East Coast's largest pet event takes place in November in the heart of the Steel City. Celebrating pets both traditional and exotic, the weekend features a cat show, dog grooming competition, dachshund races, reptile expo, rabbit hopping, diving dog competition, pet costume contest, adoption opportunities and That Guy with the Birds, plus celebrity appearances and more than 200 vendors of products and services. Leashed animals are welcome – check the website first for details if taking your pet!
In addition to these festivals, visitors will want to consider the many county and regional agricultural fairs taking place across the state as well as themed events that celebrate fall in Pennsylvania. Throughout the pages of Where & When, Pennsylvania's Travel Guide, the regional "Things to Do" pages are filled with many great ideas to consider when planning a visit to one of the festivals listed as you create a fabulous, fun-filled fall itinerary of activity to celebrate the season!
MORE FUN FALL FESTIVALS THE ENTIRE FAMILY WILL LOVE!
Looking for a Getaway that takes in two fall festivals and features a weekend full of spectacular scenery? Look no further than Columbus Day weekend in Susquehanna County, home to some of Pennsylvania's most accomplished artists. Plan to unleash your inner van Gogh during the annual Artists' Open House Weekend (Oct. 6-8, www.artiststour.com). Travel studio to studio through northeastern Pennsylvania fall foliage visiting the workspaces where you can view locally produced work then sit down and learn basic techniques of watercolor, pastel and other media as instructed by talented residents. Nearby, Elk Mountain's Fall Festival (Oct. 6-7, www.elkskier.com) is in high gear all weekend featuring local food and entertainment celebrating the season. Take a lift ride and view the spectacular scenery from the highest altitude slopes in the state.
Step back in time and watch the past come alive at one of the state's most popular history-themed festivals! The annual Fort Ligonier Days (Oct. 12-14) festival in the Laurel Highlands offers historic artillery demonstrations and a popular re-enactment of the Battle of Fort Ligonier commemorating the pivotal 1758 battle during the French and Indian War. An annual Main Street parade, food vendors, crafters and artisans, as well as free entertainment and a 5K run, make this event a great reason to visit the Laurel Highlands this October!