Winter Like A Local in Clearfield County
Rick Hiduk Winter 2019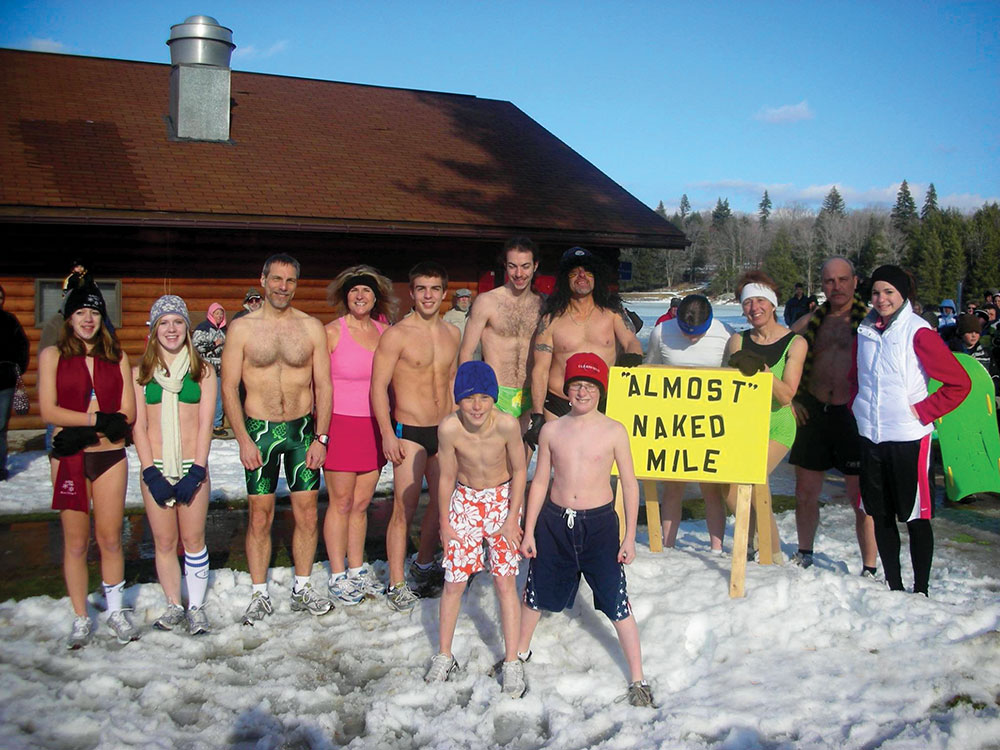 While many Pennsylvanians hope that Old Man Winter will spare them undue hardships, most residents of Clearfield County embrace the cold and the snow and the activities that are best enjoyed when there is plenty of both. Whether driving the backroads to sample local beers and wine, checking out holiday finery and unique arts and crafts, snowshoeing and plunging into the frigid waters of Parker Lake, or hunting white-tailed deer and the elusive elk, Clearfield County has a winter activity to suit family members of all ages.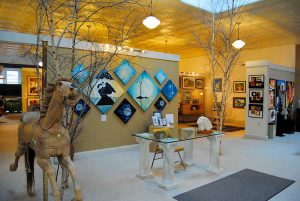 Above: The Winkler Gallery and Education Center
Many venues are open year-round and offer seasonal events, such as Parker Dam State Park and the Winkler Gallery and Education Center in downtown DuBois. There are also a number of annual weekend events, and Visit Clearfield County (VCC), the local visitors' bureau, keeps track of it all at VisitClearfieldCounty.org.
"My favorite thing to do in the area is hunting," said VCC executive director Josiah Jones. "There are a lot of big game lands areas that offer a great hunting experience." Jones and his fellow hunters look to www.pgc.pa.gov for specifics on seasons and regulations.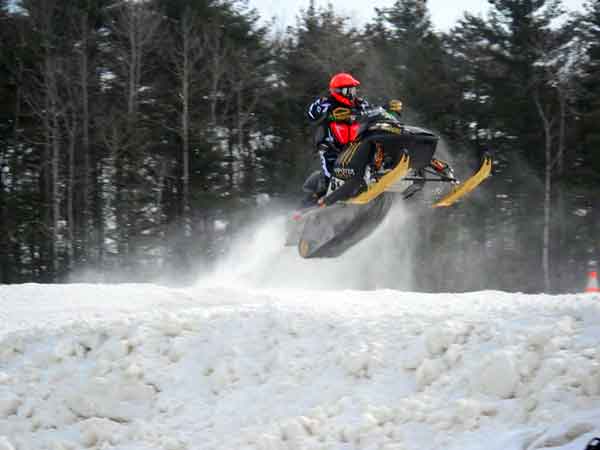 "When we get a good amount of snow, there are a lot of opportunities for people to go snowmobiling and snowshoe hiking," Jones added. Winter weather enthusiasts can rent snowshoes, cross-country skis, and even ice skates at Parker Dam State Park. "There's a lot of snowmobile trails and plenty of places to go ice fishing, like Curwensville Lake and Parker Dam," he said. Geocaching, sledding, nature watching, and winter backpacking are among other winter activities that can be enjoyed as weather permits.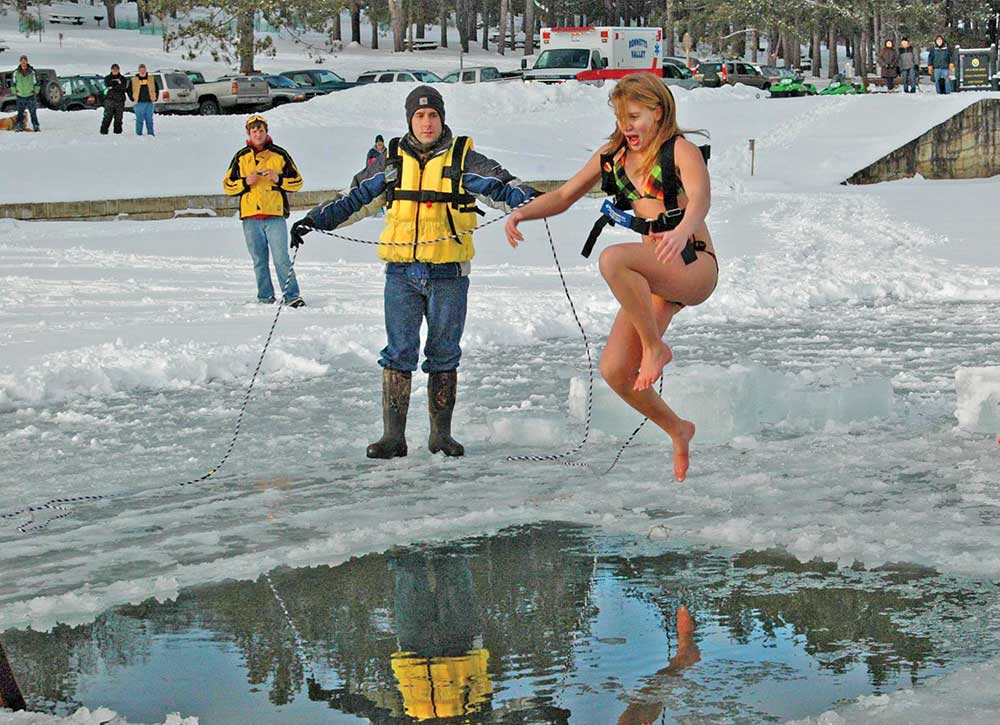 Parker Dam State Park is also home to the Clearfield YMCA Winterfest. Event dates in 2019 are Saturday and Sunday, Jan. 26 and 27. Highlights include the Freeze Your Gizzard 5K, a Snowbox Derby for children, the Frozen Salami Sling, a Polar Bear Plunge, and another race called the Almost Naked Mile.
"They are all activities that we have been doing for a number of years," YMCA executive director Don Herres related, noting that the two-day festival has been held for about 35 years. "They all have their own little niche of people," he added. Depending on specific weather conditions, one featured activity might draw more participants than another.
The weekend will kick off with the Freeze Your Gizzard 5K, which will be held on Saturday at 10 a.m. Attracting 50 to 100 participants per year, the event encourages runners to be creative with their costumes or crazy hats to make it more fun and more of a spectacle. For the Almost Naked Run, participants don nothing more than a swimsuit and a warm knit cap.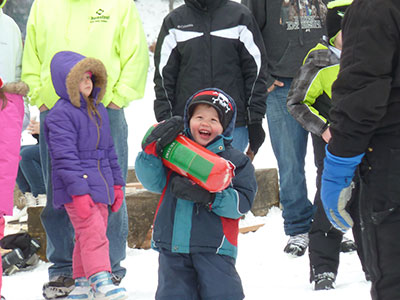 For the Frozen Salami Sling, eight-pound salami rings are thrown for distance, with prizes to winners. During the Snowbox Derby, youths have a great time racing their homemade cardboard sleds down Avalanche Hill, a name that festival founders gave to the incline used for the derby. The last event on Sunday is the ever-popular Polar Bear Plunge, providing the opportunity for teenagers and adults to jump through a hole in the ice into Parker Lake for charity. "Watching everybody jump into the ice-cold water is hilarious," Jones remarked.
Other activities will include the Blizzard Volleyball tournament played on the beach in the snow, ice skating, snowshoeing, cross-country skiing, ice fishing, and bonfires.
According to Visit Clearfield County assistant director Sue Vitullo, Parker Dam State Park staff provide lessons in both skiing and snowshoeing, the latter of which she particularly enjoys. "It's not as easy as you think it would be. They are so big, and you feel funny walking in them at first," Vitullo pointed out. Be patient, she insisted. "Your stride isn't necessarily different, but it feels different. You get the hang of it quickly."
Friends of Parker Dam often add to the fun with snow bowling and catapulting snowballs at targets. Throughout the weekend, the Clearfield YMCA runs a concession stand inside to allow guests to warm up with hot chocolate, hot dogs, chili, and other favorites.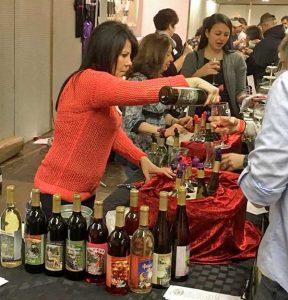 Vitullo also looks forward to the annual Groundhog Wine Festival, which will be held on Groundhog Day, Saturday, Feb. 2, 2019. More than a dozen wineries, most of the members of the Groundhog Wine Trail, participate in the event, which is held in Expo Building 2 at the Clearfield Fairgrounds. More than 30 vendors provide shopping opportunities for guests. The event is so popular that it is held in two sessions on the same day – 1 to 5 p.m. and 6 to 8:30 p.m. – and tickets must be purchased in advance by calling Starr Hill Winery at 814-236-0910. Ticket prices start at $25, but there are discounts for early-bird purchases and groups of 20 or more. Visit Clearfield County sponsors the event and has information about package rates that include accommodations at local hotels. A thousand tickets are allotted for each session, which includes live music, food samples, and catered food for purchase.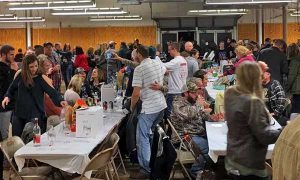 Ken Starr is the key organizer of the event, which benefits several local charities, including athletics programs at local schools and colleges. Ken's father and grandfather started making wine in the 1950s, and there are currently three generations of Starr winemakers at the wine festival. They introduce a few new wines in addition to bringing their standards like Concord, Niagara, and Merlot. Ken promises that Liquid Fun, a peach-and-pear-flavored wine that drew rave reviews last year, will make a triumphant return.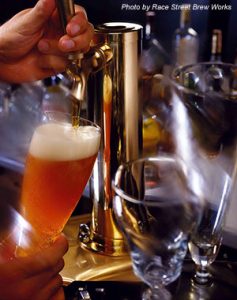 For those who are bigger fans of beer than wine, Visit Clearfield County's Lumberjack Brew Tour is a new option that can be enjoyed seven days per week. Four local breweries – Boxcar Brew Works in DuBois, Race Street Brew Works in Clearfield, Doc G's Brewing Company in DuBois, and Straub Brewery in St. Marys – participate in a self-guided driving circuit that invites visitors to "Tour the backwoods, backroads, and backwaters of Clearfield County at your leisure."
Overnight stays at four chain hotels start at $61 and include continental breakfast, wireless internet, indoor pools, and fitness centers. For more information, call Vitullo at 814-765-5734.
"It's a great opportunity to try different craft beers and go up to Straub and take the tour," said Jones, who developed the unique visitor option.
Soon, Visit Clearfield County will provide Lumberjack Brew Tour passports that, after they have been stamped at each location, can be redeemed for a free T-shirt or hat at the visitors' center at 208 Plaza Drive in Clearfield.