Visiting the Conrad Weiser Homestead
Wendy Royal Fall 2022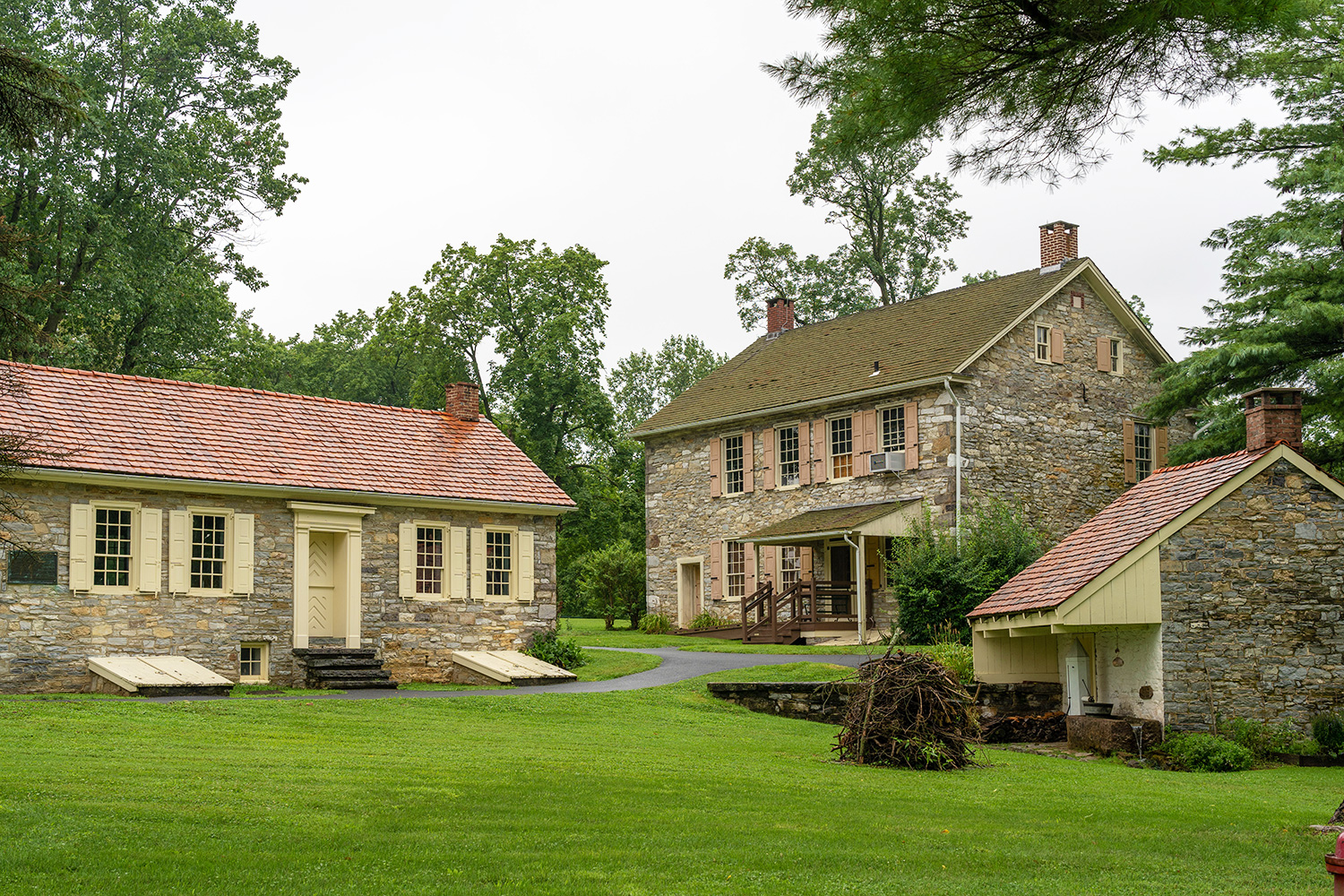 Conrad Weiser will be forever known as a peacemaker. His work as a diplomat and friend to the Native Americans living in Pennsylvania was crucial to keeping both groups safe from uprising and retaliation. 
When Weiser's family immigrated to America from Württemberg, Germany, in 1710, he was a young boy. The family settled near Albany, New York, along with other German families. Having developed a friendly relationship with a nearby Mohawk tribe, Weiser's father sent Conrad to live among them during the winter of 1712 to 1713. The reason isn't apparent, but this experience would prove to be a watershed event in the young man's life. Weiser's time with the Native Americans was marked by hardship. According to his writings, he was cold and hungry most of the time. During his time with the Mohawks, Weiser learned the language, customs, and struggles the native people faced as Europeans encroached on their land. 
In 1720, Conrad Weiser married Anna Feg. Nine years later, Weiser, his wife, and their four children moved to the Tulpehocken Valley of Berks County, Pennsylvania. They settled on a 200-acre tract of land that was more fertile than their property in New York and where they were afforded a longer growing season.
Weiser's vocation as an interpreter and negotiator began in 1731 when a group of Iroquois on their way to Philadelphia stopped by his homestead. Shikellamy, the spokesman for the Iroquois, asked Weiser to be a translator for them at a conference they were attending. Shikellamy had heard of Weiser's ability to speak the Iroquois' language, and he was looking for someone who spoke both languages. Weiser accepted the request, which would forever change relations between Native Americans and the Pennsylvania settlers. Together, Weiser, Shikellamy, and James Logan, provincial secretary of Pennsylvania and advisor to the William Penn family, replaced the commonwealth's existing Native American policy with the one they drafted. 
Over the years, Weiser and Shikellamy traveled to many conferences and Native American council meetings together. The two became close companions as they made many trips on foot. Weiser preferred to travel in fall; spring was too wet, summer was too hot, and winter was too cold, and snow and ice made the journey arduous. In early 1737, Weiser and Shikellamy set off with a small party for the Onondaga Council in New York to settle a dispute between the Six Nations and the Catawbas. If they couldn't reach an agreement, it was sure that the war would catch settlers in the crossfire. 
Weiser didn't want to make such a trip so early in the year, but negotiations were urgent. He set out in late February, and by April, Weiser's body was exhausted and breaking down. He wrote that he "… stepped aside and sat down under a tree to die, which I hoped would be hastened by the cold approaching night." But Shikellamy was able to persuade Weiser to continue their journey. 
A few days later, the party arrived in Onondaga, where its efforts were rewarded as Weiser's remarks led to the end of the Iroquois-Catawba conflict. 
Conrad Weiser went on to other successful negotiations, including the 1744 Lancaster Treaty. He was instrumental in maintaining relative peace between the Native Americans and settlers in PA until the mid-18th century. After Shikellamy died in 1748, Weiser's influence among the native groups began to diminish. As the French enlisted Native Americans in their fight with the British for control of North America, peace was put to the test. For the most part, the Iroquois in Pennsylvania remained neutral in the French and Indian War; other groups were not. The Shawnee and Lenape, backed by the French, raided cabins in western PA and pushed eastward. 
Weiser was appointed lieutenant colonel of the 1st Battalion Regiment. He was responsible for overseeing the construction of several forts used to hold garrisons of troops and families that fled their homes. 
Weiser's military service didn't last long, as he resigned his commission in 1758. Shortly thereafter, he was back negotiating peace. The Easton Treaty of 1758 helped to end most of the fighting in Pennsylvania when the Lenape tribe made peace with the colonists. 
After all the turmoil and unrest, Weiser returned to the Tulpehocken Valley, where he spent the rest of his days tending to his family and farm. Even beyond his work with Native American relations, Weiser was an important man in the region, serving as a judge, prominent landowner, and farmer. Little is known of his death other than, while traveling to Fort Pitt, he became ill and returned home, where he died on July 13, 1760, at the age of 63. It is believed that he may have died from complications of a kidney stone. 
Weiser's life is an example of how you can take a bad situation and use it for good. Spending that miserable winter with the Mohawks could have made him resentful, but instead, he devoted his life in service to them and the settlers. 
Today, the Conrad Weiser Homestead and Memorial Park is administered by the Pennsylvania Historical and Museum Commission in partnership with the Friends of the Conrad Weiser Homestead. You can tour several points of interest on the property, including the Conrad Weiser House, Weiser's gravesite, the Conrad Weiser Monument, the Shikellamy Statue, and the visitor center. 
As you approach the homestead, you will drive through Memorial Park, which is great for picnicking, walking, or just enjoying the bucolic surroundings. A packed lunch is a great way to wrap up your visit. If you're bringing kids, a picnic can provide a relaxing time to discuss the importance of Weiser's work and how it can be applied to difficult situations in their lives. 
Upcoming Events
September 11: Living History Sunday – noon to 4 p.m.
October 23: Living History Sunday – noon to 4 p.m. Fall Park Walk – 2 p.m.
November 19: Candlelight Tours, Living History, 18th-Century Music – 5:30 to 8 p.m.
December 4: Christmas Open House – noon to 4 p.m
When You Go:

Address: 28 Weiser Lane, Womelsdorf, PA 19567
Website: www.conradweiserhomestead.org
Phone: 610-589-2934
Hours: The site is open Wednesdays, Saturdays, and Sundays during the summer and at least one Sunday a month in the fall. It also hosts events throughout the year. The homestead is closed in January and February. 
For information on accommodations and other things to do in the area, log onto www.visitpaamericana.com.