Quirky and Obscure Museums
Wendy Royal Winter 2018
Pennsylvania is known for world-class museums. The Philadelphia Museum of Art the State Museum of Pennsylvania and the Carnegie Museums of Pittsburgh are just a few. The state also has quite a collection of quirky museums that would make a great bucket list.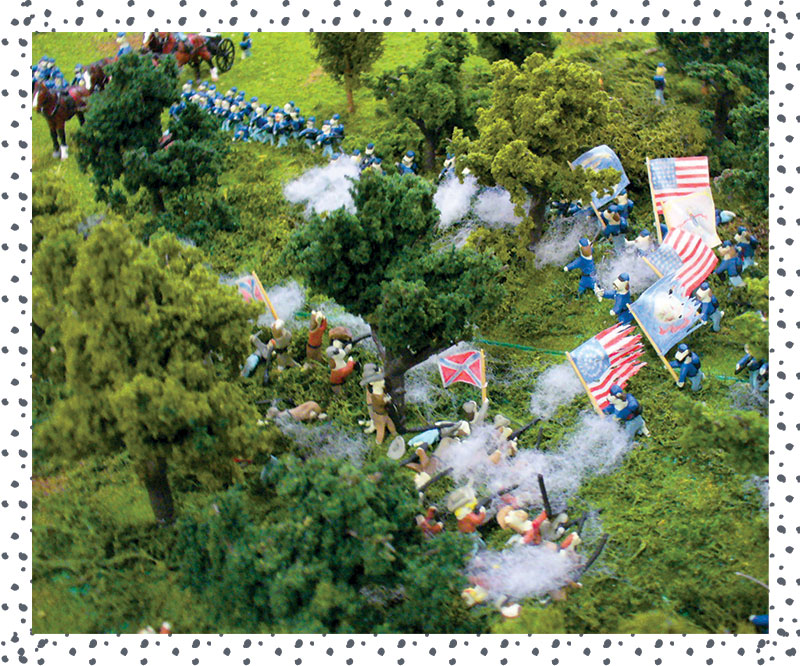 Civil War Tails at the Homestead Diorama Museum:  Rebecca and Ruth Brown have always been fans of history, specifically the Civil War. They made their first diorama at age 11 and used it to teach other homeschooled children about the Battle of Gettysburg. They made their soldiers in the shape of cats simply because they loved cats.
The fascination with the Civil War continued into their college years. After classes, while other students were going out with friends, the twin sisters were making tiny cats out of clay. Today their childhood dream is a reality in the form of their museum in the historic 1869 Gettysburg Homestead, which was once a dormitory for soldiers' orphans.
Located in one of the most historically recognized places in the country, Civil War Tails at the Homestead Diorama Museum interprets the historic Battle of Gettysburg like no other museum. It houses seven dioramas depicting important scenes from the Civil War from the Angle at Gettysburg during Pickett's Charge to the fight for Little Round Top. The detailed accuracy of each soldier's uniform and the battle scenes themselves are incredible. For some who visit, it takes a while to realize the miniature soldiers are actually cats.
Though the cats make it seem like an irreverent approach to such a solemn point in history, the dioramas serve to share the soldier's stories of courage and perseverance in a way that is both unique and approachable. After decades of study, Rebecca and Ruth are very knowledgeable about the war, and they share detailed accounts during tours of the museum. In all, there are approximately 4,000 cat soldiers on display, but their inventory has exceeded 7,000.
If you go:
Address: 785 Baltimore St., Gettysburg, PA 17325
Phone: 717-420-5273
Hours: Vary, see website for details
Website: civilwartails.com
Admission: Adults – $6.50,
Children ages 6 to 12 – $5.00
Military – $5.50
Children age 5 and under – free.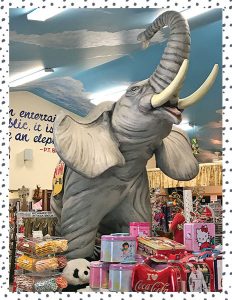 Mr. Ed's Elephant Museum & Candy Emporium: Just a 10-minute drive from Gettysburg is the General Store." The business has evolved over the years and is now under the ownership of Ed's granddaughter Nicole and her husband Isaac. From the moment you enter Mr. Ed's, there is no doubt that the shop's namesake loves elephants. Throughout the old-fashioned candy store, you'll find them ceiling to floor. But, it's in the free museum that you'll find a collection of more than 12,000 elephant figurines, circus souvenirs, political novelties, toys and more. Don't forget to purchase some of their famous homemade fudge before leaving.  With more than 70 flavors, it is hard to choose just one.
If you go:
Address: 6019 Chambersburg Road, Orrtanna, PA 17353
Phone: 717-352-3792
Hours: Daily, 9 a.m. to 8 p.m.
Website: mistereds.com
Admission: Free
The Stoogeum: This is one of the most obscure, yet one of the most incredible museums in Pennsylvania. Whether you are a fan of the Three Stooges or not, you'll appreciate the scope of this collection of Stooges memorabilia.  Personal items, movie posters, props and costumes, rare photos and tons of Three Stooges novelties are included in the nearly 100,000-piece collection. During your visit, catch a show in the 85-seat theater. The Stoogeum is housed in 3-story, 10,000 square-foot building in the Gwynedd Office Park, not where you'd expect to find a museum.
If you go:
Address: 904 Sheble Lane, Gwynedd Office Park, Ambler, PA 19002
Phone: 267-468-0810
Hours: Open every Thursday (except holidays) from 10 a.m. to 3 p.m.
Website: stoogeum.com
Admission: Adults – $10,
Seniors, Students (13+ w/ID) and Military – $8
Children under age 13 – free.
Randyland: Artist Randy Gilson's story is a testament to what one person with purpose can do. When he moved into the Mexican War Streets district of Pittsburgh's Northside he found many lots littered with garbage. Randy took money from his savings and started cleaning up the litter and planting hundreds of mini gardens throughout the neighborhood. He then purchased whiskey barrels, placed them in front of empty houses and planted flowers and shrubs in them.
In 1995,  Randy bought the dilapidated building on the corner of Arch and Jacksonia Streets and began transforming it into his constantly evolving work of art known as Randyland.
Visitors are invited to come and explore the public art displays in the courtyard and around the property.                                             
If you go:
Address: 1501 Arch St., Pittsburgh, PA 15212
Phone: 412-342-8152
Hours: Open most days 10 am to 5:30 pm
Website: facebook.com/randylandpgh
Admission: Free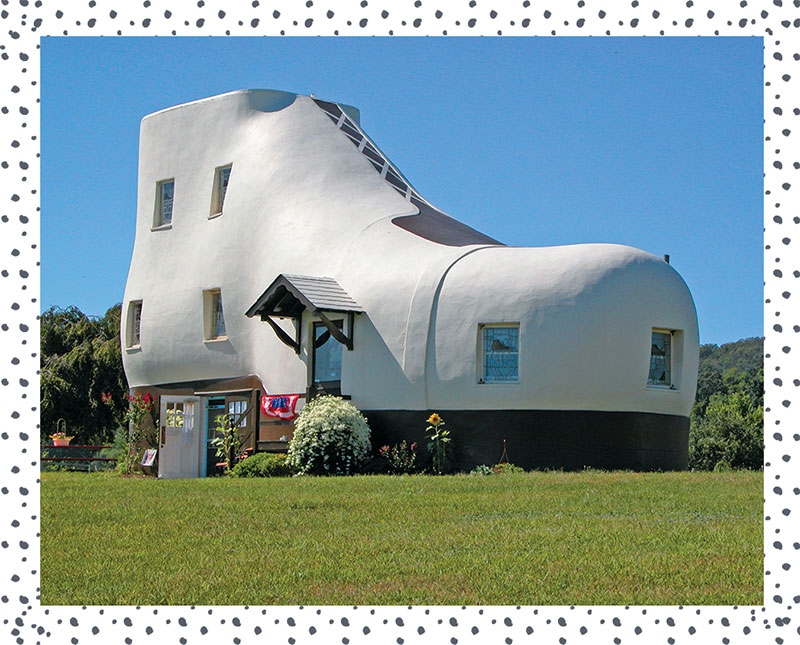 The Haines Shoe House: The structure was built in 1948 by shoe salesman Mahlon Haines as a larger-than-life advertisement. After Haines moved to a home across the street, the shoe house was used as a guesthouse. The property changed hands several times over the years before current owners Jeff and Melanie Schmuck bought the unique home in 2015.
Today, guests are invited to take the 25-minute guided tour in the roadside icon. Hand-dipped ice cream and fresh baked goodies are available to eat inside or out on the picnic tables. There's even a Shoe-venir shop with t-shirts,  postcards and other memorabilia.
If you go:
Address: 197 Shoe House Road, York, PA 17406
Phone: 717-683-6328
Hours: Open first Day of Spring through October. Closed Easter Sunday, Memorial Day and Labor Day. See website for hours.
Website: hainesshoehouse.com
Admission: Age 6 and older – $5
Children 5 and under – Free
The Christian C. Sanderson Museum: This obscure museum located in the Chadds Ford home of Christian C. Sanderson (1882-1966) contains a treasure trove of American history. Sanderson started collecting historical objects as a boy with the encouragement of his mother, Hanna.
In 1901, he graduated with a teaching degree from the West Chester Normal School (now West Chester University). His love of history was reflected in his teaching style and devotion to his students.
Sanderson attended many important events, including camping with Civil War veterans on the 50th anniversary of the Battle of Gettysburg, all the while adding to his extensive collection.
200 years of the American experience is on display at the Sanderson Museum; from Revolutionary War relics to family photos and paintings by his friends the Wyeths. Christian Sanderson's 75-year collection is as eclectic as our nation.
If you go:
Address: 1755 Creek Road, Chadds Ford, PA
Phone: 610-388-6545
Hours: Open March through November on Saturdays and Sundays, noon to 4 p.m.
Website: sandersonmuseum.org
Admission: Adults – $8
Children ages 6 to 12 – $5
Children age 5 and under – Free                                                 
The Mütter Museum: Though it is not intended to be a museum of oddities, the Mütter Museum in Philadelphia houses some of the most unusual exhibits in the world. The museum was the brainchild of surgeon Thomas Dent Mütter, MD (1811-1858), whose desire to improve and reform medical education led him to donate his extensive collection of medical artifacts to The College of Physicians of Philadelphia.  In accepting the donation of 1,700 objects and $30,000, the institution was required to hire a curator, maintain and expand the collection, fund lectures and house the collection in a fireproof building. The Mütter Museum was born and has since expanded to more than 25,000 objects.
Visitors will find meticulously preserved collections of anatomical specimens, medical instruments and models to educate and appreciate the wonders of the human body and explain the history of diagnosis and treatment of disease.
Some of the Mütter's most famous exhibits include the plaster cast and conjoined liver of "Siamese Twins" Chang and Eng, The Soap Lady, Dr. Joseph Hyrtl's human skull collection, the jaw tumor of President Grover Cleveland and the museum's recent acquisition; Albert Einstein's brain. The museum's Historical Medical Library is one of the world's finest research collections on the history of medicine. The library includes more than 400 books printed before the year 1500.
If you go:
Address: 19 S. 22nd St., Philadelphia, PA 19103
Phone: 215-560-8564
Hours: Open daily, 10 am to 5 pm. Closed Thanksgiving, Christmas Eve, Christmas Day and New Year's Day
Website: muttermuseum.org
Admission: Adults – $18
Seniors: $16
Military with ID – $15
Youth ages 6 to 17 and Students with ID – $13
Children age 5 and under – Free