Picklesburgh
Kaylee Rex Summer 2019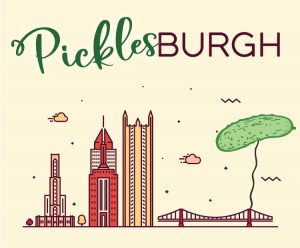 What better way to cool off in the blazing heat of July than with a crisp, juicy pickle? Even if that's not your idea of a refreshing treat, chances are, you'll love this Picklesburg.
Four years ago, Pittsburgh gave birth to "Picklesburgh," a three-day festival dedicated to pickled treats and pickle-inspired cuisine. Since then, Picklesburgh has risen in popularity, and it recently was voted the "Best Specialty Food Festival in America" by the readers of USA Today. This year, on Friday, Saturday, and Sunday, July 26, 27, and 28, the Roberto Clemente Bridge, which stretches over the Allegheny River, will fill with food vendors and pickle lovers from all over the region for the fourth annual Picklesburgh.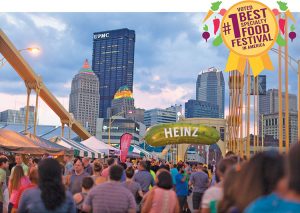 As Pittsburgh is the home to Heinz, the history of pickles runs deep through the Steel City, according to Leigh White, who is the vice president of marketing and communications at the Pittsburgh Downtown Partnership. According to the Heinz Company, founder H.J. Heinz began selling horseradish, pickles, sauerkraut, and vinegar by horse-drawn carriage to stores around Pittsburgh in the late 1860s. Picklesburgh pays homage to the famous company with a giant Heinz pickle balloon at the entrance to greet guests as they funnel onto the bridge.
Pittsburgh's food scene has risen to national acclaim in recent years, making the city the perfect place to host this specialty food festival. Pittsburgh's many high-quality chefs eagerly create unique pickle-inspired goods or nontraditional pickled items for the festival. "Giving them an opportunity to display this creativity in such a high profile has been fantastic," White said.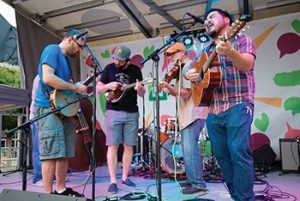 The concoctions that the vendors create are fascinating. Pickle juice, soda and pickled moonshine, cocktails, and lemonade are just a few of the refreshing beverages offered by vendors. Savory snacks include bacon-wrapped fried pickles, pickled chicken stuffed pretzels, pickle egg rolls, and pickle popcorn. For dessert, you can expect items like bread and butter pickle sorbet, vanilla ice cream topped with Ritz crackers and pickled cherries, and peanut butter pickle cupcakes.
One of the vendors, Grandpa Joe's Candy Shop, promises a top-secret new item this year. Last year it concocted pickled cotton candy, so this year's sweet creation should be just as intriguing.
In addition to the array of pickle-inspired cuisine, Picklesburgh hosts a series of farm-to-table demonstrations from pickling and canning experts. Get valuable tips and learn how to make your own pickled turnips, dilly beans, kimchi, berries, shrimp, and more right in your own home.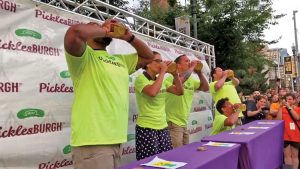 One of the more unique Picklesburgh festivities is the pickle juice drinking contest. Participants must survive a preliminary round to advance to the finals round, where they will compete for the title of "Mayor of Picklesburgh" and the grand prize of $500. Last year's winner, Joe George, downed the 32 ounces of pickle juice in an astonishing 6.06 seconds.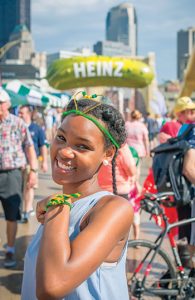 For families, the downtown side of the bridge will host the Lil Gherkins Activity Area, where families can enjoy face painting, balloons, crafts, ice cream, and entertainment. The festival will also offer live, local music all weekend at the Giant Eagle Downtown Sound Stage.
Last year's Picklesburgh was so successful that it drew crowds bigger than the bridge could house. The Pittsburgh Downtown Partnership is looking forward to expanding the overall size of the festival footprint to better accommodate the huge crowds the festival increasingly attracts.
"Pittsburgh has embraced Picklesburgh in so many ways – by turning out in incredible numbers, creating spectacular culinary creations, impressively drinking pickle juice at lightning speeds, and most of all, embracing a uniquely Pittsburgh experience," White said.
Even if you are not a fan of pickles, this culinary festival set to the scenery of downtown Pittsburgh has something for you. Whether it be experiencing the local music scene, tasting farm-to-table cuisine, or just having some family fun in the city, Picklesburgh exemplifies Pennsylvania's values through this weekend of food, fun, and community.
Photos courtesy of Pittsburgh Downtown Partnership