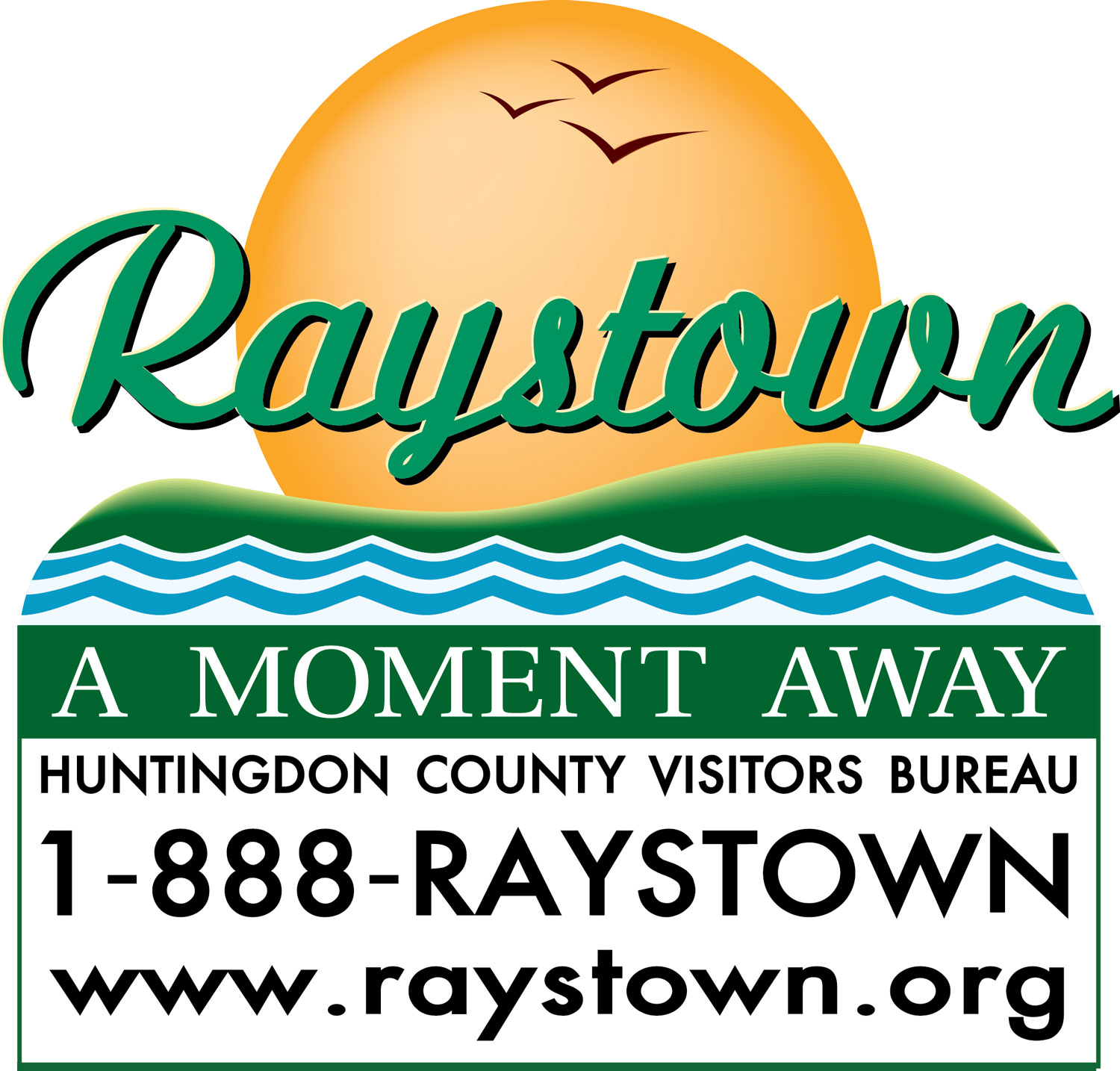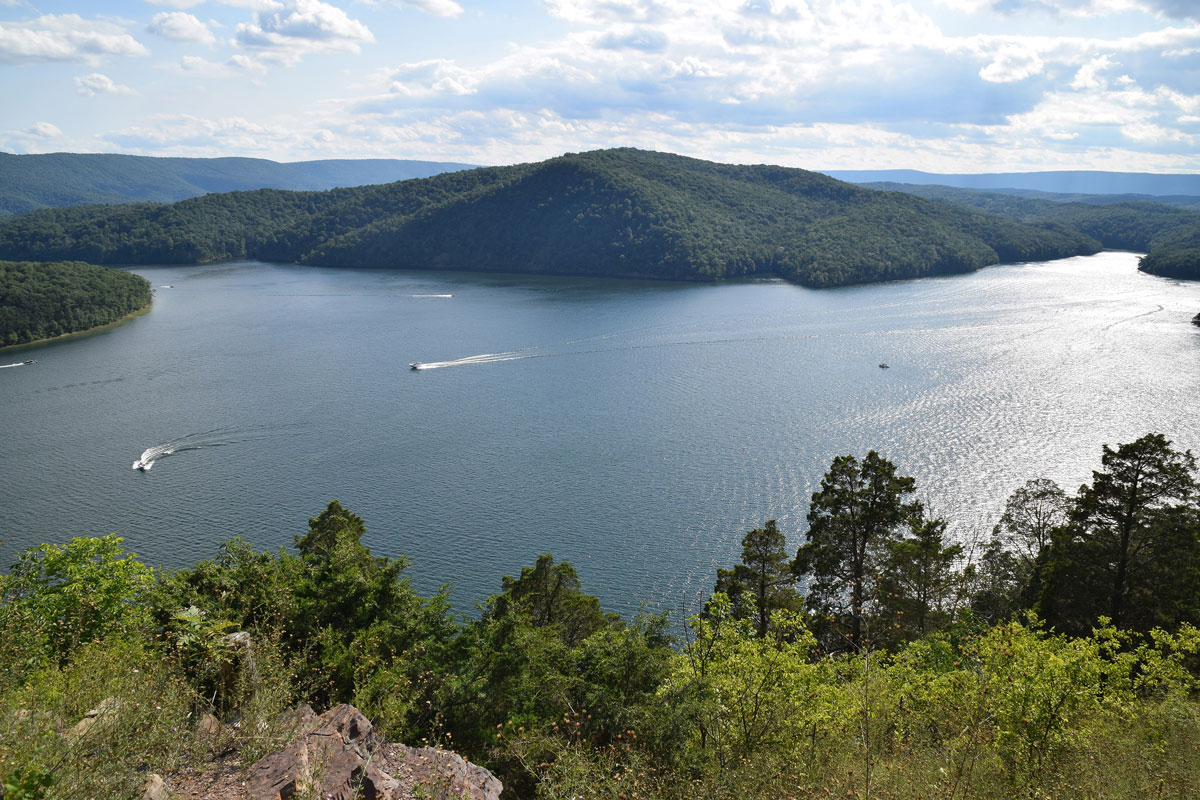 ---
Raystown Lake Region of Pennsylvania
More than 135,000 acres of public land in Huntingdon County
The Raystown Lake Region of Pennsylvania has opportunities aplenty to breathe in the fresh air, walk through the forest, enjoy the wilderness scenery of Raystown Lake and paddle the gentle waters of the Juniata River. So bring your boots, kayak, mountain bike and fishing pole to really get the most out of your time in Huntingdon County. You will find many spots to relax and unwind that are free to access like Raystown Lake, Trough Creek State Park, Greenwood Furnace State Park and Whipple Dam State Park, the Juniata College Peace Chapel, Terrace Mountain Trail, Standing Stone Trail, the Allegrippis Trails, the Raystown Mountain Bike Skills Park and the Seven Points Recreation Area. There are two public beaches at Raystown Lake. Other options include kicking back on a Raystown Lake boat tour, delving into the natural wonders of Huntingdon County underground on a cave tour or discovering one of our local museums filled with living history and local lore, or hooking up with a guide for a fishing trip. Accommodations include hotels, luxury vacation homes, cabins, lodges and…Raystown Lake is the only lake within Pennsylvania where you can get a houseboat and live on the water during your vacation! You can always contact the Huntingdon County Visitors Bureau (HCVB) office either prior to or during your "Raycation" for more information: (888) 729-7869, info@raystown.org or online at www.Raystown.org.
Raystown Lake is the largest lake entirely within Pennsylvania. Roughly 30 miles south-to-north. Raystown Lake was dedicated on June 6, 1974 by Vice President Gerald Ford.
Only 4% of the 118 mile shoreline of Raystown Lake is currently developed; enjoy a wilderness lake experience here.
You will find more than 135,000 acres of public land in Huntingdon County, Pennsylvania.
Jack's Narrows is the deepest gorge in Pennsylvania. You can hike up the historic Thousand Steps and paddle on the Juniata River between 2 new community launches.
We have exceptional placid water kayaking opportunities on our lakes and rivers throughout Huntingdon County, PA.
The Allegrippis Trails at Raystown Lake are ranked as some of the top single track mountain bike trails in North America. The new Raystown Mountain Bike Skills Park opened in summer 2016.
Hundreds of miles of hiking trails are located in the Raystown Lake Region of Pennsylvania – including the 2016 Pennsylvania Trail of the Year: the Standing Stone Trail with its unique Thousand Steps section up Jack's Mountain. The Thousand Steps are in Jack's Narrows; the deepest gorge in Pennsylvania.
"Fireplace getaways" are popular in the Raystown Lake Region in the winter, spring and fall. There are luxurious chalets and vacation homes with spacious accommodations for 1-25. Relax in front of the fireplace or step out onto the wraparound porches and breathe in the mountain view – during any time of the year.
Caves to tour, Pennsylvania State Parks, rails-to-trails, museums, shops, diners and more.
Seven Points Marina is the only place within Pennsylvania where you can get a houseboat and live on Raystown Lake during your vacation. Most of the houseboats in the Seven Points Marina fleet come equipped with hot tubs and slides.
Seven Points Marina is currently the largest (947 wet and dry slips) full-service marina in Pennsylvania. The marina's rental fleet includes fishing boats, ski pontoon boats, and 15 houseboats. A popular activity with young and old is the fish feeding station. Seven Points Marina is a large, family owned business established in 1947 by Jim Filson on the old Raystown Dam.
There are about 3,000 campsites to choose from in the Raystown Lake Region of Pennsylvania. Plus many other types of accommodations… lots of luxurious vacation homes, secluded cabins in the forest, cozy B&Bs, beautifully appointed houseboats, etc.
At Lake Raystown Resort, turn of the century hospitality and breathtaking vistas make each Proud Mary Showboat cruise on Raystown Lake a memorable adventure. Public sightseeing, breakfast and dinner cruises are available, as well as privately chartered party, wedding, dinner or meeting cruises, complete with live entertainment, music and customized themes. Catch the Proud Mary Showboat at Lake Raystown Resort marina. Lake Raystown Resort has many types of accommodations, Marina Café, full service marina, Angry Musky Outfitters fishing guide service, activities and a popular entertainment schedule. Celebrating National S'mores Day each year on August 10.
Raystown Lake is the Freshwater Striped Bass Capitol of the Northeast United States. The current Pennsylvania record for a freshwater striped bass is 53 pounds 12 ounces – caught at Raystown Lake
Raystown Lake's water flows from south to north. The shallow part of our lake is actually at the southern end and might be 12 feet deep. At the northern end, depths reach close to 200 feet at Raystown dam.
Huntingdon, PA is a stop on the Amtrak Pennsylvanian line.
Easily accessible from many major metro areas: http://bit.ly/FindRaystownPA————-
What is on your Raystown Bucket List?
Raystown Lake overlooks – the deck at the Raystown Lake Visitor Center, Hawn Overlook, Coffee Run Overlook, Entriken Overlook. You can hike/bike to the overlooks on the Terrace Mountain Trail, Allegrippis Trails and Old Loggers Trail
Allegrippis Trails & the Raystown Mountain Bike Skills Park
Dirt Rag Dirt Fest mountain bike and music festival happens the weekend prior to Memorial Day weekend each year
The Thousand Steps section of the Standing Stone Trail
WildRiver Water Park at Lake Raystown Resort
Isett Heritage Museum – 40,000 items organized by historic era
Rockhill Trolley Museum – Ride antique trolleys all day plus special events throughout the year
William E. Swigart, Jr. Automobile Museum – 2 Tuckers and Herbie The Love Bug
Lincoln Caverns and Whisper Rocks – 2 cave tours on 1 ticket plus special events and scout programs
Broad Top Area Coal Miners Historical Society & Museum
Scenic boat tours aboard the Proud Mary at Lake Raystown Resort
Balanced Rock Trail – with suspension bridge and Rainbow Falls at Trough Creek State Park
Guided fishing excursions
FREE Tuesday Morning Visitor Wake-Up Receptions at the Raystown Lake Visitor Center from mid-June to mid-August
Test Paddle Tuesdays with Rothrock Outfitters at Seven Points Marina from mid-June to mid-August
4 and More Cultural District Walking Tour – Thursdays during the summer
Geocaching in the afternoon and S'mores around the campfire later
The Raystown Lake Region in The Alleghenies of Pennsylvania is a great base camp for Fort Roberdeau, DelGrosso's Amusement Park & Laguna Splash, Horseshoe Curve National Historic Landmark, Carlisle Sports Emporium, Penns Cave and Wildlife Park, Slinky Action Zone, Old Bedford Village, Altoona Railroaders Memorial Museum, Big Valley and Altoona Curve baseball
Share photos of the things that you are doing on your Raystown Bucket List at: www.Facebook.com/RaystownLake
---
CONTACT:
6993 Seven Points Road
Hesston, Pennsylvania 16647
Website: http://www.Raystown.org
Email: info@raystown.org
Phone: 888-729-7869
UPCOMING EVENTS:
CHECK US OUT ON:
---