Nostalgic Family Fun Awaits at Conneaut Lake
Wendy Royal Spring 2022
Conneaut Lake, in northwestern Pennsylvania, is the largest natural lake in the commonwealth. For centuries, people have flocked to the lake for fishing and boating, but it wasn't until 1892 that the lake really became a resort destination. That was the year that the Conneaut Lake Exposition Park opened. At the turn of the twentieth century, luxurious steamboats cruised the lake as vacationers watched from the balconies of the Hotel Conneaut. Today, the Hotel Conneaut is the last standing of approximately a dozen resort hotels built around the lake.
Conneaut Lake is still a thriving resort community that prides itself on a tradition of treating families to a laid-back retreat from the busyness of everyday life. While a memorable getaway to Conneaut Lake is possible any time of year, the resort especially comes to life in the summertime.
Conneaut Lake Park (CLP) is a kid-friendly amusement park open during the summer months. The Park boasts many nostalgic rides as well as newer additions, including a waterpark. Admission is very reasonable. Camperland at Conneaut Lake Park offers a budget-friendly lodging option with beach access at the CLP. The season at Camperland runs from May 1 – October 31.
In addition to Hotel Conneaut and Camperland, Conneaut Lake has a variety of unique lodging options, including lake rentals and hotels in nearby Meadville. For information on accommodations and attractions in the area, see visitcrawford.org.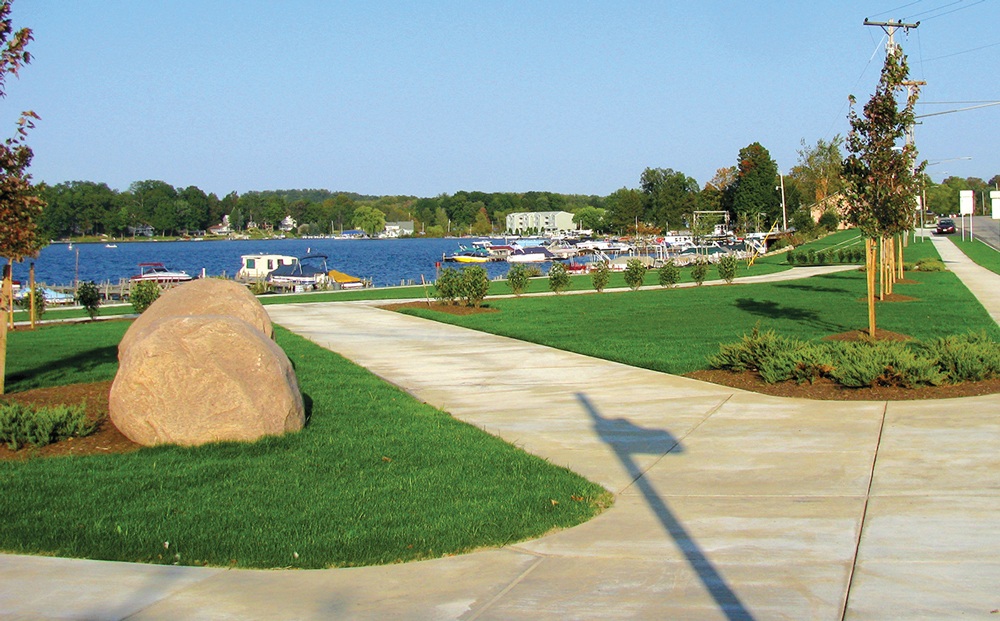 ---
10 Things to Experience at Conneaut Lake
1) Conneaut Lake Park
12382 Center St.
Conneaut Lake, PA 16316
814-382-5115 • newconneautlakepark.com
Conneaut Lake Park is one of the oldest amusement parks in the country. Known for its vintage rides, the park recently added many new rides. CLP also features its own boardwalk and beach.
2) Hotel Conneaut
12241 Lake St.
Conneaut Lake, PA 16316
814-573-7747 • thehotelconneaut.com
This historic hotel is anything but typical. Built in 1903, the Hotel Conneaut harkens back to a simpler time, especially as you watch the boats from the large porch overlooking the lake. Room rates range from $95/night to $285/night.
3) Barbara J Paddle Wheel Boat Tours
Conneaut Lake, PA 16316
814-382-7433 • barbarajtours.com
Tour the lake or book a party onboard the 1955 paddlewheel boat, Barbara J. The 2022 tour schedule will be available in May.
4) Conneaut Lake Area Historical Society & Museum
150 N. 3rd St.
Conneaut Lake, PA 16316
814-382-6894 • conneautlakehistory.com
During your stay, learn about the history of the area, its residents, and Conneaut Lake Park. The museum is open on weekends or by appointment.
5) Fireman's Beach
Aldina Dr., (N. Second St.)
Conneaut Lake, PA 16316
814-213-0051
Fireman's Beach is a public beach with a boat and kayak launch featuring the Sandbar concession stand. The Sandbar is open noon to 6 p.m.
6) Conneaut Cellars Winery & Distillery
12005 Conneaut Lake Rd.,
Conneaut Lake, PA 16316
814-382-3999 • conneautcellars.com
Conneaut Cellars is open 10 a.m. to 6 p.m. daily. The winery will host a Blues Festival on Saturday, June 18, from noon to 6 p.m.
7) Oakland Beach Golf Club
11866 Oakland Beach Rd.,
Conneaut Lake, PA 16316
814-382-5665 • www.oaklandbeach.com
The 18-hole championship layout public golf course features McGuire's Pub, an on-site bar and grill.
8) Silver Shores Restaurant
11934 Conneaut Lake Rd.
Conneaut Lake, PA 16316
814-382-4471 • silvershores.net
Silver Shores has been a Conneaut Lake fixture since 1930. Opens for the season on March 4. Monday, Wednesday, Thursday, and Sunday hours, 11:30 a.m. to 8 p.m.; Friday and Saturday, 11:30 p.m. to 9 p.m.; closed on Tuesdays.
9) Ice House Park
N. 1st St.
Conneaut Lake, PA 16316
https://www.facebook.com/Ice-House-Park-Conneaut-Lake-Pennsylvania-1490495431207738/
Ice House Park on Conneaut Lake is the location of many free community events and concerts throughout the year.
10) The Original Strudel Factory
135 S. 1st. St.,
Conneaut Lake, PA 16316
814-282-6250 • facebook.com/The-Original-Strudel-Factory-1445895178981951/
Made from scratch, sweet and savory strudel. The shop is open Fridays and Saturdays, 8 a.m. to 1 p.m., beginning Memorial Day weekend.