Let's Go Camping
Ann Ash Spring 2021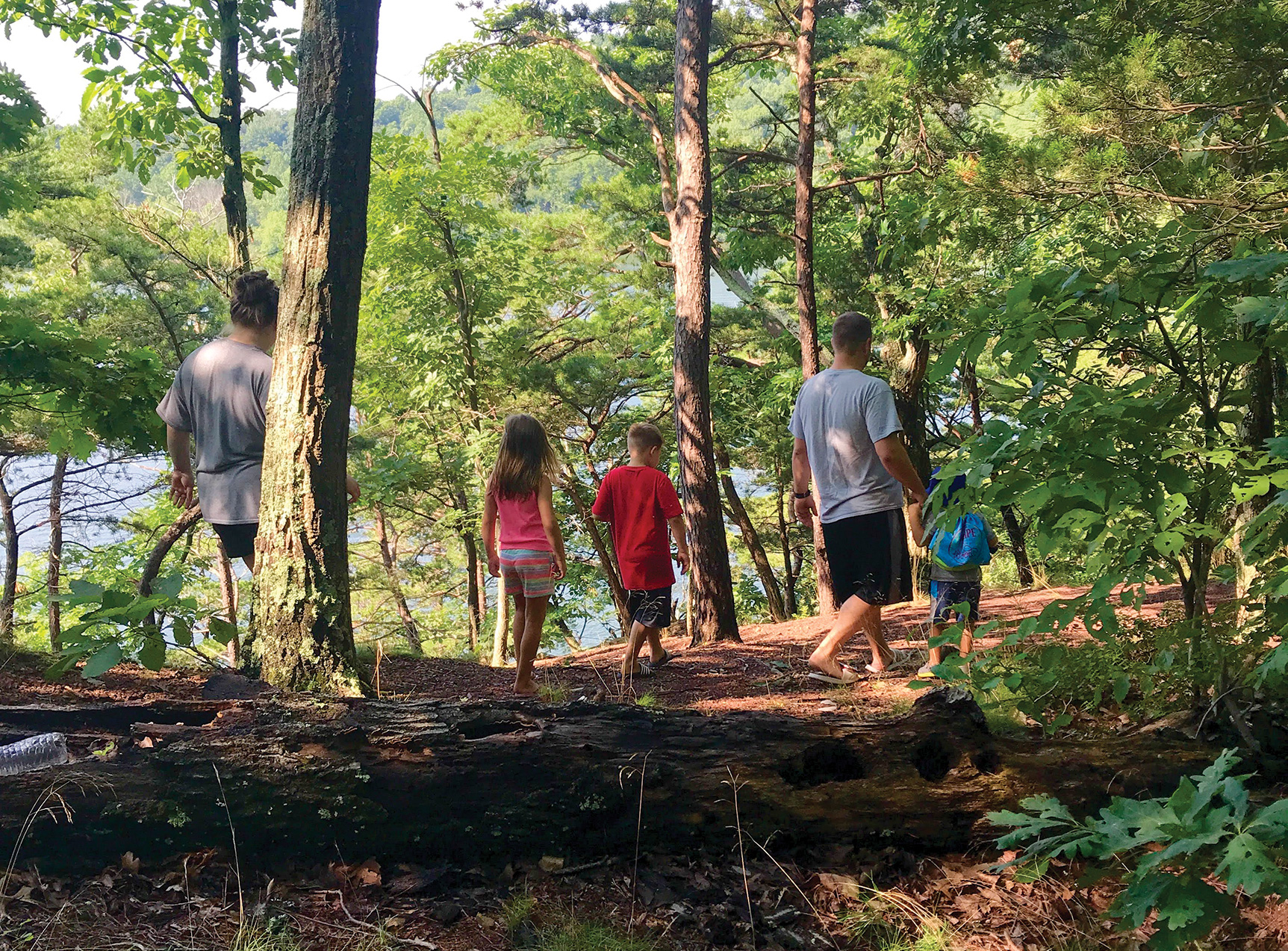 The pandemic has resulted in a significant increase in families who have taken up camping for the first time in 2020. That trend does not seem to be slowing down. In 2020, Scot Ash, general manager of Shady Maple RV in East Earl, PA, saw a 50% increase in sales over 2019, and he said that the majority of those sales involved first-time buyers. "RVing is an alternative way to travel that allows families to social distance while traveling and while camping," said Ash, who pointed out that campers have their own beds, baths, and cooking and eating facilities traveling with them. "It keeps the family unit together," said Ash.
However, the safety factors and other benefits of camping can be achieved without glamping, as RVing is sometimes called. Lancaster County hiking buddies Laura and Jessica Zimmerman do not hesitate to hit the trail for as long as 10 days with up to 35 pounds of clothes, food, water and other supplies, including a tent, on their backs. They can cover as much as 10 miles per day, and they have camped in places like the Quehanna Trail in Elk County, the Pine Creek Rail Trail in Tioga County, and Jessica's favorite, the Black Forest Trail in Lycoming County. The young women often camp well into the fall and as early as April, braving temperatures that can drop into the teens. Laura noted that to keep the food supplies light, they take along a lot of pasta and rice, and they carry dried beef. Laura uses a dehydrator to prepare food ahead for them to take along.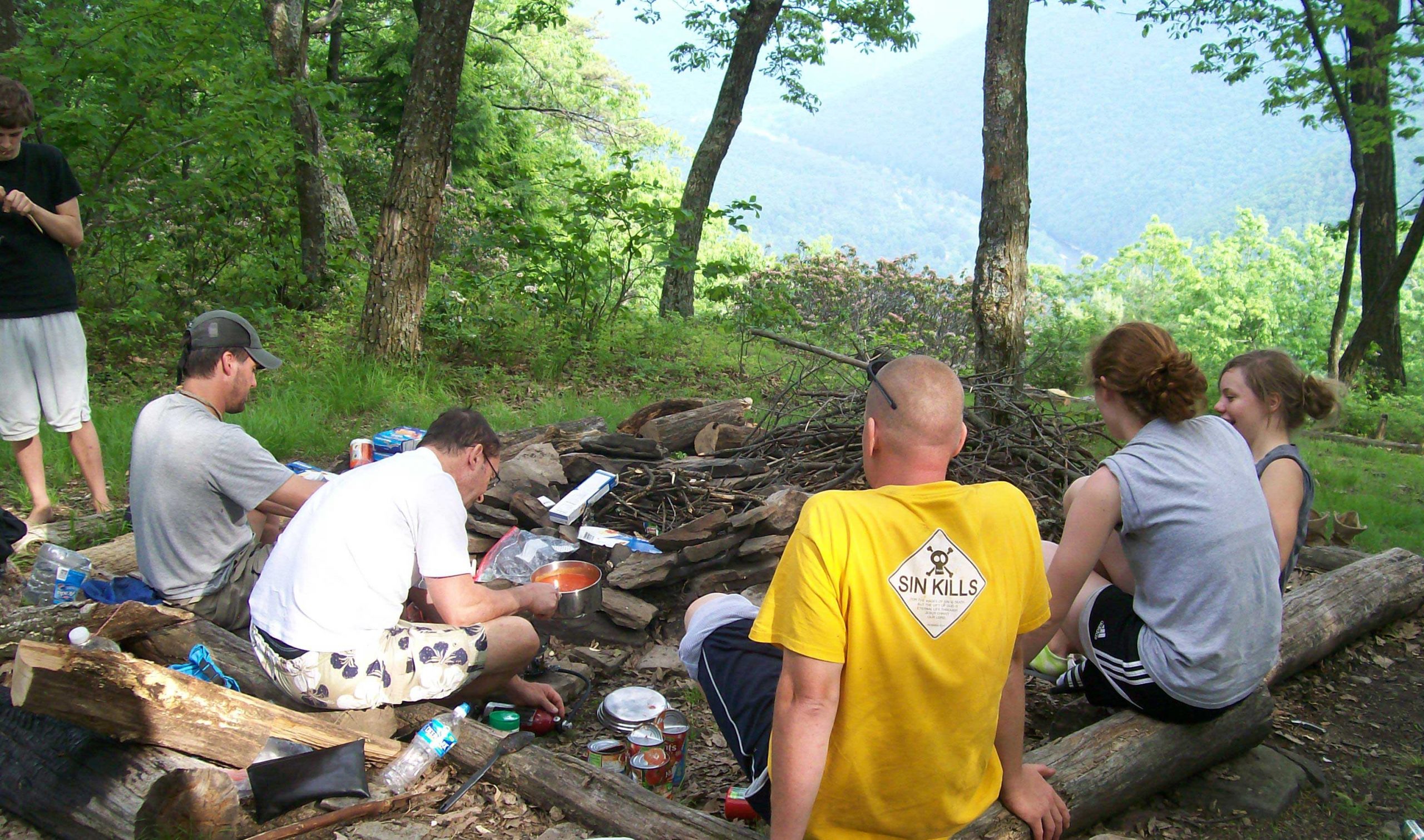 Jessica noted that enjoying the journey in nature is a focus of the hiking trips. "When I am out backpacking, it would be a disappointment if I went home without seeing any wildlife," said Jessica, who notes she is especially on the lookout for rattlesnakes and copperhead snakes, but she has also seen bear, elk, fishers (which are similar to weasels or minks), foxes, coyotes, elk, deer, and flying squirrels. "You didn't mention porcupines," added Laura.
Jessica relayed that during a hike through Harvey Winter State Park, a bear foraged ahead of them, continually stopping to look back before disappearing into the brush. She also recalled stepping on a rattlesnake on the Quehanna Trail. Because it was early morning and cold, the snake was sluggish.
Kim Pierce and her husband, Gene, graduated from a tent to a hybrid camper a few years ago, but she still prefers cooking over an outdoor fire to using the stove in her camper. The couple's first date was a backpacking outing on the Presidential Range in New Hampshire. "(After) we had a family, we camped at state parks in tents," said Kim, who noted she loves her hybrid because the canvas reminds her of tenting.
Kim honed her campfire skills when she did an internship at Yellowstone and worked as a park ranger in Caledonia State Park in Franklin County. She was introduced to a book called "Roughing It Easy" by Diane Thomas, where she learned how to make a stove from a tuna can, corrugated paper, and paraffin and to cook eggs and bacon in a paper sack. "You can cook cheaply over the fire," said Kim, who currently cooks meals in foil pouches and mixes up pancake batter before leaving home so it's ready to pour at the campsite. "We make breakfast burritos, so we don't need utensils," said Kim, who noted that the smoky smell of a campfire is a delight to her. "There's something about … being in the outdoors and smelling the fire," she said. "I like the smell."
Steve Loewen bought his "toy hauler" camper several years ago and converted the area where motorcycles would be stored into a bed. His wheelchair glides easily up the ramp originally intended for all-terrain vehicles. "I'm not your regular camper," said Loewen. "I go camping because … I have all my (equipment) with me." Loewen noted that 90% of his camping expeditions are tied to his love of car racing. He also enjoys the relationships he has developed with other race fans. "I see the same people every year, because we reserve the same (camp sites)."
For those who are not sure tent camping is for them, many RV dealers and campgrounds offer rentals.
Camping Suggestions
For a complete list of Pennsylvania campgrounds, log onto pacamping.com
Black Bear Cabins
55 Blackbeary Ln., Cooksburg, PA 16217
814-744-8017 | blackbearcabins.com
Pioneer Campground
307 Pioneer Trail, Muncy Valley, PA 17758
570-946-9971 | pioneercampground.com
Quemahoning Family Recreation Area
Quemahoning Dam Rd., Hollsopple, PA 15935
814-233-9512 | quefamilyrec.com
Virginia's Beach Lakefront Cabins and Camping
352 Holliday Rd., North Springfield, PA 16430
814-922-3261 | virginiasbeach.com
Blue Rocks Family Campground
341 Sousley Rd., Lenhartsville, PA 19534
610-756-6366 | bluerockscampground.com
Black Moshannon State Park Campground
4216 Beaver Rd., Phillipsburg, PA 16866
814-342-5960 | dcnr.pa.gov/stateparks/findapark/blackmoshannonstatepark/
Yogi Bear's Jellystone Park Camp Resort
340 Blackburn Rd., Quarryville, PA 17566
717-610-4505 | jellystonepa.com
Allegheny National Forest Cabins and Campgrounds
Allegheny Site Management, 4001 W. Washington St., Bradford, PA 16701
814-368-4158 | alleghenysite.com