Leap Day 2020!
Wendy Royal Winter 2020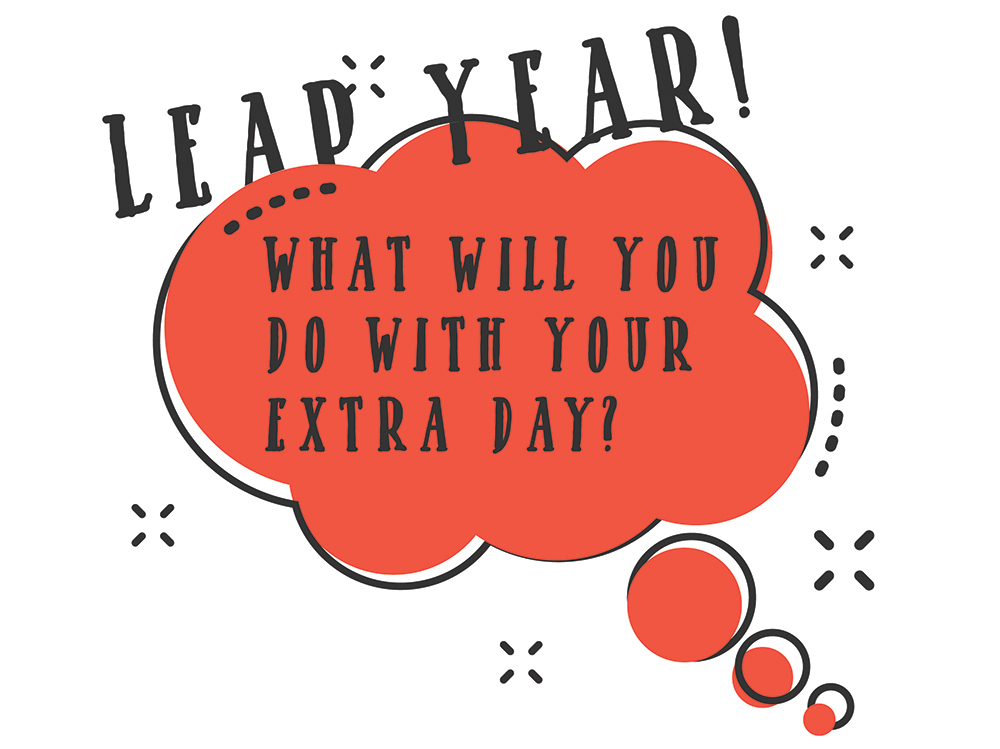 That's right – 2020 is a leap year, which means there are 29 days in February. I have no idea why it is necessary to change the calendar every four years, and I'm OK with that.
For most of us, leap day is a freebie, but if your birthday is on Feb. 29, you've been waiting four years to celebrate on your day. In either case, let's take advantage of the fact that Feb. 29 is also on a Saturday. We have a three unique suggestions for things to do in Pennsylvania on Leap Day 2020.

Visit the snow geese at Middle Creek Wildlife Management Area.
Each year in late winter, the migration of snow geese brings upwards of 100,000 snow geese to Middle Creek, which also attracts bird watchers from around the globe. The last time I ventured out on a frigid late February morning to see this extraordinary spectacle, dozens of Japanese birdwatchers lined the road in hopes of getting the perfect photo. What is the perfect picture? Let me tell you: When tens of thousands of snow geese decide to take flight all at the same time, it's a scene you're not likely to forget. According to the Pennsylvania Game Commission report, in 2019, the highest number of snow geese in a day was 150,000! You're also likely to see tundra swans and Canada geese in the mix.
It's not easy to predict when the large numbers of snow geese will be at Middle Creek. If the lake is mostly frozen, you won't see as many birds. Snow and freezing temperatures play a role in the snow geese numbers. Numbers can fluctuate rapidly from 75,000 birds one day to 1,500 the next. But, since leap day is a freebie, I say go and check it out!
Middle Creek Wildlife Management Area
100 Museum Road, Stevens, PA 17578
Note: This is the address for the visitors center, which is open Mondays through Saturdays from 8 a.m. to 4 p.m. (Closed Mondays from Thanksgiving through Jan. 31.)
Fee: free
Middle Creek's snow geese live stream camera.
Experience Valley Forge in the wintertime.
When Gen. George Washington encamped his troops at Valley Forge during the winter of 1777-78, it was no picnic. History tells of Washington's pleas for more provisions for his hungry soldiers in threadbare uniforms. We are so fortunate to be able to visit the Valley Forge National Historical Park any time of year, but since we are celebrating an extra day this year, why not experience a little bit of George Washington's Valley Forge? It may not be as cold or snowy as it was that winter, but this is an excellent time of year for the family to discover the American Revolution differently.
Washington's Headquarters and Washington Memorial Chapel are just two of the 81 historical buildings you'll find in the park. Of these, 12 buildings we actually standing in whole or in part when the Continental Army was encamped there. As you travel through the park, you can see 40 historical monuments and memorials, the largest being the National Memorial Arch.
Valley Forge National Historical Park
1400 Outer Line Drive, King of Prussia, PA 19406
Fee: Free
The park grounds are open from 7 a.m. to dark all year, with the park buildings closed on Thanksgiving, Christmas, and New Year's Day. 
The Visitor Center is open from 9 a.m. to 5 p.m. daily, except Thanksgiving, Christmas, and New Year's Day. The Park Theater plays every 30 minutes beginning at 9:30 a.m., with the last showing at 4:30 p.m. The park website posts alerts and park conditions that you may want to check before heading out.
Treat yourself! After all, it comes just once every four years.
Though we all should experience this, I think those whose birthday falls on Feb. 29 owe it to themselves to splurge a little.
Whenever the top resorts in Pennsylvania are mentioned, you can bet you'll see Nemacolin Woodlands Resort among the top contenders. And for a good reason. The four-season resort offers five distinctive lodging options totaling 323 rooms on the 2,000-acre property. From an English Tudor-style lodge on a more affordable scale to the 42-room Falling Rock, a boutique hotel with butler service, there's no wrong choice here. Regardless of whether you're staying in one of the hotels or a luxury vacation home at Nemacolin, the experience is second to none.
There are so many amenities to mention, and if you like to golf, you'll have to wait for spring to enjoy the resort's highly rated Mystic Rock and Shepherd's Rock golf courses. When you visit in the winter, you can take advantage of Mystic Mountain's six downhill slopes, snowboarding and the terrain park. You can also enjoy snow tubing, snowshoeing, cross-country skiing and even dog sledding.
For a more rugged experience, Nemacolin's Jeep Off-Roading Driving Experience and Polaris Adventures takes guests on rough terrain for an adrenaline rush like no other. In addition, the resort offers sporting experiences like clay shooting and fly-fishing.
If you prefer pampering over adventuring, you'll love Nemacolin's spa and wellness offerings. The Woodlands Spa features 40 treatment rooms and a full-service salon. Kids even have their own spa at The Grove. The Holistic Healing Center emphasizes integrative methods designed to create body balance and wellness.
The Hardy Family multi-million-dollar art collection is on display throughout the property. You'll find much of the collection in the Chateau Lafayette, the resort's opulent Parisian-style hotel. The Chateau also features the Forbes 5-Star and AAA 5- Diamond Lautrec Restaurant. In all, the resort has 15 dining options.
I've just barely scratched the surface of the amenities offered at Nemacolin Woodlands Resort in southwestern Pennsylvania's Laurel Highlands. But I would be remiss if I didn't mention that there is an airfield, just in case you want to arrive in your private plane. The rates may not be for everyone, but special package deals like buy two nights, get one free, are often available. For most of us, these accommodations are reserved for special occasions, and leap year seems like a special occasion, don't you agree?
1001 Lafayette Drive, Farmington, PA 15437
866-344-6957