Frank Lloyd Wright Road Trip
Cara O'Donnell Summer 2017
Pennsylvania's Laurel Highlands, located just southeast of Pittsburgh, is known for its 3,000 square miles of scenic mountains and valleys, and nestled among them are the stories of one of the greatest architects to have ever lived. Frank Lloyd Wright was world renowned for his commitment to organic architecture – that is, designing structures in harmony with the environment. This year marks Wright's 150th birthday, and there is perhaps no better time to discover the work of the man often referred to as the greatest American architect of the 20th century.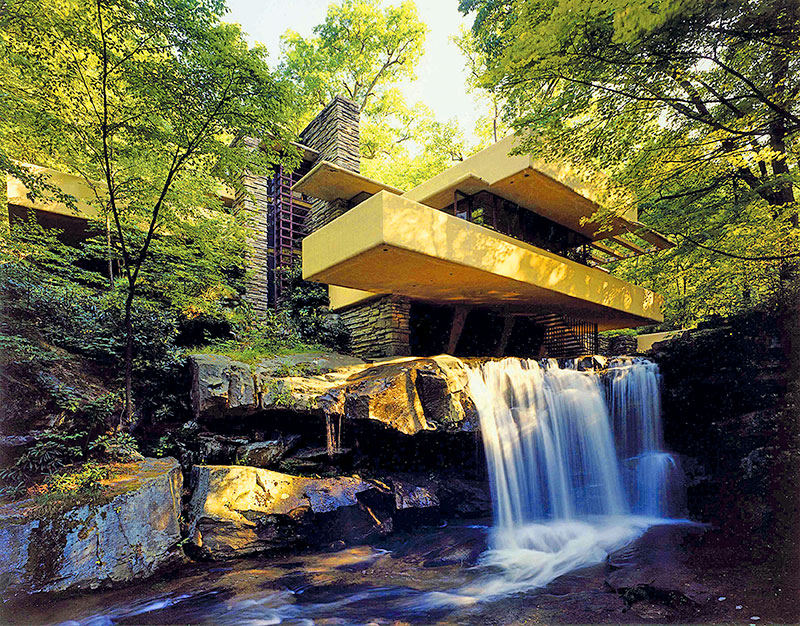 Begin a Wright adventure at Fallingwater one of Wright's most famous creations and one of the most stunning examples of his work. Built originally as a summer retreat for the Kaufmann family (of Pittsburgh-based Kaufmann's Department Store), Fallingwater truly personifies Wright's commitment to nature, incorporating the landscape into everything about the property and truly bringing the outside indoors.
And it does. Built literally into the side of a waterfall, Fallingwater is a series of cantilevered terraces (a Wright signature) over the falls, with each one anchored by natural bedrock walls and waxed sandstone flooring to resemble a damp creek bed. The house is nestled around and as part of the existing boulders of the landscape; a giant boulder suddenly becomes part of a kitchen countertop, and another becomes part of the fireplace mantle. Mitered glass gives the illusion of disappearing windows to connect with nature. And throughout the property (and other Wright properties), visitors will notice Wright's unique style of "compression and release" – using tight, narrow stone staircases and hallways that then "release" into the rooms at the other end.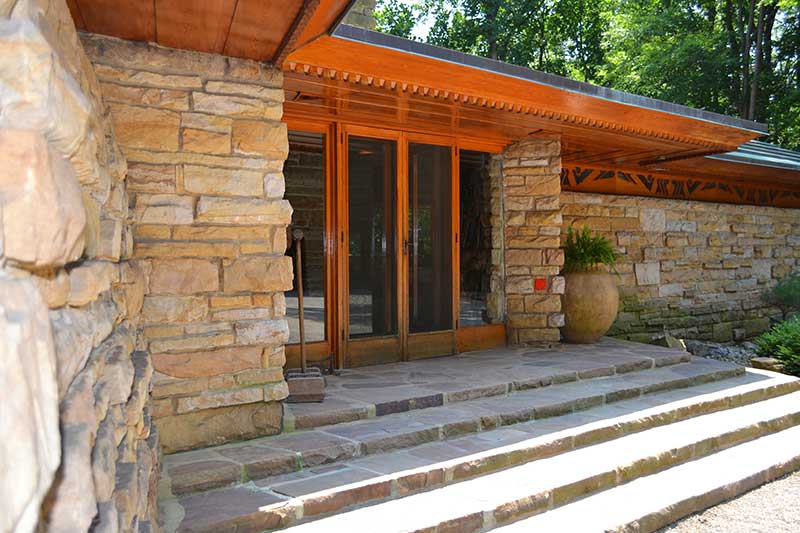 Just down the road is Kentuck Knob, a hexagonal-shaped home and prime example of Wright's famous Usonian style of one-level, affordable living. Sometimes referred to as "Fallingwater's child," Kentuck Knob was originally designed for the Hagan family (of Hagan Ice Cream fame – which is still served on-site). Much less opulent than its famous neighbor, Kentuck Knob was designed into the existing hillside so it is "of the hill," continuing Wright's one-with-nature theme, with trademark floor-to-ceiling windows and mitered glass that open to the sweeping views of the forest and dramatic Youghiogheny River Gorge. Inside is filled with a dramatic fireplace made of local sandstone as well as cypress wood in Wright's signature Cherokee red color. Wright's compress-and-release philosophy is evident here as well, with a dining room with ceilings so low one can't help but sit down at the table and a hallway only 21 inches wide, which the Hagans admitted they never once used in their 20-plus years at the home.
Conveniently located minutes from either Fallingwater or Kentuck Knob, don't miss the roadside Bittersweet Café (bittersweetfresh.com), a local favorite serving seasonal soups, sandwiches, and delectable pastries, as well as homemade coffee syrups and red pepper jelly. Meet café mascot Bob the Cat and spend some time browsing the adjacent antiques store (all family-owned).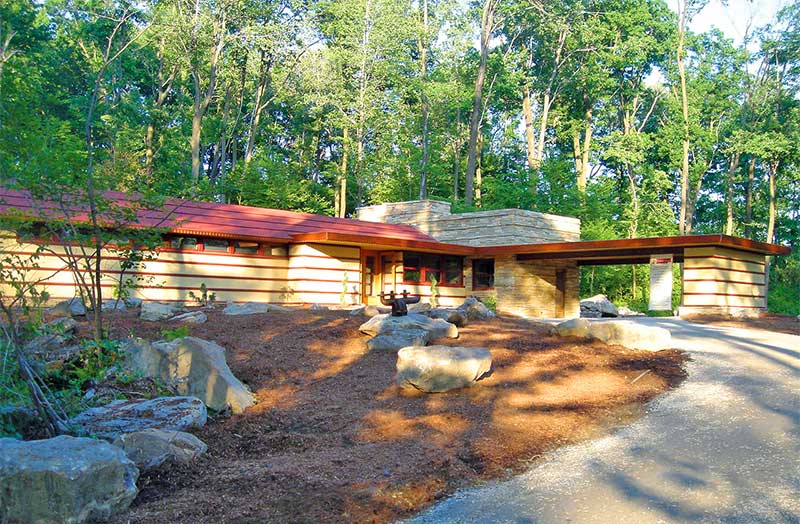 For the most authentic Wright experience, the third Laurel Highlands Wright home, the Duncan House at Polymath Park (franklloydwrightovernight.net), is one of the few properties in the world open to overnight guests (be aware, reservations book up to a year in advance). Duncan House is another Usonian property owned by architect Tom Papinchak, a self-proclaimed Wright enthusiast ("My childhood treehouses had cantilevers," he says). Duncan House was originally located in Illinois and was slated for demolition, but it was saved by Papinchak and brought to the Laurel Highlands 10 years ago, where it joined two other Usonian-style homes that were designed by Wright's apprentice, Peter Berndtson. The three now comprise Polymath Park.
Another option is to enjoy the lap of luxury with a Wright adventure at the nearby Nemacolin Woodlands Resort, now celebrating its 30th anniversary. In addition to its countless activities and pampering, Nemacolin's Frank Lloyd Wright-inspired Falling Rock hotel showcases the best of Wright's designs with the ultimate in hospitality and luxury. The AAA Five-Diamond award winner features 42 rooms, including four suites, and offers 24-hour butler service and special amenities including a drawn-bath menu and a milk and cookie turndown.
With Frank Lloyd Wright's properties making headlines around the world, his Laurel Highlands designs are a true treasure for the region. Whether an architecture enthusiast, a design fan, or one just interested in Wright's sometimes amusing stories of stubbornness and indignation when it came to his work, a visit is something not soon forgotten.