Location
Lancaster Bible College
901 Eden Road
Lancaster, PA 17601
---
Unpacking Sacred Scripture -- A Free Workshop for Pastors and Church Leaders
Lancaster Bible College | Capital Seminary & Graduate School invites pastors and church leaders in our area to a free upcoming "Unpacking Sacred Scripture" workshops. Set for 10 a.m. to 2 p.m. April 29 on LBC | Capital's Lancaster campus, the half-day workshop is led by LBC | Capital alumni professors Dr. Mark Meyer, PhD in Biblical Studies Program Director and biblical languages expert, and Dr. Randal Pelton, longtime pastor and homiletics scholar.
Shares Dr. Meyer, "We pray attendees are immersed in the text of the Bible at the workshop, watch the study process unfold, then add what they learned to their own methods of study, preparation and growth."
The day will also include a free lunch and coffee breaks plus chances to connect and network with other pastors and church leaders. Register today at lbc.edu/events and read more at lbc.edu/blog/unpacking-sacred-scripture.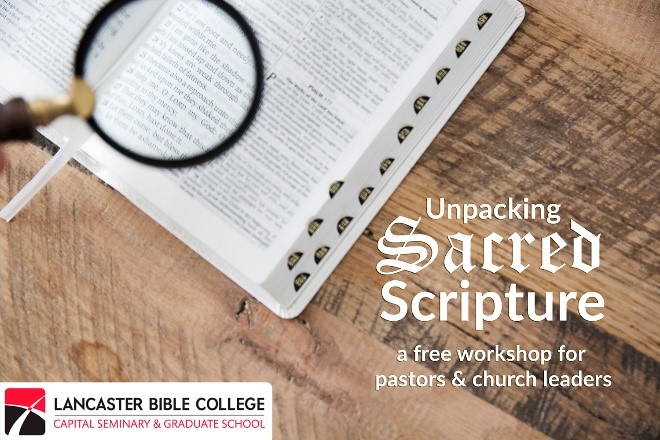 ---
---
---