Location
U.S. Army Heritage & Education Center (USAHEC)
950 Soldiers Drive
Carlisle, PA 17013
---
U.S. Army War College Veterans Day Observance
• Commemoration Ceremony at U.S. Army Heritage & Education Center
• Keynote address by U.S. Army War College Commandant Major General David Hill
• Recognition of local Distinguished Veterans
• Future Soldiers Oath of Enlistment
• Saturday, 11 November 2023 @ 11:00am / 950 Soldiers Drive, Carlisle, PA 17013
The U.S. Army War College (USAWC) will host a solemn commemoration ceremony for Veterans Day at the U.S. Army Heritage and Education Center (USAHEC). The ceremony will include accompanying patriotic music by the Carlisle Brass Band, under the direction of Mr. David Knott; a recognition of three local distinguished veterans; and Future Soldiers from the Harrisburg Battalion, U.S. Army Recruiting Command being administered their Oath of Enlistment. The 53rd Commandant of the U.S. Army War College, Major General David C. Hill, will deliver remarks on the significance and history of Veterans Day observances.
Join us at 11:00am on Saturday, November 11th (Veterans Day), 2023 at 950 Soldiers Drive, Carlisle, PA 17013.
This will be an indoors ceremony.
For more information visit: https://ahec.armywarcollege.edu/ or check the USAHEC Facebook Page at https://www.facebook.com/USAHEC.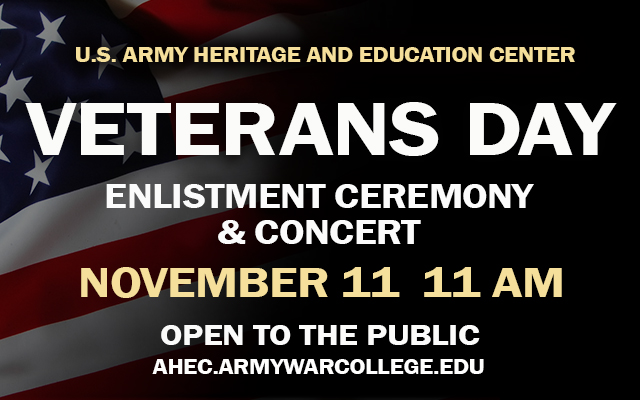 ---
---
---