Location
Cupboard Maker Books
157 North Enola Road (Routes 11/15)
Enola, PA 17025
---
The Eyes of Tamburah US Release
Celebrate the release of the US version of The Eyes of Tamburah, the first book of the Archives of the Invisible Sword series by New York Times bestselling author Maria V. Snyder! The Eyes of Tamburah was previously only published and available in Australia, but a new edition will be released in February 2021 for readers in the USA.
"He thinks you are the thief…
Shyla is a researcher who resides in the underground desert city of Zirdai, which is ruled by the wealthy Water Prince and brutal Heliacal Priestess. Even though Shyla is sun-kissed – an outcast, considered cursed by the Sun Goddess – she is still renowned for uncovering innumerable archaic facts, lost artefacts, ancient maps, and obscure historical documents. Her quiet life is about to change when Banqui, an archaeologist, enlists her services to find The Eyes of Tamburah: legendary gemstones that bestow great magic on their wielder. These ancient objects can tip the balance of power and give whoever possesses them complete control of the city.
But chaos erupts when The Eyes are stolen soon after they're found – and Shyla is blamed for the theft. Forced to flee, with the Prince's soldiers and the Priestess' deacons on her trail, Shyla must recover the jewels and clear her name. A quest that will unearth secrets even more valuable than The Eyes of Tamburah themselves…"
Maria will be signing books and meeting readers from 1 to 3 PM on Saturday, February 6th.
Visit cupboardmaker.com/shop to pre-order the book
Maria V. Snyder is the New York Times bestselling author of the Sentinels of the Galaxy series, including the new release Defending the Galaxy, the Study series, the Archives of the Invisible Sword series, and many other fantastic fantasy novels. Find out more about Maria and her work at mariavsnyder.com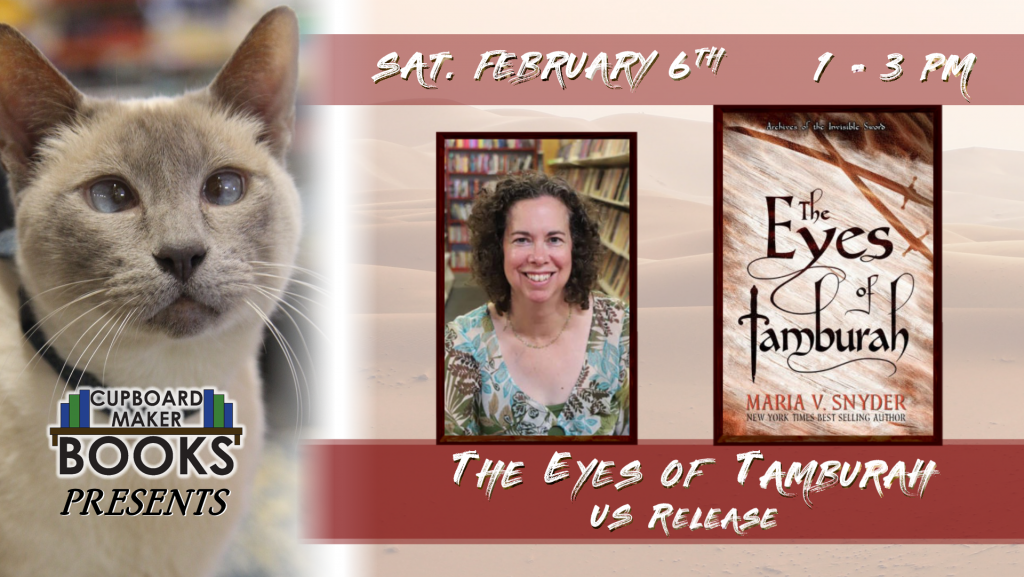 ---
---
---