Location
U.S. Army Heritage and Education Center
950 Soldiers Drive
Carlisle, PA 17013
---
Tactical Arrogance: British Military Disaster in the Wilderness 1755-1777
Defeat is a possibility in almost any undertaking. Understanding how to turn failures into lessons learned is a key contributing skill to bringing about future success. In two of his recent books, Dr. David L. Preston, the General Mark W. Clark Distinguished Professor of History at The Citadel, provides a framework of how to draw constructive criticism out of defeat.
Both "Braddock's Defeat: The Battle of the Monongahela and the Road to Revolution" and "The Other Face of Battle: America's Forgotten Wars and the Experience of Combat" analyze key takeaways hidden behind the immediate sting of failure, and the dangers of not dedicating time to bring those lessons to light.
Join us on Wednesday, April 12th, at 6:30pm EST as the USAHEC continues our Spring 2023 "Perspectives" Lecture Series with Dr. Preston's presentation. It will be followed by a roundtable discussion featuring two other distinguished historians and authors, Doug Cubbison (USAHEC Curator and author of "The British Defeat of the French in Pennsylvania, 1758: A Military History of the Forbes Campaign Against Fort Duquesne") and Dr. Kevin Weddle (U.S. Army War College Professor and author of "The Compleat Victory: Saratoga and the American Revolution"). The event is free and open to the public. Doors open at 6:00 pm EST; and will include book sales and signing.
Live stream viewing available at: https://www.armywarcollege.edu/live/.
For more information visit: https://ahec.armywarcollege.edu/ or check the USAHEC Facebook Page at https://www.facebook.com/USAHEC.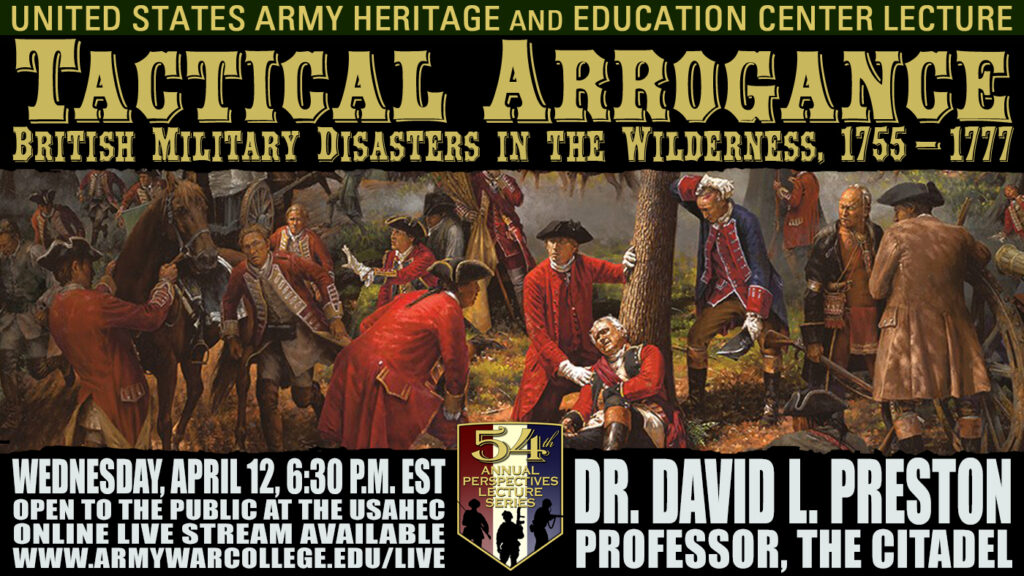 ---
---
---