Location
Pennypacker Mills
5 Haldeman Road
Schwenksville, PA 19473
---
Meet Alice Paul, Suffragette
A vocal leader of the twentieth century women's suffrage movement, Alice Paul advocated for and helped secure passage of the 19th amendment to the U.S. Constitution, which granted women the right to vote. After years of demonstrations, President Woodrow Wilson announced his support for suffrage. After two years, a women's right to vote passed. In a first person performance,
Alisa Dupuy, will portray Alice Paul with determination in a powerful presentation. Join us on Saturday, June 26th at 7 pm and bring a chair or blanket to sit on the lawn. Wear a mask and practice social distancing. This free event is sponsored by the Friends of Pennypacker Mills. For more information, call 610-287-9349 or email PennypackerMills@montcopa.org.
Pennypacker Mills is located off Rt. 74 (Skippack Pike) at 5 Haldeman Road, Schwenksville, PA.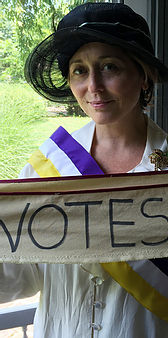 ---
---
---