Location
U.S. Army Heritage and Education Center
950 Soldiers Drive
Carlisle, PA 17013
---
Lecture: Uniquely Okinawan: Determining Identity during the U.S. Wartime Occupation
Perspectives in Military History Lecture Series
Uniquely Okinawan:
Determining Identity during the U.S. Wartime Occupation
Dr. Courtney A. Short
Carlisle Barracks
On June 10, 2020, at 6:30 PM EDT, the U.S. Army Heritage and Education Center in Carlisle,
Pennsylvania will welcome Dr. Courtney A. Short of Carlisle Barracks to live stream a lecture
on her latest book, Uniquely Okinawan: Determining Identity during the U.S. Wartime
Occupation (World War II: The Global, Human, and Ethical Dimension). In her book, Dr. Short
combines extensive research with oral history accounts by both U.S. Soldiers and Okinawans to
explore racial constructions on the Japanese island of Okinawa amid wartime and post-World
War II encounters.
To view the lecture on June 10th, visit the live stream at https://www.armywarcollege.edu/live.
Viewers can participate in the question and answer portion of the presentation by emailing
questions to usarmy.carlisle.awc.mbx.ahec-ves@mail.mil, or by direct messaging our Facebook
page on the day of the event (https://www.facebook.com/USAHEC/).
After landing on the shores of Okinawa in 1945, American military forces faced a unique
situation: testing the loyalty to the Japanese Imperial Army of least half a million islanders. The
American leadership conducted an in-depth analysis of Okinawan race, ethnicity, and identity in
an attempt to understand and influence the allegiance of the Okinawans, shaping the wartime
occupation policies of the American forces. Dr. Short offers insights into how the Okinawan
culture allowed the people of the island to maintain their identity while adapting to a new type of
government. Short also demonstrates the ability of the American military to rationally assess
and successfully address such variables as race, ethnicity, and identity in different cultures while
also keeping in mind practical considerations, such as resources and battlefield conditions.
Dr. Courtney A. Short is a currently serving officer in the U.S. Army and was commissioned in
the Air Defense Artillery, serving in various command positions. She is a graduate of the
Command and General Staff College, and has taught history at both the U.S. Military Academy
and the U.S. Air Force Academy. Dr. Short holds a B.A. in History from Columbia University,
and an M.A. and PhD in History from the University of North Carolina, Chapel Hill.
DATE: Wednesday, June 10, 2020
TIME: Live Stream begins at 6:30PM EDT
WATCH ONLINE: https://www.armywarcollege.edu/live
For updates and any last-minute changes, please check: www.USAHEC.org or call the
Information Desk: 717-245-3972.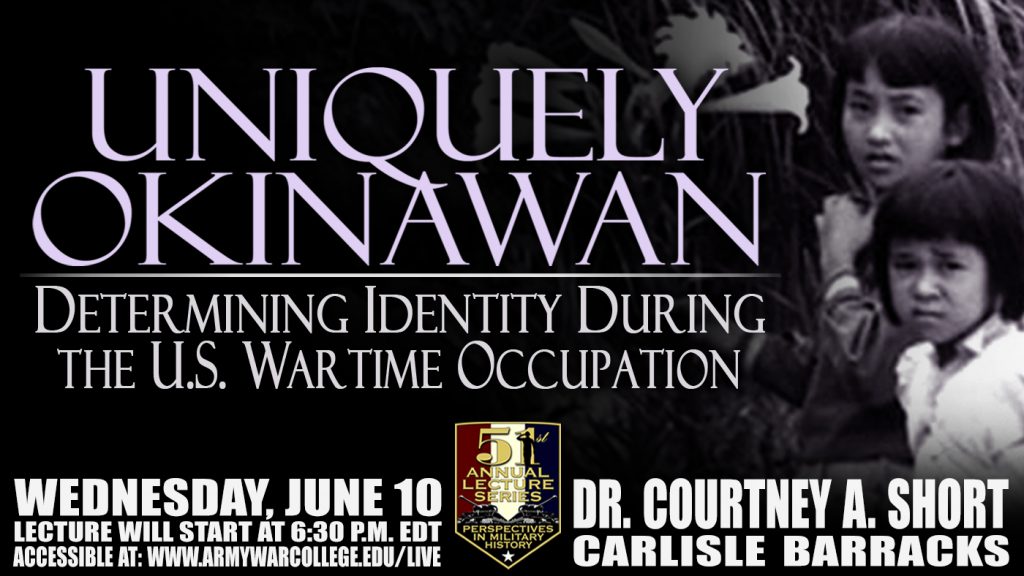 ---
---
---