Scenic Train Rides
Wendy Royal Fall 2019
The rich history of the railroad in Pennsylvania can't be denied. Trains fueled the Industrial Revolution, and the commonwealth was a giant. Whether it involved carving their way through mountains or building huge spans connecting gorges, nothing would stop the progress that railroads brought to this country. Thanks to preservation efforts, we can reconnect with the early days of railroading throughout Pennsylvania.
Historic railroads in Pennsylvania not only offer this glimpse into the past but provide a unique opportunity to view the beauty of fall on board a piece of American history.
1. Allentown & Auburn Railroad
232 Railroad St., Kutztown
allentownandauburnrr.com | 570-778-7531
This fall A&A RR is offering rides during Doodlebug Days, Steam Under the Stars, Return of Steam and Trick or Treat Pumpkin Trains.
---
2. Bellefonte Historical Railroad Society
320 W. High St., Bellefonte
bellefontetrain.org | 814-355-2917
Fall Foliage & Halloween Train Rides – October 25-27, 2019
---
3. Colebrookdale Railroad
64 S. Washington St., Boyertown
colebrookdalerailroad.com | 610-367-0200
The Colebrookdale Railroad has several themed train excursions this fall including Autumn Splendor Fall Foliage (Oct. 5-20) and Eerie Unlimited (Oct. 4th and 25th)
---
4. Everett Railroad Company
224 Loop Road, Hollidaysburg
everettrailroad.com | 814-696-3877
The Everett Railroad Company host Family Train Rides from March through October. The Pumpkin Patch Train in October and the Autumn Glory Ride on November 2nd.
---
5. Lehigh Gorge Scenic Railway
1 Susquehanna St., Jim Thorpe
lgsry.com | 570-325-8485
In addition to other planned rides, Lehigh Gorge Scenic Railway is hosting the 2 1/2 hour round trip Hometown High Bridge Excursion on the first three weekends in October.
---
6. Ma & Pa Railroad Heritage Village
1258 Muddy Creek Forks Road, Airville
maandparailroad.com | 717-927-9565
Train rides and tours are available on Sundays, June 1- Sept 1. Special Themed events, like the Pumpkin Special and Fall Leaf Excursions.
---
7. Middletown & Hummelstown Railroad
136 Brown St., Middletown
mhrailroad.com | 717-944-4435
Regular train rides available from Memorial Day Weekend through October, with Grandparents weekend in September, Pumpkin Patch Express in October and Murder Mystery Trains in October and November.
---
8. New Hope & Ivyland Railroad
32 W. Bridge St., New Hope
newhoperailroad.com | 215-862-2332
Traditional Excursions, the extended Buckingham Valley ride, and the wine and cheese tasting Grapevine Express are available throughout the year as well as their popular holiday-themed trains.
---
9. Northern Central Railroad – Steam Into History
2 W. Main St., New Freedom
steamintohistory.com | 717-942-2370
The railroad offers excursions throughout the year. Fall themed excursions include Fall Foliage rides in October and November, Ghost Tracks on October 19 and 26, and Halloween/Pumpkin Rides on October 26th.
---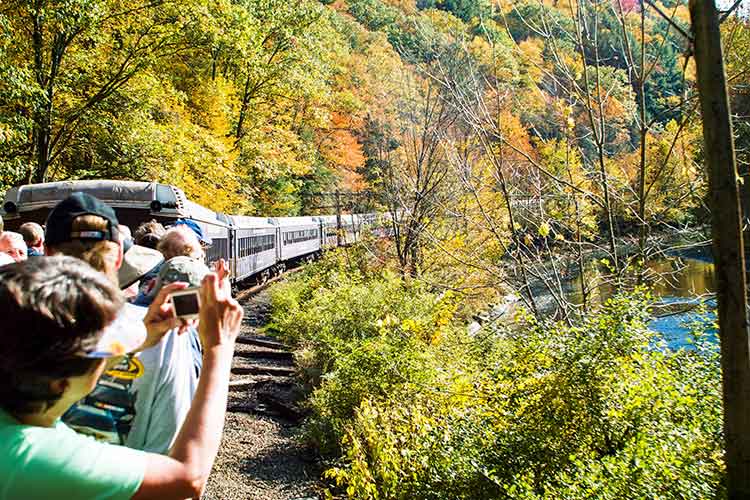 10. Oil Creek & Titusville Railroad
409 S. Perry St., Titusville
octrr.org | 814-676-1733
This 3-hour round trip is as rich with scenic beauty as it is history. Journey through the "valley that changed the world." Regular train rides, Fall foliage, as well as other themed rides and Murder Mystery excursions available.
---
11. Pioneer Tunnel Coal Mine & Steam Train
19th Street & Oak Street, Ashland
pioneertunnel.com | 570-875-3850
Discover the rich anthracite coal history of Ashland on the coal mine tour then climb aboard the Henry Clay steam train and take a scenic train ride around the Mahanoy Mountain.
---
12. Steamtown National Historic Site
350 Cliff St., Scranton
nps.gov/stea | 570-340-5200
The park is open year-round with free admission. Upon arrival check-in at the visitors center to find out what program is scheduled for that day. There is a fee for short train rides and excursions. Railfest on Aug. 31-Sept. 1 is an annual celebration of railroading and will feature Locomotive Shop demonstrations, model trains (including an operating Lego train display), children's activities, Speeder work car rides, hand pump car rides, tours of Mattes Street Tower and the Office and Stores Building, live entertainment, and much more.
---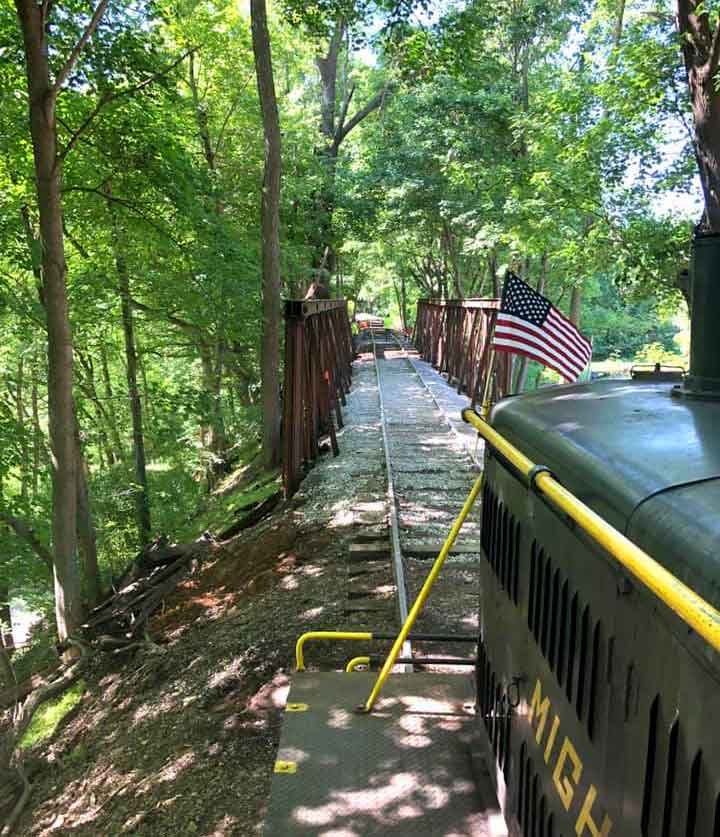 13. Stewartstown Railroad
21 W. Pennsylvania Ave., Stewartstown
stewartstownrailroadco.com | 717-746-8123
Throughout the fall you can experience open-air car rides, steam train rides, fall foliage runs and Halloween Runs. There also two New Freedom Fall Foliage Runs scheduled for October 20 and again on November 9th. 
---
14. The Stourbridge Line
812 Main St., Honesdale
thestourbridgeline.net | 570-470-2697
Throughout the fall the Stourbridge Line offers many opportunities to experience the fall foliage onboard the Pocono, Glen Eyre and Lackwaxen Foliage Express runs and Glen Eyre and Lackawaxen Limited (extended) excursions. There is also a 2-hour Pumpkin Patch Express on two weekends in October that the kids will love. 
---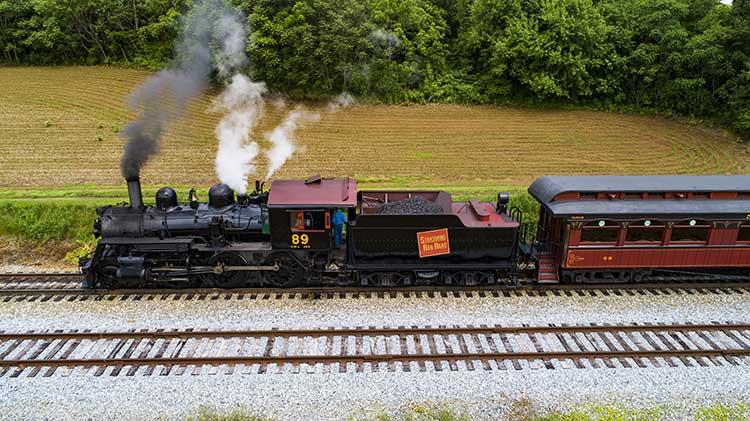 15. Strasburg Rail Road
301 Gap Road, Ronks
strasburgrailroad.com | 866-725-9666
When you visit America's oldest operating railroad, you can expect an authentic experience of a real steam railroad. The locomotives and passenger cars, (known as "rolling stock") are not replicas, and our staff members are not reenactors. Your ticket entitles you to a 45-minute, round-trip ride through the tranquil Amish countryside to Paradise, PA and back. Some of the special fall events include a Day Out With Thomas®, 611 Visits Strasburg – A Reunion of Steam and The Great Train Robbery train ride and Thomas, Mavis & the Strasburg Spooktacular! 
---
16. Tioga Central Railroad
9 Muck Road, Wellsboro
www.tiogacentral.com | 570-724-0990
Rides are offered Friday and Saturday from Memorial Day weekend through the end of October. The fall foliage season is very popular among tourists and locals alike which runs September 20 through the end of the season on October 26. The 2-hours excursion through the scenic northern tier of PA runs from downtown Wellsboro to the north end of Hammond Lake in Tioga. Reservations are highly recommended for all trains due to a limited number of seats and can be made online or by phone at (570) 724-0990. Rider only tickets will be sold at the ticket booth 90 minutes prior to boarding.
---
17. WK&S Railroad
42 Community Center Dr., Kempton
kemptontrain.com | 610-756-6469
Several special events are planned throughout the fall including the Harvest Moon Special on Sept. 14, the Flavors of Fall Wine & Cheese Train on Sept. 20th. October brings the Fall Foliage Excursion and the Pumpkin Patch Train, in addition to the 60th Anniversary of the Reading Company's Iron Horse Rambles. 
---
18. West Chester Railroad
230 E. Market St., West Chester
westchesterrr.com | 610-430-2233
The 90-minute round-trip run from West Chester to Glen Mills includes a 20-minute stop at the historic Glen Mills train station. The Picnic trains run through September. See website for upcoming excursions.
---
Related Attractions:
Kinzua Sky Walk & Visitors Center
296 Viaduct Road, Mt. Jewett
visitanf.com/kinzua-state-park-sky-walk
814-778-5467
---
Gallitzin Tunnels Park & Museum
DeGol Plaza, 411 Convent St., Gallitzin
www.gallitzin.info | 814-886-8871
---
Horseshoe Curve
2400 Veterans Memorial Hwy, Altoona
https://www.railroadcity.org/curve.html
Lake Shore Railway Historical Society & Museum
31 Wall St., North East
lakeshorerailway.com | 814-725-1911
---
National Toy Train Museum
300 Paradise Lane, Ronks
nttmuseum.org | 717-687-8976
---
Railroaders Memorial Museum
1300 Ninth Ave., Altoona
railroadcity.com | 814-946-0834
---
Railroad Museum of Pennsylvania
300 Gap Road, Ronks
rrmuseumpa.org | 717-687-8628
---
Lincoln Funeral Train at Star Barn Village
1 Hollinger Lane, Elizabethtown
thestarbarn.com | 717-902-9791
---
You might also like this article on Pennsylvania's stunning Fall Foliage Destinations.