Location
U.S. Army Heritage and Education Center (USAHEC)
950 Soldiers Drive
Carlisle, PA 17013
---
Tomb of the Unknown Soldier Replica at USAHEC
The Unknown Soldier of World War I was buried at Arlington National Cemetery on November 11, 1921. Unknown Soldiers from later wars were added in 1958 and 1984. Initially the unknown soldier rested beneath a simple marble yard. The current ornate tomb was dedicated in 1932. The Tomb of the Unknown Soldier was protected by a civilian guard beginning in 1925, and guarded by the U.S. Army during cemetery hours beginning in March 1926. On July 1, 1937, the guards became a 24/7 presence, and they have been on duty every minute of every day since that moment. Because of security measures in place for nearly a century now, the tomb's post cannot be approached. The replica visiting USAHEC is a ½ scale, completely accurate replica of the historic tomb, and affords USAHEC guests an opportunity to explore and investigate the tomb without traveling to Arlington, Virginia. The replica weighs over 400 pounds. The replica is owned by the Exchange Club of Rome, Georgia, and its presence in Carlisle will be supported by the Society of the Honor Guard – composed of previous Tomb Guards, and several of these former guards will be present to relate their experiences fulfilling their sacred trust safeguarding this tomb. The replica's visit here was sponsored by the Army Heritage Center Foundation.
This affords USAHEC guests with the unique opportunity to learn about the history and heritage of the Tomb of the Unknown Soldier, and how the U.S. Army lives its warrior ethos and soldier's creed to never leave a fallen comrade.
Join us for two afternoons in May, the weekend before Memorial Day, for this unique and patriotic opportunity. The event is free and open to the public.
For more information visit: https://ahec.armywarcollege.edu/ or check the USAHEC Facebook Page at https://www.facebook.com/USAHEC.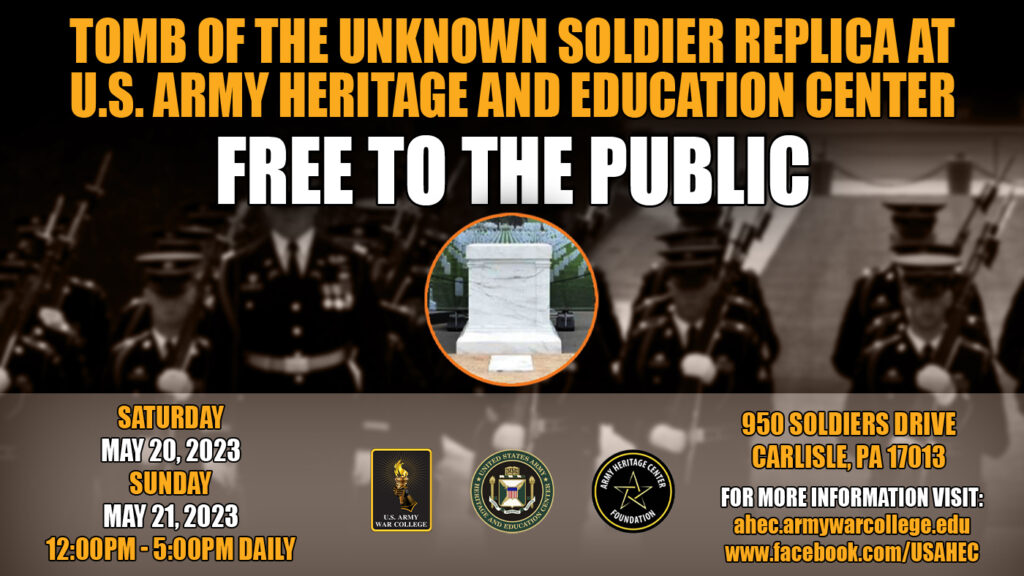 ---
---
---