Location
Around Gettysburg
East Broadway
Gettysburg, PA 17325
---
Gettysburg Festival of Races
Join us for racing fun! The Gettysburg North-South Marathon is run against the setting of a landmark battle of the Civil War, the battle of Gettysburg. The soldiers of the North and South fought on the roads and fields of Gettysburg, Pennsylvania in the summer of 1863 in the Civil War's most famous battle, a historic event that symbolized the breach between North and South, marking the turning point of the war and the return to a single United States of America.
The Gettysburg North-South Marathon honors the battle of Gettysburg with a unique marathon competition that pits runners representing the North and the South against each other in a scored competition. The race takes runners from both sides through the hallowed grounds of the battlefield. You must be at least 14 years of age to take part in the marathon. Anyone who is 14-17 will need to have an adult or guardian sign the registration form on their behalf.
The Gettysburg Blue-Gray 1/2 Marathon, Gateway 5K, the Blue-Gray Criterium, and the Blue-Gray Criterium for the Paralyzed Veterans of America Racing Team will be held in conjunction with the Gettysburg North-South Marathon.
2020 marks the 7th Annual Gettysburg Blue-Gray Criterium held in memory of Roger Harris, a past participant who passed away suddenly and unexpectedly two years ago. Members of the Paralyzed Veterans of America Racing team, who come from all over the country to take part in a three day clinic at the Gateway Complex, take part in a 30 minute race around the complex. 15-25 riders will do as many laps as they can in a half hour window of high speed racing. It is very spectator friendly with the fastest riders doing each .4 mile lap in just over a minute.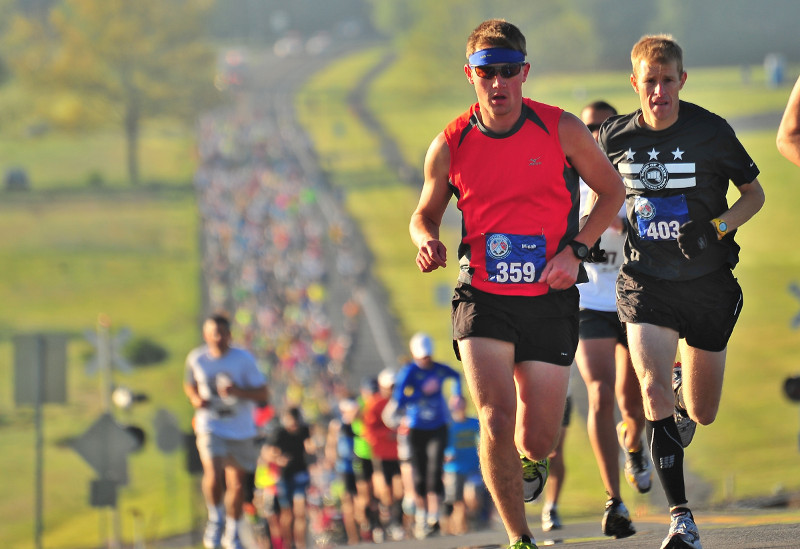 ---
---
---