3rd Annual Eliot Ness Fest
Rick Hiduk Summer 2020
Coudersport's most famous citizen may not have lived there for very long, but he left an indelible mark on the Potter County seat. Eliot Ness was born in Chicago, IL, and died in Coudersport in 1957. He had an illustrious career with achievements in numerous large American cities. Still, he is probably best known for bringing to justice one of the most notorious gangsters in Chicago – Al Capone. Those crazy days of prohibition, moonshine, and flappers are celebrated annually in Coudersport with the three-day Eliot Ness Fest, planned this year for Friday to Sunday, July 17 to 19.
Previous festivals have paid homage to descendants of Ness's famous squad of corruption-busters known as The Untouchables, as well as film screenings in a meticulously restored 1920s theater, live Dixieland jazz music, theatrical rendering of the Capone trial, and a car show that fills Main Street. "That's what really transforms downtown Coudersport," Steve Green, owner of the Eliot Ness Museum, said of the auto show. "It's like a time machine with the vintage cars and trucks lining the streets."
The Potter County Historical Society, which organizes the Eliot Ness Fest, has some unique plans in mind this year, with a new twist on celebrating the Roaring '20s. The event will start with a bang on Friday when local actors portraying Al Capone and his merry band of thugs take siege of the town and encourage the fine citizens of Coudersport to party like it's 1929.
Eliot Ness and his team will sweep in on Saturday to take the town back and restore order. On Sunday, Al Capone faces trial in a mock court for tax evasion, the most severe charge ever brought against the gangster. According to 40-year Coudersport resident and photographer Curt Weinhold, the "street theater," is another crowd-pleasing element of the festival. Weinhold credits an amateur troupe of volunteers from all walks of life, for bringing history to life. Participants don clothing of the era to participate in shootouts, and raids on drinking establishments, and a house of ill-repute. Authentic props used in the skits include bootlegger running trucks and deactivated Tommy guns. The town provides the rest of the backdrop.
"We're fortunate that our building facades are pretty much unchanged over the last century," said David Costano, a member of the Potter County Historical Society, sponsor of Eliot Ness Fest. "We try to be as authentic as we can to that era."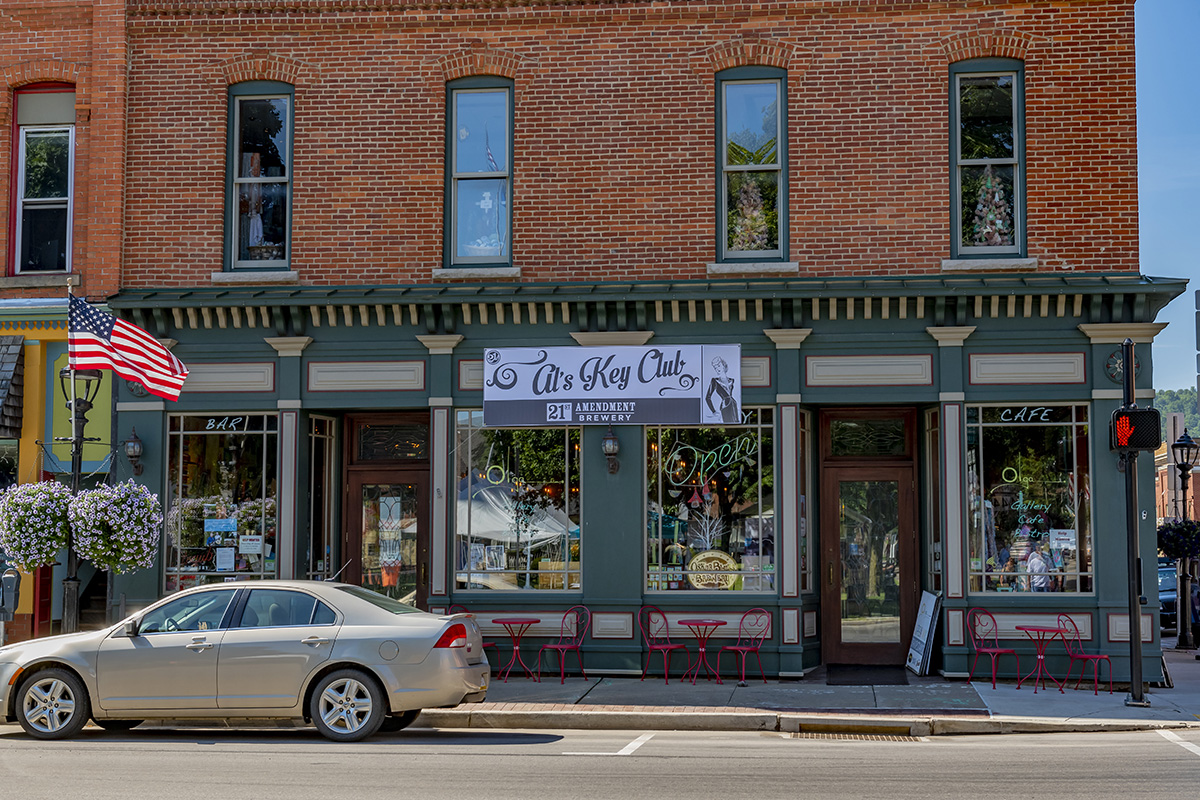 After rescuing Cleveland, OH from corruption, and taking an aggressive stance on automobile and traffic safety, Ness was unsuccessful in his bid for mayor of that city and began to drift from one government agency to another. In 1956, he moved to quiet Coudersport to follow an investment tip with a company that claimed to have developed a watermark to secure paper money from counterfeiting.
In reality, the process was decades away from fruition, and Ness lost a small fortune. Nonetheless, he and business partner Joe Phelps made a big impression on townsfolk. Phelps' childhood friend Oscar Fraley began working with Ness on an autobiography, published posthumously, that would serve as the basis of Ness lore for movies and television.
Potter County Commissioner Paul Heimel also wrote a book about Ness in an attempt to "set the record straight" on Ness's legacy, which has been laced with folklore. "Many myths, unverified legends and totally unbelievable stories that really drifted from the truth" had become part of the mainstream impressions of Ness, who was also on the front line of forensics.
Locals credit Heimel and his book as the impetus for Eliot Ness Fest. "It was a dream that I had more than 20 years ago that Coudersport could take advantage of our association with someone who was arguably one of the most important law enforcement officials in the world," said Heimel.
While the execution of this year's Ness Fest was uncertain at press time, visitors to Coudersport can now absorb all that was Ness at the Eliot Ness Museum on Main Street. Since its opening in September 2019, The museum is already attracting visitors from around the world. The success is in part due to its proximity to nearby Cherry Springs State Park, sought out by stargazers for its "dark skies."
Initially, Steve Green and his brother Dan Green were looking for a place to store three vintage vehicles used in conjunction with the festival, so they leased a building with significant window frontage and began adding other memorabilia from the '20s to the '50s. Ironically, Costano noted, one of Ness's office was upstairs. "Steve and his brother have put their hearts and souls into the collection with their automobiles, gathered artifacts at their own expense, and collaborated with our organization to portray that era of Coudersport," Costano related. Steve has worked with law enforcement agencies for some of the exhibits and with Weinhold for displays that mix old photos reproduced on canvas with newer images of the festival itself.
"Those who come in the doors are very impressed with the professionalism and the thoroughness of the overview of Ness's life and his legacy," Heimel remarked. "The displays are very educational and depict Ness's effect on communities and law enforcement."
"There's been a lot of community support and people helping to contribute exhibits," Steve maintained. "I intend for the museum to be a year-round attraction. It covers the three chapters of Eliot's life: Chicago, Cleveland, and Coudersport."
In addition to out-of-town guests, the Eliot Ness Museum has become a community gathering place for Soup Kitchen nights that commemorate the soup kitchens that Al Capone started in Chicago to bolster his popularity among the general population despite his ruthlessness. Many of the local actors who participate in the festival arrive in costume.
So, whether one is merely looking for a taste of the past offered by the museum or the all-out buffet of history provided by Eliot Ness Fest, a visit to Coudersport should be on everybody's bucket list.
Update: The Eliot Ness Fest has been canceled.